Chelsea
Azpilicueta targets Premier League title challenge with Chelsea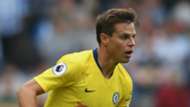 Cesar Azpilicueta is confident Chelsea still have plenty of room for improvement after extending their unbeaten start to the Premier League season with a 4-0 thrashing of Burnley.
Maurizio Sarri became the first Chelsea manage to go undefeated through his first 10 Premier League games as his side moved up to second in the table, and just two points behind Liverpool, following their win at Turf Moor.
Azpilicueta knows what it takes to win the league title, having done it twice before, and he thinks that the current Chelsea side have yet to reach their full potential despite a 14-game unbeaten run in all competitions.
"I hope, I hope." Azpilicueta answered before outlining his hopes for a title challenge. "After the draw against Manchester United we needed to get back to winning ways. We know if we want to be top, we can't miss out on a lot of points. We played in a difficult place, Burnley put a lot of pressure on us.
"They know very well how they play but, apart from the first 10 minutes, we controlled it very well. We scored four goals and had other chances as well. We try to play the same style everywhere, home and away. Maybe away from home teams press us more and we can get out of the pressure.
"At home, some of the teams just sit back. It's up to us to find the solution in every situation against every opponent because every team is different."
Eden Hazard has missed the last two games due to a back injury and there were concerns Chelsea would struggle in the Belgian playmaker's absence given he is their top scorer this season with eight goals in all competitions.
However, the likes of Alvaro Morata and Willian impressed in the win at Turf Moor, and Azpilicueta thinks that Sarri's style of play allows Chelsea to absorb the loss of any star players.
"Eden is an amazing player. Unfortunately, he couldn't be with us because of injury, but we are a team and have to fight all the conditions," he added. "Eden was not here, he was not involved and we had to play a good game in a difficult place. We got a very good result and performance.
"Since Sarri came he was very clear the way he wanted the team to play, collectively and individually in every position. He demands that in every training session, he makes it very clear. Obviously, with the team winning, we are enjoying the style of play.
"We have a lot of possession, a lot of options. We create a lot of chances. That's the way, but we still have room for improvement and we will work hard."
Chelsea face Derby County in the Carabao Cup on Wednesday before meeting Crystal Palace on Sunday, when Sarri hopes Hazard can return from injury.