Arsenal v Chelsea
Arsenal's failure to agree fee cost them Cahill deal, Chelsea skipper reveals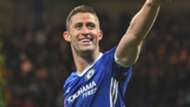 Gary Cahill is a Premier League title winner with Chelsea but admits that he could have been turning out for Arsenal.
The England international was much sought-after after establishing himself as one of the Premier League's finest centre-backs at Bolton Wanderers.
Hazard jokes about Lukaku to Chelsea
Arsenal were among those to express an interest but were unable to reach an agreement in the summer of 2011.
Their loss proved to be Chelsea's gain, with the Blues sealing a £7 million transfer in January 2012 and have benefited from Cahill's presence in Champions League, Europa League, FA Cup, League Cup and Premier League triumphs.
Ahead of the 2017 FA Cup final, the 31-year-old – who has stood in as captain at Stamford Bridge this season with John Terry out of favour – told reporters on Arsenal's interest: "It was close.
"The move broke down on the fee, nothing to do with me.
"It never got down to whether or not I wanted to go there, it was between the two clubs. They showed interest, but they couldn't agree a fee.
'Chelsea should sign Aguero & Alexis'
"It seemed like it went on forever, there was speculation for about a year and a half.
"I had a fantastic time at Bolton, but as a player when you hear the big clubs are sniffing, you want to achieve as much as you can."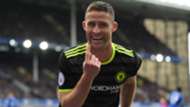 While he has already enjoyed considerable success with Chelsea, Cahill admits trophy collecting never gets boring.
He added: "It becomes more like an addiction.
"When you get the feeling of winning a trophy, you just want it again and again.
Why Chelsea's revolution works
"Outside my family and my kids being born, it's the best feeling ever. It was again when we lifted the Premier League trophy the other day.
"You realise your career is short and you just want to achieve as much as you can. If you have no goals then what is the point of playing?"
Cahill passed the 200 appearance mark for Chelsea this season, with a personal best eight goals netted in his 42 outings across all competitions.