Arsenal
'Arsenal must match Man Utd and land big players' - Wenger urged to sign stars by Hartson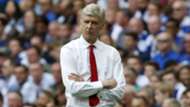 Arsenal need to follow Manchester United's lead and sign "big players" without Champions League football, says John Hartson.
The Red Devils were missing from Europe's premier club competition in 2016-17, but still put deals in place for the likes of Zlatan Ibrahimovic, Paul Pogba and Henrikh Mkhitaryan.
They were able to help Jose Mourinho's side to three trophies, including a Europa League triumph which has United back in the big time for 2017-18.
Arsenal may regret snubbing Pickford
Hartson wants to see Arsene Wenger do something similar this summer, with it vital for ambition to be shown in the transfer market on the back of a fifth-place finish.
"Their priority this summer is to be in for big players," the former Gunners striker told Sky Sports.
"It's difficult attracting big names, the biggest names in football when you've not got Champions League of course.
"But Manchester United were able to attract them when they didn't have Champions League. They brought in the likes of Ibrahimoivc, Mkhitaryan, one or two others.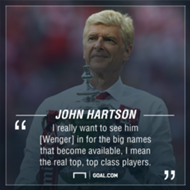 "It's going to be difficult keeping hold of [Alexis] Sanchez but I think from Arsene Wenger's point of view, I've not really got a problem with Arsene Wenger staying on as Arsenal manager.
"He is a terrific manager, a brilliant man, I was fortunate to have worked with Arsene Wenger during my time at Arsenal.
"But I really want to see him in for the big names that become available in the world of football, I mean the real top, top class players.
Arsenal target Lacazette future uncertain
"That's what Arsenal need to challenge and challenge for title honours, of course they just won the FA Cup.
"I just feel that they need to go in for the big, big players which become available just to make them competitive next season in terms of challenging for the title, because that is what the supporters want."
Arsenal are reported to be among those looking at Monaco striker Kylian Mbappe, although they face fierce competition on that front from the likes of United and Real Madrid.