Primera División
FC Pune City co-owner Arjun Kapoor to get the LaLiga VIP Experience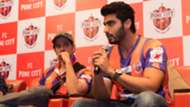 Bollywood actor Arjun Kapoor is all set to get the ultimate LaLiga experience.  The FC Pune City co-owner has been roped in by the Spanish football league in a tie-up which will see the actor fly to Spain to attend the Real Betis v Sevilla encounter for a VIP LaLiga Experience.
Along with watching the LaLiga clash, he will also visit the training grounds of both the clubs while taking in the sights of the city of Sevilla.
"I am thrilled to be associated with LaLiga, having been an avid fan of football since childhood. It is a dream come true to watch my favourite sport in the country that is so passionate about it. LaLiga is one of the best football leagues in the world and it's great to see them so invested in our country and towards Indian fans," the actor said on the association.
"Football is more than just a game, it is an emotion. We are delighted to welcome Arjun Kapoor to a high profile LaLiga fixture of this calibre, he is the perfect man for LaLiga as he represents the fervent passion with which Indians follow football. We are excited to work with a celebrity at his stature and nurture the most beautiful game in this phenomenal country," Jose Cachaza, Country Head – India, LaLiga said on his part.
The Real Betis v Sevilla clash will take place on May 12.