PSL
Ari Efstathiou: Ajax Cape Town are forced to play in the NFD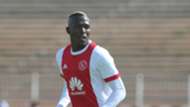 Following their decision to withdraw their bid to stop the new 2018/19 Premier Soccer League (PSL) season from starting, Ajax Cape Town have announced they will take their place in the National First Division (NFD) next season.
The Urban Warriors held a press briefing on Friday, and CEO Ari Efstathiou told the media that following their failed bid to be reinstated into the PSL for next season, they will now campaign in the NFD.
The case involved striker Tendai Ndoro, who joined the club in January after playing for Orlando Pirates and Saudi Arabia's Al Faisaly last season.
SuperSport United, Polokwane City and Platinum Stars were against the fact that Ajax used Ndoro against them, and the Mother City side was docked points which were gained by the aforementioned three clubs.
"I didn't want to make a comment after yesterday because I thought it would be important to come to you with our thoughts," said Efstathiou on Friday.
"That is why Advocate Norman Arendse is here. On the club's side, unfortunately, once again, we have seen a lot of situations like this. Time and legal procedure have basically trumped justice and we feel very strongly about that," he continued.
 
"We still believe we followed the rules. We played him when we were supposed to play him. Unfortunately, the process got complicated," said the Ajax CEO.
"It got complicated, we ended up with seven court appearances. It is a process that went on for five months. We have been at the top and bottom of the roller coaster. Yesterday was unfortunate where the time issue of the league and the way the court process went," he reacted.
 
"And now we are forced to take our place in the NFD unless something happens during the appeal process, but the process can take anything from four to 12 weeks, and if we are successful which we think we would be then what then? And to be frank, it could have happened to any other club as it happened to us, Pirates, Chiefs and I trust that it would have followed the same procedure," he added. 
 
"But we did fight for the truth and what we believe what was right," concluded the club's CEO. 
Speaking to the media, Ajax's lawyer Advocate Norman Arendse, who represented the Urban Warriors in their case, said Judge Denise Fisher's decision to grant the PSL leave of appeal on Thursday made it difficult for them hence their withdrawal to interdict the league start.
"When Fisher allowed the appeal against her judgement' that immediately affected our chances of the interdict. We would have had little chance'" Arendse said.
"The interdict was designed to have play-offs replayed' but was always going to be a difficult ask," he added.
"If we argued a losing case we could have had a harsh costs ordered against us. In light of that' Ari took a difficult and emotional decision' but the right one' to withdraw," he concluded.