UEFA Champions League
Are Real Madrid the greatest Champions League team in history?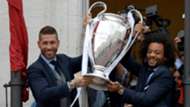 Real Madrid made history on Saturday night. Zinedine Zidane's side beat Liverpool in Kiev to win the Champions League for a third season in a row and secure a record 13th European Cup for the Spanish side.
Such success is unprecedented. Until last year, no team had won back-to-back editions since the competition changed format from the old European Cup to the Champions League in 1992-93. But Zidane's side achieved that with victory over Juventus in Cardiff and Real's 3-1 win over Liverpool on Saturday made it three in a row.
"It's something unbelievable, it's something historic," midfielder Luka Modric told BT Sport after the game. "I don't know if anyone will repeat this in the future. It will be very difficult.
"Twice was something amazing but this is heroics. We watched a movie yesterday about basketball teams like Chicago Bulls, Boston Celtics and Los Angeles Lakers. When they won it three times in a row and they called it a dynasty. I think this it is a dynasty in football."
It is hard to disagree and with 13 European Cups now in their trophy cabinet at the Santiago Bernabeu, this latest run of wins in the continental competition – which stretches to four in the past five seasons – is the club's second such dynasty.
Madrid won the first five editions of the old European Cup between 1956 and 1960, before adding another in 1965-66. Those were the days of the legendary Alfredo Di Stefano, Ferenc Puskas and Paco Gento, the latter being the only player to win the trophy six times.
Ajax and Bayern Munich each won the competition three times in a row in the 1970s, while Liverpool claimed four between 1977 and 1984. More recently, Arrigo Sacchi's superb AC Milan side was the last before Real to take home the trophy back to back (in 1989 and 1990), while Pep Guardiola's great Barcelona team won it twice (in 2009 and 2011).
Those last two are considered to be two of the best sides in modern times, but in European competition at least, this current Real Madrid team has eclipsed them both.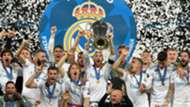 Sacchi's side, like this modern-day Madrid, were less consistent in the league. During his tenure, Milan won Serie A only once, in 1987-88, with the team's biggest successes arriving in Europe.
Something similar is happening at Real. With Barcelona continuing to dominate in La Liga, Los Blancos have claimed the title only twice in the past decade and just once in the last five seasons.
That is despite the fact they have been able to win four Champions League crowns in that time. In Europe, of course, Madrid have been able to avoid both Barca and Lionel Messi in each of those successes.
Yet while Barca have dominated domestically, the Blaugrana are without a Champions League win now since 2015 and the Catalan club have not been able to win the competition in successive seasons – not even under Guardiola.
"In my country, you can't talk about hegemony when nobody has won two Champions Leagues in a row," Jose Mourinho said in 2012 when asked about the success of Pep's team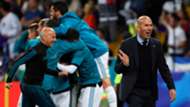 He also claimed that, despite not winning the Champions League with Real, his team had been "the best in Europe" in 2011-12, when they claimed La Liga with a record 100 points and lost in the semi-finals in Europe.
Mourinho described La Liga as "the most difficult competition" and both Guardiola and Zidane have said similar things this season. And if anything, Real's recent results are proof of that fact. Because despite winning the Champions League this term, Madrid finished third in the Primera Division.
In fact, Zidane's three Champions League wins have come in just 33 games in the competition, having taken over after the group stages in 2015-16. That is five games fewer than a single season in La Liga. And none against Barcelona.
"This is a great achievement, but no, this Real Madrid is not one of the great sides," former Liverpool defender Mark Lawrenson said after Saturday's game. "Not as the good as the Barcelona side with Xavi, Andres Iniesta, and Lionel Messi, it wasn't and isn't as good as that."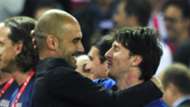 Three Champions Leagues in successive seasons and four in five means Madrid must be considered a great team, but winning in Europe does not necessarily make them the continent's best side, much like Liverpool are not the finest from the Premier League.
For all its glamour and glory, the Champions League is still a cup competition and unlike in the old European Cup, teams do not need to win their domestic league to qualify. "It is seven games and, one bad game, you are out," Guardiola said in April, referring to the knockout stages of the tournament.
After finishing second in their group, in which they lost to Tottenham, Real got past Paris Saint-Germain, Juventus and Bayern Munich en route to the final, albeit with a healthy dose of good fortune along the way, and Saturday's win over Liverpool saw Zidane's side write a new chapter.
However, the feeling persists that despite the significance and the sparkle surrounding the astonishing achievement of their three in a row, the historic feat means this Real Madrid team will be remembered for being a better side than they actually are.