India
Kerala Blasters midfielder Arata Izumi clears AFC 'A' License along with former India international Renedy Singh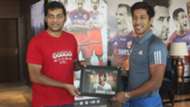 The Asian Football Confederation (AFC) announced a total of seventeen Indians to clear its AFC 'A' and 'B' License coaching courses for the year 2017 on Wednesday.

Led by current Kerala Blasters midfielder Arata Izumi, nine candidates among 23 cleared the 'A' License course including former India internaional-turned television pundit Renedy Singh, who was last seen as Indian Super League (ISL) side FC Pune City's assistant coach in 2016.

The AFC 'A' License course was held in two modules in West Bengal. The first module took place from June 12 to June 24, 2017 followed by the second module from August 15 to August 27, 2017.

Samir Naik and Clifford Miranda were the other former India internationals who were declared passed. Former India youth team player Dinesh Nair alongwith Altafuddin Ahmed Syed, Vivek Rawat, Anup Singh and Mohan Suresh Dass made up the list.

However, veteran winger Steven Dias, capped more than 50 times at the senior level for India failed to make the cut as did 2002 LG Cup winner Alex Ambrose.

Former India skipper and two-time AIFF Player of the Year (1994 and 2001), Jo Paul Ancheri, who currently serves as the head of academy for Kolkata giants Mohun Bagan AC also failed to clear the course, twice in a row now.

The results for the AFC 'B' License were also announced. Eight among 19 candidates were declared passed in the course which was held between July 10 till June 29, 2017 in Goa.

I-League outfit NEROCA FC skipper Gouramangi Singh and Mumbai City FC fullback Mehrajuddin Wadoo, both former India internationals passed the course. Khomdram Shiela Devi, the only female candidate also emerged successful.

Rajat Guha, Amit Kumar Jaiswal, Shantanu Jain, Yan Cheng Law and Sugitesh Subhash Madrekar were the other candidates. Interestingly, three current players in Gokulam FC's Sushant Mathew and ATK duo Darren Caldeira and Nallappan Mohanraj failed to clear.

Dempo SC striker Beevan D'Mello and former Churchill Brothers' Chitrasen Singh quit the course midway which was conducted by AIFF Technical Director Savio Medeira with Scott O'Donnell as the assessor.