Arabian Gulf League
Arabian Gulf League Awards: Omar Abdulrahman, Ali Mabkhout and Ahmed Khalil among Golden Ball nominees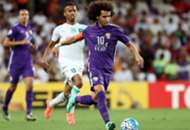 Voting for the Arabian Gulf League Awards began on Tuesday and will continue through to April 25.
The categories decided by voting include the Golden Ball Award (Emirati Player and Foreign Player), The Leader Award and The Golden Glove Award.
The Pro League Committee adopted online voting as part of its 2017-2020 strategy which prioritises the integration of technology and smart applications in its strategic initiatives.
The nominees for the various vote-based award categories were selected by the PLC based on technical statistics for each nominee throughout the 2016-17 AGL season.
The Golden Ball for Emirati Player nominees are: Ali Mabkhout, Fares Juma and Mohamed Fawzi (Al Jazira); Ahmed Khalil, Ismaeel Al Hamadi and Walid Abbas (Al Ahli); Omar Abdulrahman and Ismail Ahmed (Al Ain); Tariq Ahmed and Masoud Sulaiman (Al Nasr).
The nominees for the Golden Ball for Foreign Player are: Makhete Diop and Everton Ribeiro (Al Ahli); Sebastian Tagliabue and Balazs Dzsudzsak (Al Wahda); Fabio de Lima and Caio Canedo (Al Wasl); Abdelaziz Baradda (Al Nasr); Gelmin Rivas (Sharjah); Caio Lucas (Al Ain) and Mbark Boussoufa (Al Jazira).
For the Golden Boy Award, the nominees are: Khalfan Mubarak (Al Jazira); Ahmed Rashid, Mohamed Abdulbasit and Mohamed Al Akberi (Al Wahda); Hasan Al Muharrami (Bani Yas); Mohammad Juma (Al Shabab); Jassim Yaqoob (Al Nasr); Omar Juma Rabeeh (Sharjah); Saeed Jasem (Al Ahli) and Ali Salmin (Al Wasl).
Five coaches compete for The Leader Award; Henk ten Cate (Al Jazira), Cosmin Olariou (Al Ahli), Javier Aguirre (Al Wahda), Rodolfo Arruabarrena (Al Wasl) and Dan Petrescu (Al Nasr).
The Golden Glove Award is between Majed Naser (Al Ahli), Ali Khaseif (Al Jazira), Obid Raihan (Hatta), Rashed Ali (Al Wahda) and Khalid Eisa (Al Ain).
Arabian Gulf League clubs' head coaches and captains as well as media representatives will cast their votes for the various vote-based awards with a weight of 30% of the final results.
The PLC is keen to include fans in the voting for the awards and has allocated 10% of the voting weight to fans who will be able to vote for their favourite nominees on the website www.awards.agleague.ae