African All Stars
'Another dream come true' - Brighton defender Leon Balogun revels in maiden Premier League goal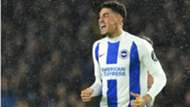 Brighton and Hove Albion defender Leon Balogun has stated that scoring his first Premier League goal is another dream come true for him.
The 30-year-old joined the Seagulls in the summer from German Bundesliga side Mainz 05 before his 2018 World Cup showing with the Super Eagles.
The former Werder Bremen man made his fourth league appearance for Chris Hughton's men against Crystal Palace on Tuesday as a first-half substitute and, 25 seconds after, scored with his first touch to help his side claim a 3-1 victory.
"For me it's another dream in this football calendar year that I wanted to come true," Balogun told club website.
"I made my dream come true of playing in a World Cup and I made a big dream come true in moving to the Premier League.
"Now scoring in the Premier League with my first touch in this game, it's kind of unreal. I'm just happy. When I saw the ball bouncing I knew it was going to be tough, so I just hit it and luckily I hit it right. It was a great feeling.
"We were one man down, but I think I'm experienced enough to be able to come on and help the team in that situation.
"Even though I might not be 100% satisfied, I think I still did well and my goal was probably the most important thing about my performance.
"I personally feel that I never really got into the game - viewers might think different but you always have a personal level that you want to reach, and I don't know that I really got it."
Balogun brought down Wilfried Zaha in the box and Luka Milivojevic converted the resulting penalty kick for Palace consolatory goal.
"I'm a bit sad about the penalty, I think it's a bit of a dark spot on the overall performance of the team. But I'm lucky, I scored a very important goal."
The defender was introduced into the game moments after the half-hour mark, replacing Pascal Gross following Shane Duffy's sending off.
"My job is to be ready, there is no question about it, and the club knows what I can do," he added.
"I feel a certain trust even when I'm not starting which makes it easy for me to fit in to what Lewis Dunk or Shane Duffy have been doing.
"It's never easy and you always want to play, but at the same time you have to be professional about it. You have to be ready for situations and moments and I think I was ready every time I came on - that is important.
"Every point is important, but the result speaks for itself, it's massive.
"If you look back to the game against Leicester where we've drawn when there was more we could have got from the game, and the match against Cardiff, tonight the result is huge."