Liga MX
Angel of light: Zaldivar helps Chivas to win in first of two Clasicos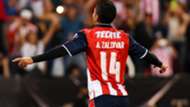 GUADALAJARA, Mexico — Entering Saturday's Clasico Tapatio, both Atlas and Chivas sat midtable, out of the playoff positions at this early stage of the Liga MX season.
After the match, there was no doubt which of the city's teams is best.
Keylor Navas proves his worth to Real Madrid
Angel Zaldivar scored from the spot before Orbelin Pineda added the second of the contest as Chivas earned a 2-1 victory in its rivalry match - much to the delight of nearly half the fans at the Estadio Jalisco.
In the building where Chivas once played, and Atlas still does, tens of thousands of fans in red-and-white stripes cheered on their side, watching as the team put on a quality attacking display.
That was a doubt after Alan Pulido, announced as a starter, dropped to the bench. Pulido, acquired midway through last season with Matias Almeyda's side struggling to find the back of the net, scored for Mexico early this week - his first goal since Jornada 1.
But Zaldivar, who has shifted to a wing position with Pulido up top in a 4-2-3-1 going forward, was back as the lone forward and caused Atlas all sorts of trouble. Neither the back line nor Atlas goalkeeper Oscar Ustari, whose distribution was poor all night, could cope with the pressure Zaldivar applied. He played well with his back to goal, giving center backs Leiton Jimenez and Daniel Arreola issues when he got possession and had Rodolfo Pizarro or Isaac Brizuela running forward in support.
When he needed to, the Chivas homegrown kept his nerve, finishing from the spot on a penalty that was an interesting call, with Atlas' Jose Maduena getting tangled up with Brizuela in the box.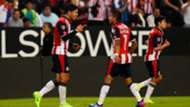 And he ably flexed back to the left side after Pulido came on for Brizuela midway through the second half, sending in a good cross from the wing moments after Atlas found a late goal to chip into Chivas' lead. It's a strange twist that Chivas for so long was missing a No. 9 and now has two players who can do the job, though Zaldivar's adaptation out wide is promising. Pizarro's acquisition in the midfield also clearly has helped both players find more scoring chances.
"He can play in a lot of different places," Almeyda said of Zaldivar, "Alan was going to start, but Pulido was tired, playing three games in a week, and he told me that sincerely. I knew that at best he was going to play 45 minutes.
"It was good. That's how the group is. Everyone  can support each other."
Saturday's win against cross-town rival Atlas in the Clasico Tapatio is only the first of two rivalry games in a row Chivas and their fans would be thrilled to win. Next week brings Club America to the Estadio Chivas for the Clasico Nacional. While the Tapatio might be the fiercest, the Nacional is the biggest.
The schedule this year has set up nicely for Chivas not only to face their two biggest rivals in succession but also to vault up the table if the club can find six points.
Zaldivar was there to help the side to the first three, and while he might not be up top against Las Aguilas, his continued resurgence has made a previously shallow Chivas attack a deep unit to be feared by rivals across town and country alike.