AFC Champions League
Analysis: Why did Al Hilal struggle against Al Rayyan?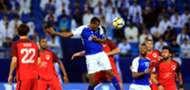 The matchday three encounter between Al Hilal and Al Rayyan in the AFC Champions League ended 1-1 after goals from Mouhcine Moutouali and Abdulla Al Zori, leading to disappointment by Al Hilal fans who have seen their side – which reached last year's final – end the first half of the group stage without a win.
Al Hilal came into the game in their usual 4-3-2-1 formation and attempted to reach Al Rayyan's goal via short passes towards the flanks or using Salman Al Faraj to play long and through passes to the final third.
We will look at three issues Al Hilal faced in the game:
Tactical problem: Al Rayyan played in a 5-3-1-1 formation and often there was a space between the midfield and the attack, which led to Al Hilal's midfielders being essentially free in between the lines. However, the absence of Abdulla Otayf had a negative effect on Al Hilal's ability to build play.
Psychological problem: Yet, Al Rayyan's "park the bus" tactic gave Al Hilal 76% of the possession and they thus dominated the play and inevitably created chances; 23 shots in total but only 6 of them were on target. This presented a big issue for Al Hilal, but it was expected with the inexperienced Mujahid Al Manea leading the line.
Squad problem: Al Hilal's main players, once again, were missing from the team. No Carlos Eduardo, Omar Khrbin or Gelmin Rivas meant that they suffered in the scoring aspect and this was highlighted when left back Al Zori was the one to cancel out Al Rayyan's goal. Even new signings Ezequiel Cerutti and Achraf Bencharki needed time to adapt to the team and their tactics, but with the recent change in managers this may even take a longer time.