America's fall, Monterrey's switch and more: Five things we learned from Liga MX Round 7

Jon Arnold
Feb 20, 2017 12:51 UTC +00:00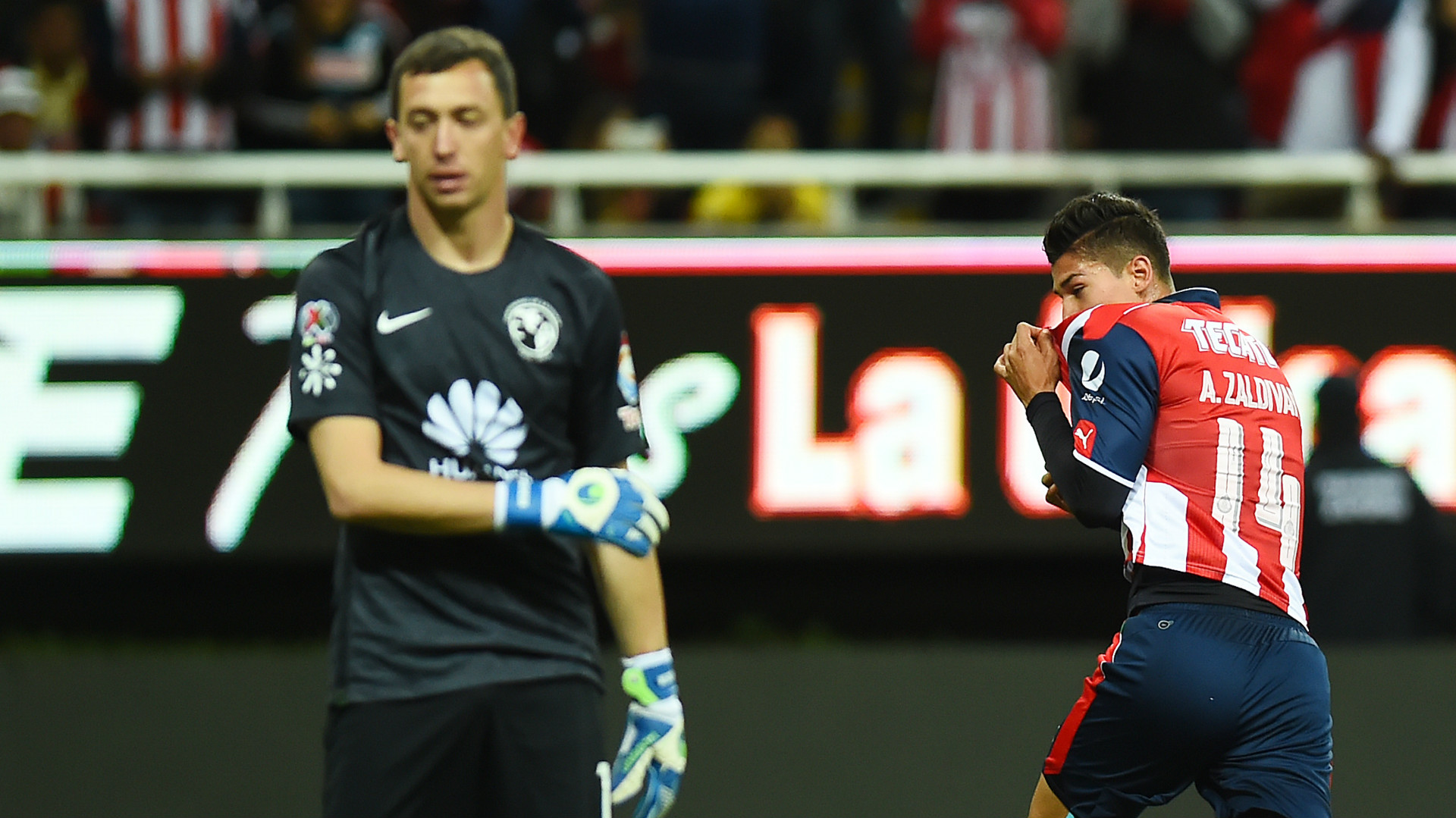 Hector Guerrero
What a day Chivas coach Matias Almeyda must have had Sunday.
His team had just played three matches in two weeks, including last weekend's Clasico Tapatio against Atlas and the Clasico Nacional against America following on Saturday.
He did it. The Argentine boss guided Chivas to a draw against Santos and wins in the two Clasicos. His team is now undefeated in its last four league games (seven in all competitions) and sits behind only red-hot Toluca in the league table.
Coaches aren't exactly known for taking it easy, but Almeyda had the perfect excuse for a day of R&R on Sunday.
"Gallito" secret weapon in Chivas' Clasico win
To the victors go the spoils (and the post-match feature in the link above), but to the loser goes the first spot in our Five Things this week. That's not a good thing...
---
AMERICA'S PIECES COMING TOGETHER, BUT TOO SLOWLY
---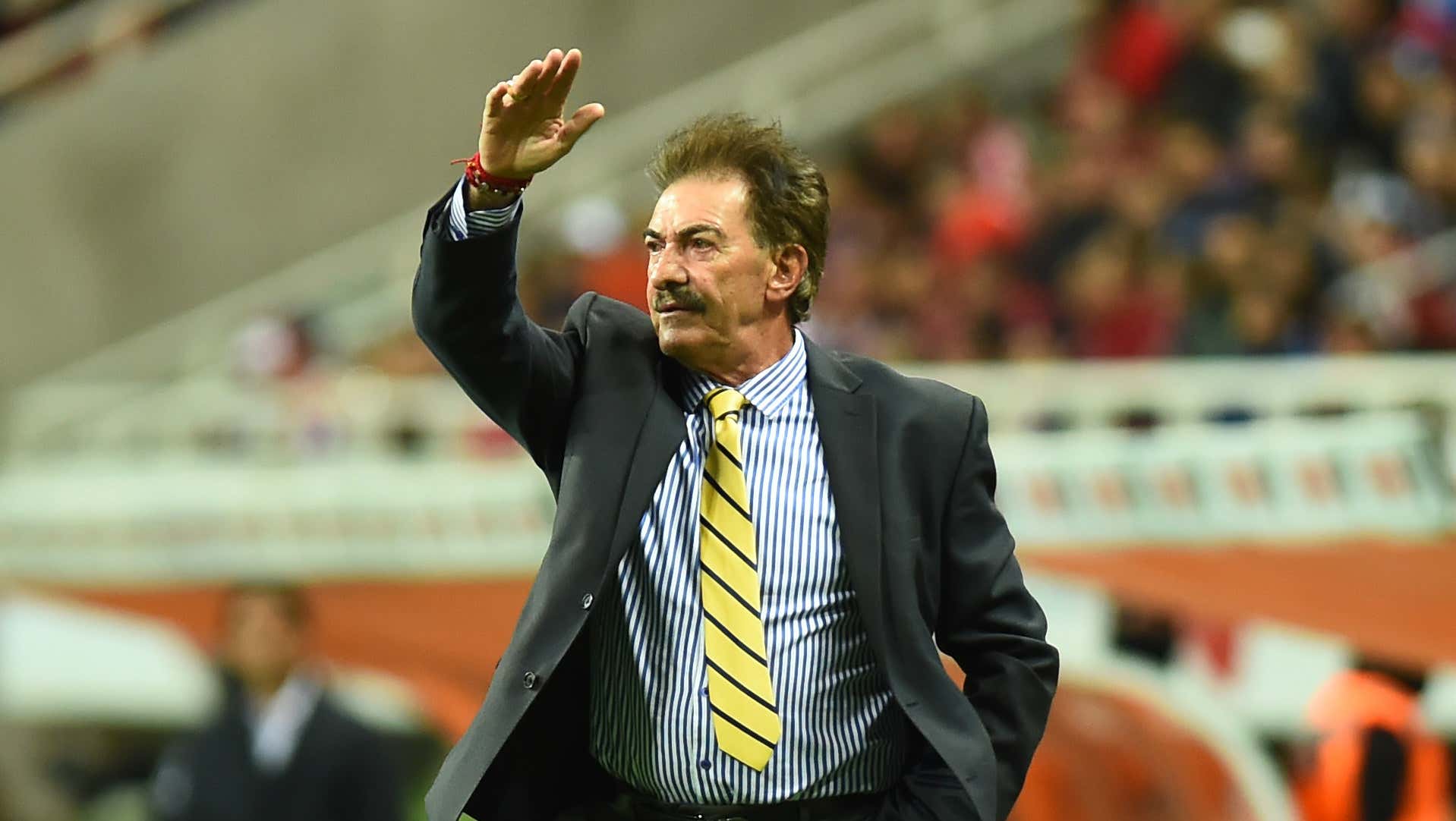 Club America lost the Clasico Nacional, and despite a 1-0 scoreline it wasn't all that close. Chivas controlled the game while America coach Ricardo La Volpe's gambles of playing Jose "Chepe" Guerrero as a center back and putting Gil Buron at right wingback didn't pay off.
WATCH: La Volpe sent off for making tackle
But while America was dominated, it is showing some progress. Oribe Peralta's continued misses in front of goal may eventually turn into goals - or he may just be replaced as a starter by Silvio Romero, whose dwindling minutes are a true mystery. The first 10 minutes were positive, and an equalizer could've been coming until Miguel Samudio was sent off for what the referee saw as a stomp. And the team's driving attacking force up to this point, Cecilio Dominguez, missed the game with a shoulder injury.
This isn't a team that will make the final, at least not in its current incarnation, but it also seems that the group is coming together after a rocky start to the season. That said, it might be too little, too late. La Volpe is still in his post as of this writing, but he needs results and needs them now. This team could need weeks longer to gel - or it could just need a refresh at the top.
"I sincerely believe that people should remain calm," said America assistant Rafael Garcia Torres, speaking after the match in place of the sent-off La Volpe. "We're working hard and looking for results."
The results, though, must come soon.
---
MONTERREY'S FORMATION SWITCHES WORKING WONDERS
---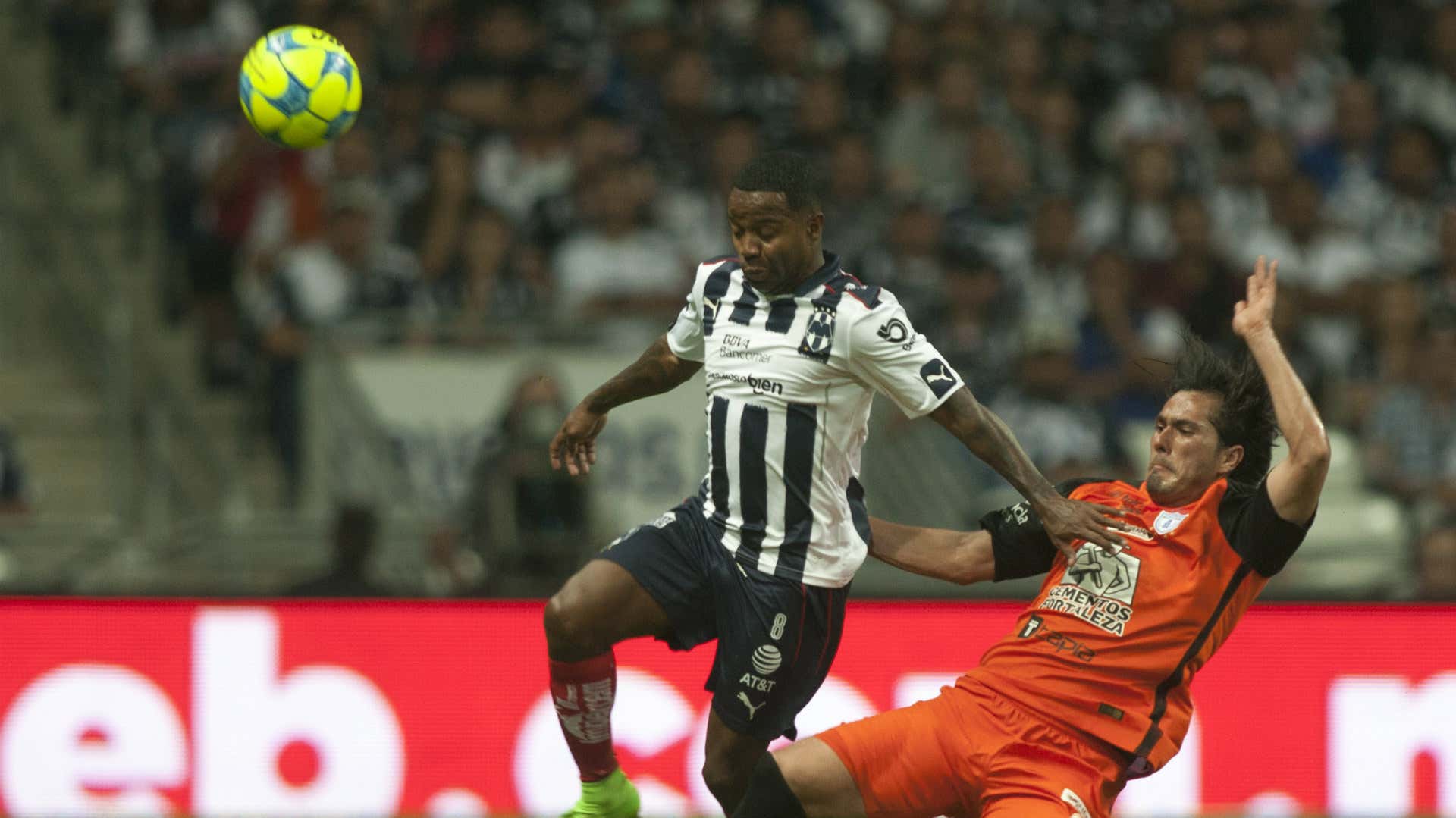 Monterrey topped Pachuca 1-0 on Saturday, with Dorlan Pabon again on the scoresheet. The Colombian's double last week and goal this week takes him to five goals - two more than any other Liga MX player has scored so far in the Clausura.
Part of Pabon's scoring run has been down to his ability to come from a variety of places, making it difficult for defenses to keep track of him. Last tournament saw Monterrey miss the playoffs completely while coach Antonio Mohamed lined up his team largely in a 4-3-3. This week, and at other times this season, the team has been in a 4-4-2, using Pabon up top along with Rogeilo Funes Mori and putting Edwin Cardona on the left with Carlos Sanchez on the right.
Mohamed has also shown a great deal more in-game flexibility, making subtle switches during the game like the one he did after realizing Jesus Molina and Celso Ortiz were going to have trouble with the Pachuca attack.
"We knew that against a 4-3-3 we could leave our defensive midfielders with a numerical disadvantage," Mohamed said after the match. "This happened between the 15th and 25th minutes. From there, we modified it with Carlos Sanchez moving inside and Pabon going to the right, and that's where the goal came from."
Tuzos were using an alternative lineup ahead of this week's CONCACAF Champions League quarterfinal first leg with Saprissa, but Mohamed's tactical adjustment and how his team executed it goes a long way toward explaining why this team is sitting in the top four instead of gasping for air like it did last tournament.
---
PUMAS, TIJUANA WITH WORK TO DO
---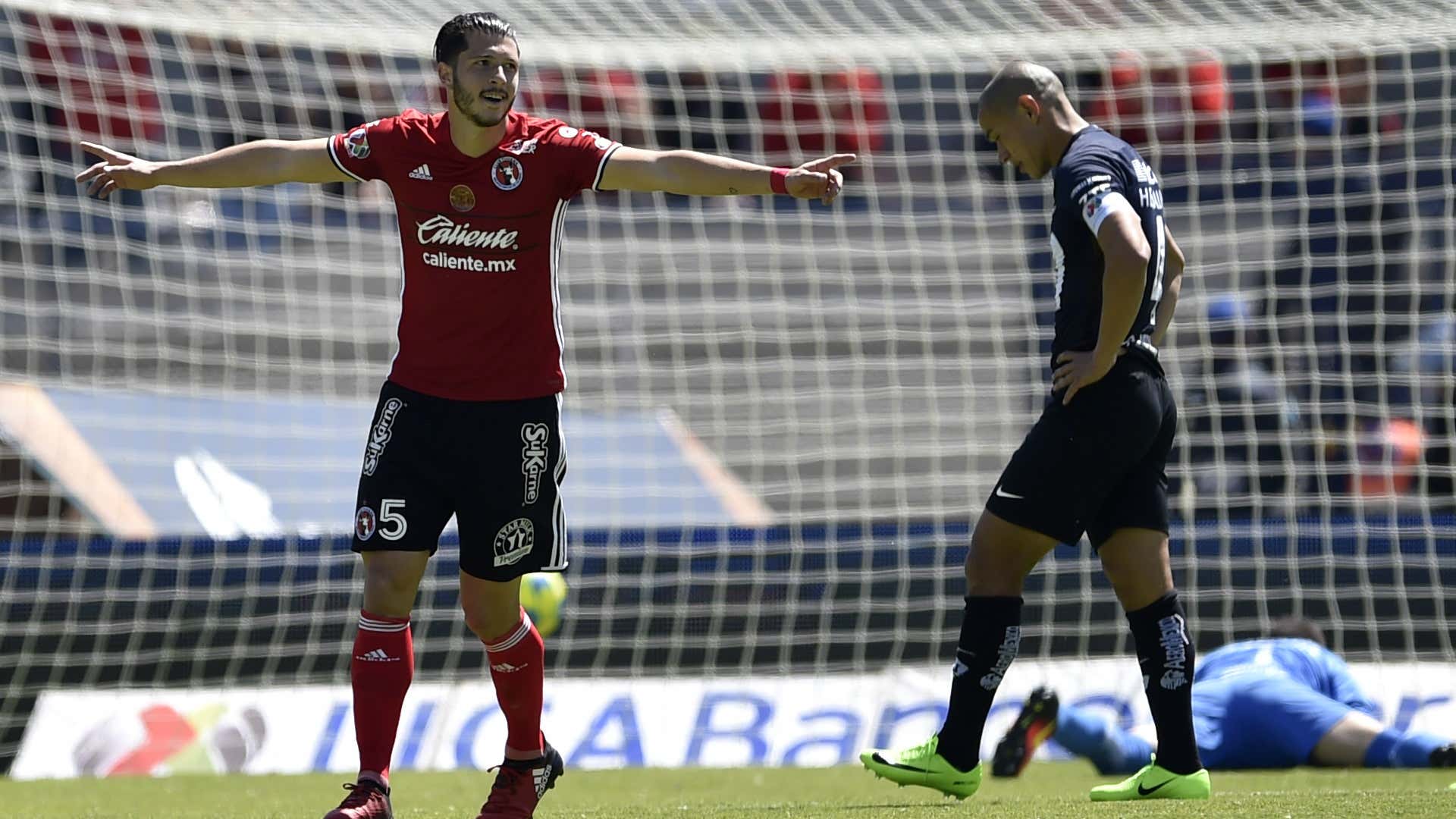 What can you say about a match that saw a team go up 3-0, only to end it tied 3-3? Tijuana collapsed while Pumas excelled with their spurt of goals, but then again Pumas really shouldn't have been in that situation in the first place. The only ones who come away joyful are the fans.
Coming off a defeat last week, Pumas needed to make a big statement in this game. They did, but perhaps not the one they would've wanted to. From this game we saw a team that too often can be undone by the shortcomings of its veterans with center back Dario Veron and goalkeeper Alejandro "Pikolin" Palacios both having games to forget. They were lifted by Nicolas Castillo, as the Chilean forward scored a goal to remember in a match that much of the team's attackers will look back on with pride.
Tijuana had a bit of bad luck, but also simply switched off. While Tijuana coach Miguel Herrera said the blame has to be collective and not fall on any one or two people, ranging from the club president to the kit man, he also will be frustrated he wasn't able to keep his team more engaged once it had what looked like an insurmountable lead.
"I'm upset, very upset. You can't give away a game to an opponent in 15 minutes, in a game you're winning 3-0 you can't let them tie you," Herrera said in the post-match news conference. "To get a point in the CU isn't bad, but how the game gave us this point, it leaves a bad taste in your mouth. The team worked 70 minutes perfectly well and after that they forgot about the game."
In the end, neither team looks like the best side in Liga MX, but both have the talent to get into the postseason and the time to resolve some of the issues that showed up in an enjoyable contest Sunday.
---
ROAD PROBLEMS PERSIST FOR SANTOS
---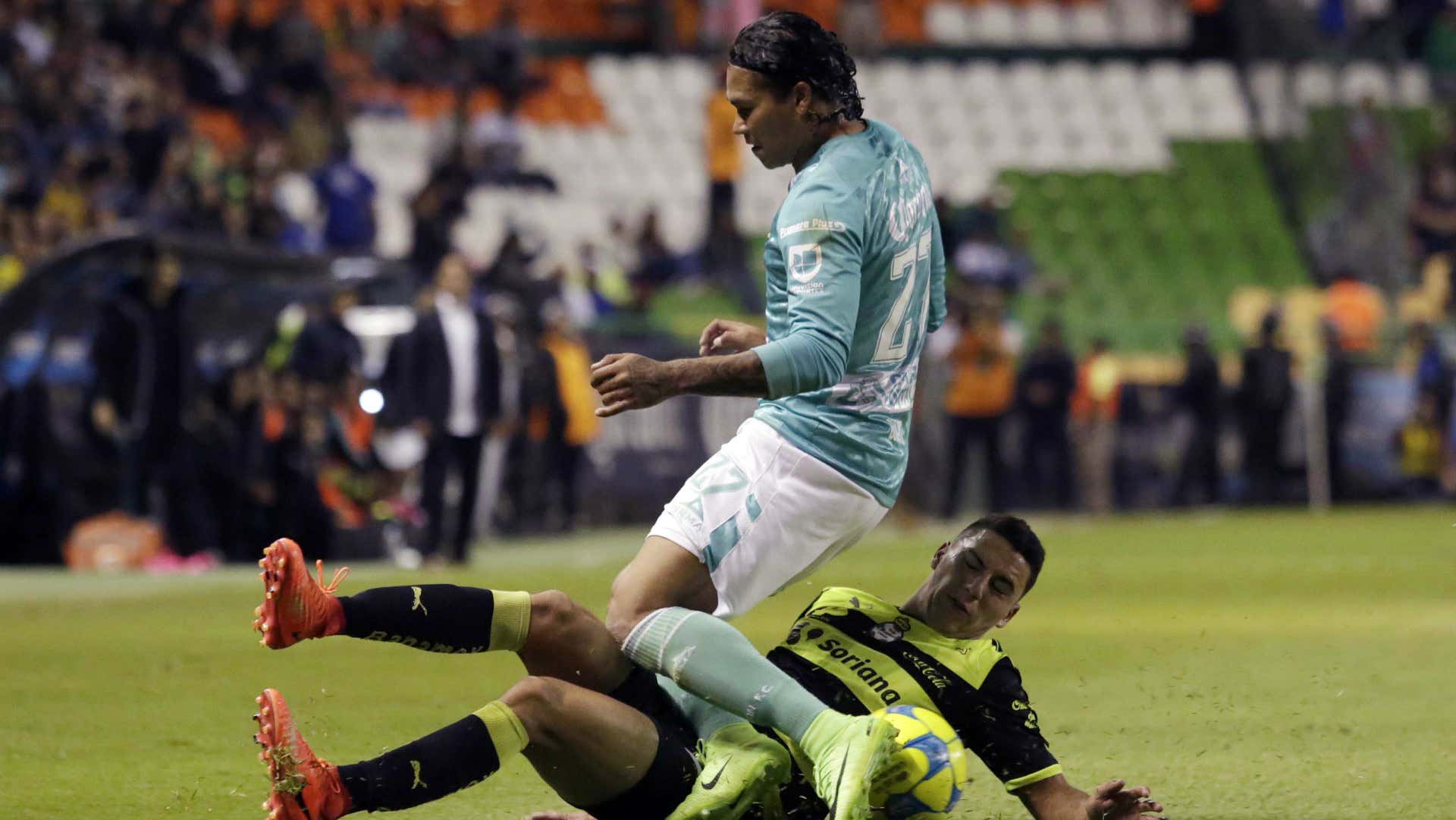 Santos Laguna stayed undefeated in the Clausura with a 2-2 draw at Leon, but the team's road struggles continued. The stalemate meant that club remained winless away from home in 2017. It's not an isolated incident. Santos has won just four of 29 road matches since 2016. It nearly would've been easier to win this one, with the team ahead not once but twice only for Mauro Boselli to score for the first time this tournament for the equalizer as Santos whiffed on two opportunities to clear a corner.
David Villa sent off after replay
Though still working toward cohesion going forward, Santos is a much improved team from the one that finished above just two clubs last tournament, but one of the last steps is to turn things around on the road.
Historically, teams that are abysmal on the road can get into the Liguilla. Actually finding success in the playoffs, though, is a different story. If coach Chepo de la Torre can't figure out how to get the team cohesive when it leaves Torreon, a quarterfinal exit is the best Guerreros fans can hope for.
---
STADIUM SECURITY, RATIONAL BARRA MEMBERS IN SHORT SUPPLY
---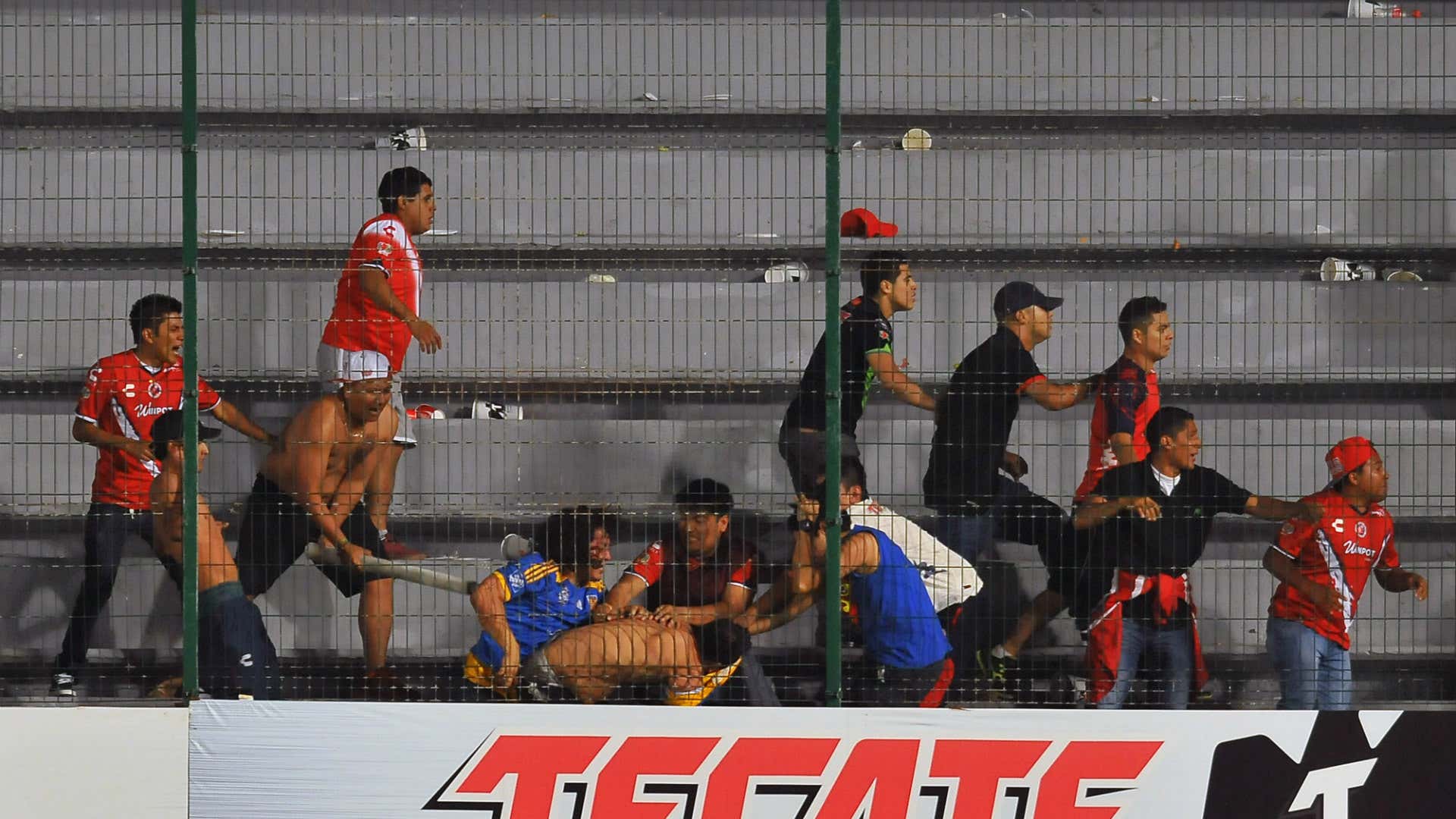 Look at this photo. This is something that shouldn't happen in society, much less at a soccer stadium. I wish we could talk about how Friday night in Veracruz we learned that Tigres' attack is finding its rhythm, or that Veracruz's strong home record may be based on poor opposition rather than the Tiburones Rojos doing anything right. I would rather heap praise on new Tigres right back Luis Advincula or speculate about whether or not Andre-Pierre Gignac is back, whatever that means.
But it became impossible to focus on the game when Veracruz fans went after Tigres supporters at the end of the match. Gignac and other players tried to calm things down and images of coach Ricardo "Tuca" Ferretti shouting profanity at a pitchside police officer for lack of action by any of the officer's colleagues went viral.
In some ways, maybe this only would've happened at Veracruz. The club's owner hasn't exactly created a culture of non-violence at his stadium, earning a suspension in 2016 for swinging at a member of the referee's committee. Things aren't going well for Veracruz as a city, not just on the field. Yet, only the members of this barra can be blamed for the violence.
The lack of response, however, does fall on the police, and while Ferretti's outburst may not have been productive in the moment, you can understand where his frustration comes from. Stadium security in Mexico is subpar, well below the quality of the league. We've seen this sort of incident before, and sadly we know we'll see it again until there is both a cultural change and an increased presence inside buildings to keep those who want to start fights rather than enjoy the sport from succeeding in those goals.
---
GOAL OF THE WEEK
---
Once more with feeling! This goal from Nico Castillo of Pumas gets our prize this week simply because - how do you even get your body to do that?
---
WEEKLY WHIMSY
---
The pitch in Monterrey was in poor condition, but it wasn't because of any of the usual suspects. Weather? American football game? No, this was a problem of Canadian origin: none other than pop star Justin Bieber, whose concert at Estadio BBVA left the field in bad shape. Pachuca sent this picture with "Uncle Tuzo answering the question if the state of the playing surface affected the match," and a response using one of the singer's song titles.