African All Stars
Alex Iwobi names one Arsenal player he looks up to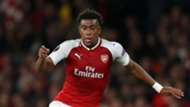 Alex Iwobi has named Theo Walcott as the player he really looks up to at Arsenal.
The 21-year-old has become a mainstay in Arsene Wenger's team since he made his way into the Gunners' first team towards the end of the 2015-16 season.
Despite playing three games more than the 28-year-old across all competitions this season, Iwobi chose the England international who joined the north London outfit from Southampton in January 2006 for his guidance and his attacking abilities that can cause havoc to opposition's defence.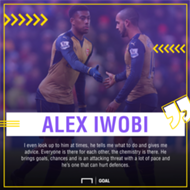 "Theo [Walcott] is one of the more experienced players and he would know how to go about doing this, he still motivates the team and puts in a good shift in training," Iwobi told the club's official website.
"I even look up to him at times, he tells me what to do and gives me advice. Everyone is there for each other, the chemistry is there.
"He brings goals, chances and is an attacking threat with a lot of pace and he's one that can hurt defences, so he's very important to the team.
"You don't even need to watch Alexis and Ozil. You just see the stats and what they bring to the game and for the team.
"They're incredible for us and with them playing, you always know we're going to get a goal or a chance so it's important for us to keep them fit and playing."
After playing eight games in the Premier League this season, the Super Eagles forward is satisfied with his performance but seeks more playing time in Arsene Wenger's team.
"I believe I've done okay so far, but I wish I could get more goals," he continued.
"Goals win games and I've had a few chances, but overall I'm pleased with my performances. I would like to play a bit more, but I have to be patient as we have a lot of world-class players in the team.
Iwobi who has scored just a league goal this season will be looking forward to making his ninth league appearance when Arsenal visit Southampton for Sunday's English Premier League encounter.