Alessandro Lucarelli
Alessandro Lucarelli's lasting relationship with promoted Parma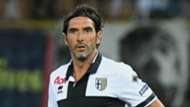 In Italy football is fiercely tribal. Loyalty counts for something in this part of the world and Serie A has no short prominent examples of this. Whether it's Francesco Totti and Daniele De Rossi, Franco Baresi and Paolo Maldini or Javier Zanetti and Giuseppe Bergomi; these players have all come to embody loyalty in their playing career.
While the aforesaid players are famous examples, there are lesser known ones and one of them is Alessandro Lucarelli, whose loyalty and love to Parma is sweeter than any Hollywood love story. Lucarelli joined Parma in 2008 and went on to become a mainstay with the club, helping them to promotion from Serie B to Serie A that year.
This was the beginning of a relationship that would blossom steadily with the centre-back becoming the bedrock of what the Gialloblu was built on.  However the true test of the 41-year-old's loyalty to the club would soon come in 2015. Parma was a legendary club especially in the 90s. Their iconic kit coupled with prominent players like Hernan Crespo, Gianluigi Buffon, Fabio Cannavaro and Juan Sebastian Veron allowed the club to work up a solid fan base. They were the outliers; the hipsters of their era, as they gave viewers of Calcio another option instead of the main powerhouses of Italian football.  Furthermore Parma also had the success to show for it most notably their two UEFA Cup triumphs in 1995 and 1999. It is also worth noting that the club nearly won Serie A in the 1996-97 giving winners Juventus a fierce fight, under the guidance of a certain Carlo Ancelotti.
But 2015 would prove to be a calamity for Pama. Sadly, the fabled club reached a nadir declaring bankruptcy and things got so bad that Parma had to put up their trophies for sale. Moreover, the club was banished to Serie D. Lucarelli who was by now captain vowed to stay with the club despite receiving other offers. His loyalty undiminished, his heart full of belief and his commitment to restoring Parma's pride never wavered. He promised the fans that he would get the club back to Serie A and it is safe to say he delivered.
2015-2016 saw the Ducali promoted to Serie C from Serie D. Subsequently they made further progress in 2016-2017 by getting promotion to Serie B. And in 2017-2018 Parma finally made their return to Serie A after their 2-0 win at Spezia on Friday saw it finish second in Serie B. Frosinone conceded a late goal to draw 2-2 at home to Foggia. They finished level on points but Parma clinched second courtesy of a better head-to-head record. In achieving this the Gialloblu became the first team in Italian history to complete back to back promotions.
There is no denying that Lucarelli was at the heart of Parma's revival with his leadership on and off the pitch. In 2015, when the club's bankruptcy meant that they couldn't afford a bus the captain rallied the players and convinced them to fund for their own transport in order to help the club. All of this despite not receiving salary all season. A video containing a spine-tingling speech he gave to his team-mates further added to his mystique, while also highlighting his oratorical skills. Now at the ripe old age of 41 and becoming Parma's record holder for league appearances, he is almost sure to take up a role within the club's hierarchy. As he swaps his footballing boots for the suit, he can rest be assured that his story with the club will be deeply entrenched in Parma's folklore.