CAF Champions League
Al Ahly blame alleged attack on team bus for Caf Champions League defeat to Esperance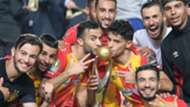 Al Ahly assistant coach Mohamed Youssef has blamed the alleged attack on their team bus as the reason behind their sensational collapse that saw Esperance go on to win the Caf Champions League.
The Al Ahly team bus was allegedly attacked by Esperance fans as the Egyptians made their way into the stadium ahead of the crucial match which the visitors won 3-0. Al Ahly eventually lost the final 4-3 on aggregate.
Al Ahly midfielder Hesham Mohamed was said to have been injured in the head after he was reportedly hit by a stone. 
"Congratulations for Esperance. It was a bad luck for Ahly. We hoped to deliver better performance but what happened is possible amid the pre-match circumstances and atmosphere," Youssef was quoted as saying by Al Ahram.
"We met difficult circumstances during our 72 hours-stay in Tunisia before the match and the atmosphere was totally far from football. The latest incident was the assault on our bus and injuring one of our players by a thrown stone as we were obliged to exclude him from the match," he added.
"I salute Ahly players as they tried to do their best during this difficult atmosphere. We played a balanced first half but the first goal embarrassed us besides the injury of Mohamed Hany and the suspension of Walid Azarou," he said.
"This is football. We respect Caf decisions but we were negatively affected by the quick sanctions on Ahly directly before the match. Ahly remains leader of African clubs with its host of titles," he expressed.
The build up to Friday's match was dominated by off-field scuffles as Al Ahly striker Walid Azarou was suspended for alleged unsporting behaviour by Caf.