Premier League
Akunnor not satisfied with Ashanti Gold performance against Bechem United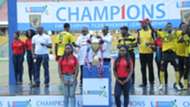 Ashanti Gold manager C.K Akunnor is not happy with his side's performance against Bechem United despite picking a point in their 1-1 stalemate in the Ghana Premier League on Sunday.
The Miners pulled level through Amos Addai but struggled across the second half of the game.
"We were poor against Bechem United especially in the second half but we will try and correct all those mistakes in our next game," Akunnor said.
"We possessed the ball very well at a point but were not able to create chances and the second-half was even worse which I must admit. However, the fact that we didn't lose means it's good. If you don't play too good but pick a good result, it's always a great feeling," he added.
Akunnor however admitted that they had an advantage over Bechem since the game was moved from their home ground to a neutral ground.
"I must be honest, if we had played the game at their home grounds, it would've been a different situation. We have a record of always struggling against them at that venue but we were lucky it was played at this venue this time," he conceded.
"Maybe we could've won there but I think the advantage will always go to them at that venue. They were struggling in the first-half since it was a different environment and we all saw that they improved in the second-half after getting used to the pitch," he added.
Ashanti Gold will now prepare for the Asante derby next weekend as they welcome Asante Kotoko to the Len Clay Sports Stadium.