Premier League
Hyndman hopes for Bournemouth return following impressive loan stint with Rangers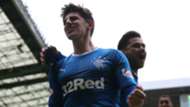 Emerson Hyndman's dream move to the English Premier League couldn't have started off much worse. An injury early in his first preseason with Bournemouth set him back and left him out of the picture for minutes by the time he was healthy.
Hyndman's fortunes have turned around, though, after a winter loan move to Scottish powerhouse Rangers that has helped recharge his career and remind fans in the United States why he has been such a highly regarded prospect for so long.
How Dempsey, Wood and Altidore can coexist
The longtime U.S. youth national team standout has become a fixture in Rangers' starting lineup since joining the club in January, and has developed into a real attacking threat, producing four goals and an assist in 12 league matches.
"I was really excited to make this move to Rangers because it came at a good time," Hyndman told Goal. "I needed games, and it's such a big club as well. It was really exciting to have the opportunity to play in pressure situations in front of big crowds.
"It wasn't the best start for me (at Bournemouth)," Hyndman added. "Obviously it was frustrating. I was real excited to make my move to Bournemouth, and obviously you want to impress in preseason so for (the injury) to happen was tough."
The former Fulham midfielder left the London club last summer and chose Bournemouth over a handful of suitors throughout Europe. Despite the injury and lack of playing time, Hyndman has no regrets about the move.
"The Championship is obviously good quality, but moving to the Premier League is a step up," Hyndman said. "I enjoy training with that group, a good team, well coached as well. It's frustrating when you don't play games. I had to take that on and try to show up every day with a good attitude to improve.
"When I heard bout the Rangers interest it really excited me," he continued. "The manager told me I deserved games at some point in the season, so when that opportunity came I jumped to grab it."
Hyndman is just the latest in a long line of Americans to play for Rangers, adding his name to a list of players that includes Claudio Reyna, Carlos Bocanegra, DaMarcus Beasley, Maurice Edu and Alejandro Bedoya. More recently, Gedion Zelalem spent last season on loan with Rangers.
"I spoke to Gedion about the club — he was there last year — to have a more up to date version of it and (he) was very complimentary of Rangers as well," Hyndman said. "I knew they had that history as well, which was nice. I could tell as soon as I walked in the building that they're very friendly with Americans.
"Any time I met one of the staff members they always brought up some American that they knew — Bocanegra or Maurice Edu, whoever it was. They'd bring up a story and try and make me feel comfortable. It was nice going to go to a club that has that kind of history."
MLS Power Rankings: SKC charges upward
Hyndman has fit right in since joining Rangers, starting all 12 league matches since he has arrived. He has managed to keep that stretch going even after the club went through a coaching change, with Pedro Caixinha replacing Mark Warburton in March.
Hyndman has shown good attacking qualities in Scotland and credits his success to the fitness levels he was able to establish at Bournemouth before arriving at Rangers, as well as the attacking freedom he has at Rangers.
"My attacking qualities were always there, but at the same time I've been put in different positions throughout my career," Hyndman said. "Sometimes I've been the deeper midfielder. Sometimes I'm more of an eight role, kind of creator, other times a 10.
"It's been kind of similar here. I find myself in advanced positions with Rangers," Hyndman added. "They give me the freedom to go forward and try to create. Part of the job of a box-to-box midfielder is to chip in with goals. I've been fortunate enough to have as many chances as I've had, and I was able to put some away early on."
Hyndman's goals have served as high points of his stint with Rangers, as well as his experience playing in the Old Firm Derby against Celtic.
"You hear so much about it, I've seen them in the past on TV, you realize how big of an occasion it is, but to play in one is a completely different feeling," Hyndman said. "Playing in that kind of atmosphere is special and it's something you aim for in your career."
Hyndman's goal at the moment is to finish his run with Rangers in good form as he prepares for a return to Bournemouth, where he is hoping to compete for playing time next season. His name has been linked to transfer rumors, including interest from Celtic, but Hyndman is intent on battling for playing time at Bournemouth after having injury cost him that opportunity last summer.
"That was the goal when I came here, to get playing time and find my form and earn experience to help me in England," Hyndman said. "I know Bournemouth has been keeping tabs on me and I feel good about competing for (playing time) next season."
Hyndman's name is one that has been known in American soccer circles for years, dating back to when he emerged as a hotshot prospect in the FC Dallas academy during his pre-teen years. He moved to Fulham at age 15, and continued to develop even as buzz around his name died down stateside.
Hyndman is still young, having just turned 21 earlier this month, but you can count him among the many American players who have been impressed and inspired by the rapid rise of U.S. national team and Borussia Dortmund sensation Christian Pulisic.
"I just think it's brilliant for American soccer in general," Hyndman said. "I don't think we've seen a player that quickly, at that age, break through like that and really make that sort of impact.
"Obviously he's doing really special things at Dortmund, playing in Champions League matches and things like that at the highest level. I think it's brilliant. I've enjoyed watching him play on those nights. I've never played with him, but obviously I hope to have the chance in the future because he looks like a great talent."
Hyndman's success at Rangers has surely put him on Bruce Arena's radar with the U.S. national team, and the former U.S. Under-23 midfielder will be hoping he can add to the two senior national team caps he earned under Jurgen Klinsmann.
"I'm really anxious to get back in with the national team," Hyndman said. "Any time you're doing well and playing regularly, you want to get called in. It's a bit of a disappointment with the (March) roster, but at the same time I'm really optimistic about the future. I know I just have to keep performing at the level I should do, and keep chipping in with goals and helping my team win is all I can do.
"I hope to have a shot maybe at the Gold Cup in the summer — that's what I'm aiming for," Hyndman said. "I think that'd be a good time to make an impact. You never know, that's out of my control. All I can do is try to work hard and get into the squad."