AFF Championship
Syahmi highlights importance of first leg draw in overturning Malaysia vs Thailand narrative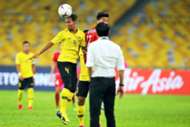 ---
BY        ZULHILMI ZAINAL       Follow on Twitter
---
Although Malaysia were not able to capitalise on their domination of possession in their first leg AFF Championship semi-final clash against Thailand at home, right back Syahmi Safari was nevertheless glad that the match went the way it did.
Malaysia vs Thailand match highlights
Speaking to the press after the match on Saturday, the 20-year old player remarked that the Harimau Malaya's inability to convert the many chances they had was because luck was not on their side.
"This was our best performance in the campaign so far. We created numerous chances, but was not lucky enough to put them away.
"Every player gave their full commitment, we defended from the front, and the fact that we did not concede any goals is already an advantage for us.
"But admittedly, our finishing needs to be worked on before the second leg this Wednesday," said the Selangor player.
The second leg will be a much tougher encounter for Malaysia according to him, but he emphasised the importance of their strong showing in the home fixture, in preparing for the away leg.
"The second leg will be a different game as the atmostphere will be as tense as tonight. But we have to absorb it and play even better than we did tonight, while maintaning our confidence and refraining from showing Thailand too much respoect. 
"Everyone has been saying that Thailand are the better side and that cannot be denied, but on the Malaysia players and coaching staff's part, we have to overturn this narrative on the pitch," explained the Selangor player. 
The second leg in Bangkok will be played on Wednesday, December 5, 8.00 pm Malaysian time. 
Keep updated on the 2018 AFF Championship!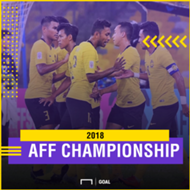 Follow Goal Malaysia 's Instagram account to see photos and watch videos from the AFF Championship!