AFF Championship
Laos cry foul over Malaysia winner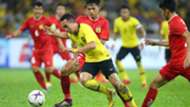 Laos were only five minutes away from accomplishing a big shock in the 2018 AFF Suzuki Cup but succumbed to two late goals by Norshahrul Idlan Talaha to see Malaysia walked away with all three points in Monday night's Group A clash at the Bukit Jalil National Stadium.
V. Sundramoorthy's side dared to dream when they took an unexpected lead after less than 10 minutes played when Phithack Kongmathilath strucked a sweet left footed free kick that beat Khairul Fahmi at his near post to give the away side the lead.
However, Malaysia roared back into the game through Zaquan Adha's leveller in the 15th minute of the match before a brace from Norshahrul in the 85th and the third minute of stoppage time meant that Laos went home empty handed.
Assistant coach Firdaus Kassim attended the post-match press conference with Sundramoorthy losing his voice after the match and the former was full of praise in the manner his charges worked tirelessly throughout the 90 minutes to keep Malaysia at bay.
"You can see from the beginning that we had a very clear plan. In the first 15-20 minutes, we did not settle despite taking the lead. Then the boys grew into the game and were very discipline in frustrating Malaysia for very long period." 
"I haven't seen the replay of the goal but my boys were screaming hand ball. So it's a little bit disappointed that a very heroic performance from the boys but the game had to be decided on a very controversial goal. But we'll take it and hopefully the next game we try to get a better result," said Firdaus.
Laos employed a 5-man defence with the three centre backs easily crowding out Zaquan Adha and the space that Malaysia wanted to play into. Forced wide, neither Safawi Rasid nor Syazwan Zainon could find the penetration and Malaysia were left wondering where the goals were going to come from.
Outthilath Nammakhot was only a late selection in the starting line-up after Laos' first choice keeper got injured in the warm-up but the 19-year-old step up with a series of great saves before Malaysia finally found the breakthrough late on.
Having seen his side did very well with their defensive organisation, Firdaus went on to explain that the tactic was only necessary because of the situation and that is not how the coaching staff and Sundramoorthy would prefer to see Laos play in future games.
"We wanted to have a very solid backline. Here away playing Malaysia is not easy to get a result. But I'm very happy with the performance. We were very solid at the back with minimal penetration from Malaysia. Of course moving forward, we want to be more adventurous in terms of controlling the game. But we're a very young side and we can still grow as a team," he added.
Follow Goal Malaysia on Instagram