Chelsea
Abraham & Palmer determined to take Chelsea chance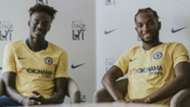 After riding the highs and lows of respective loan spells, both Tammy Abraham and Kasey Palmer seem ready to fulfill their Chelsea dreams and seal a spot in the first team. 
A pre-season trip to Australia to take on Perth Glory, coinciding with the launch of the Blues' new Nike away kit, has provided them an ideal chance to impress new manager Maurizio Sarri.
For Abraham, a return to the Chelsea fold comes after a season with Swansea City, who were ultimately relegated from the Premier League.
Although it didn't bring the same success he saw at Bristol City the season prior, where he was voted their player of the season after scoring 23 goals, Abraham's heartache at Swansea was a valuable experience in his development.
"We started well and I started well myself," Abraham told Goal.
"I think from there things just got complicated and hard for us.
"It was obviously learning another side to football, not just going from the academy where you're just winning, you've got to experience the other side as well and that gave me that experience."
With Abraham going through the pain of relegation, Palmer has in turn tasted the joy of promotion, having been a key figure on loan in Huddersfield Town's successful Championship campaign back in 2016-17.
Scoring within seconds of his debut for the Terriers, the midfielder enjoyed a fine stint with Huddersfield, netting four times across 24 appearances.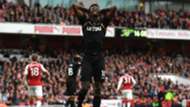 "It was a dream from the start really," Palmer told Goal.
"I think it was my first touch on the pitch and the ball just fell to me. It was kind of a lucky goal but I'll take that on my debut.
"That's probably been the highlight of my career so far, to be a part of something special for the club and for myself to achieve promotion in my first season in men's football.
"It's one I'll never forget that's for sure."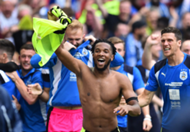 Having experienced the pain and glory of a loan spell, both Abraham and Palmer are determined to now turn their Chelsea dreams into a reality.
Abraham has been with the Blues since 2004 and he is now desperate to take his chance to impress new boss Sarri.
"Growing up as a young kid playing for Chelsea, I've always wanted to make it to the top and just being out here with the first team in pre-season has given me a chance to prove myself," he said.
"The reason I go out on loan is to get that experience so when I come back to Chelsea I can claim my position. I'll do whatever it takes and just keep doing my best."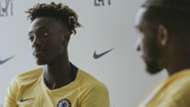 Palmer, who joined Chelsea from Charlton Athletic in 2013, is just as determined to prove his worth to Sarri.
"For me it's the dream to come back and play for Chelsea after being out on loan," he said.
"But you have to earn it and going out on loan gives you the opportunity to showcase what you can do.
"Being away with the first team now and a new manager is a great chance to show what we can do and hopefully we can take our chance."
That chance may come against Perth Glory on July 23 with Chelsea taking part in their first pre-season match which is, of course, the first game of the Sarri era.
While only time will tell if this is the season Abraham and Palmer can break through at Stamford Bridge, they do have age on their side with both still only creeping into their early 20s.
But don't let their age fool you, these two are deadly serious about making it sooner rather than later at Chelsea.