Federation Cup
'A blessing in disguise?' - What does another Kolkata Derby mean for East Bengal and Mohun Bagan?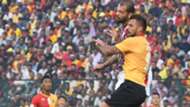 For East Bengal and Mohun Bagan, two teams who saw their I-League hopes wither away like leaves in autumn, the Federation Cup offers a proverbial cornucopia of success. Though an Asian Football Confederation (AFC) Cup spot that came with it is under a cloud of doubt, owing to a myriad of changes being mulled by those in Indian football's echelons of power, there is a sedulous promise of silverware in the air. 
The title of Federation Cup winners might or may not ring empty in the near future but both East Bengal and Mohun Bagan know that there is no better way to finish the season than with a hunky chunk of shiny metal between their hands. 
However, the catch is that the arch-rivals will have to go through the rigours of another Kolkata Derby, this time in the unfamiliar surroundings of the Barabati stadium in Cuttack, Odisha. The second semifinal of this year's Federation Cup promises another intense battle but what does it mean for the two teams? 
This season, the Kolkata Derby has not really brought The Red and Golds the fondest of memories. Having started with six wins and a draw under Trevor Morgan, they were hurtling forward at breakneck speed in the league when the first of those fixtures dawned. The Green and Maroon brigade were also in form, having won five and drawn one, going into the game. 
The barren 0-0 draw, in which East Bengal's Trinidadian striker Willis Plaza missed the best of chances from a one-on-one situation with Bagan custodian Debjit Majumder, seemed to have arrested the momentum Trevor Morgan's side had built up rather than that of Sanjoy Sen's team.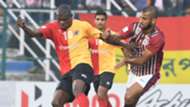 While East Bengal stumbled to a draw against Shillong Lajong and were defeated by Aizawl, Bagan gained four points from their two succeeding games against Mumbai and DSK Shivajians.
But East Bengal still had a chance of claiming the I-League title when the second Kolkata Derby of the season came up while Mohun Bagan had only tasted defeat once and were looking good for the title. It was the Mariners who nurtured their own hopes and nipped their rivals' in a convincing 2-1 result that had repercussions down at the Maidan Tent in Kolkata. 
Trevor Morgan would lose his job after East Bengal fell to yet another loss in the very next game and limped to a third-placed finish. A buoyed Mohun Bagan, however, had the upper hand in the title race only until the penultimate round where they took on Aizawl FC. Khalid Jamil's men would go on to pip the Mariners to the title, scripting a miraculous underdog story.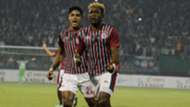 For East Bengal, who would consider their season a disappointment because of the way they had started, a tough game in the semifinal might just be a great opportunity to end the season on a high. The Kolkata Derby has not been kind towards them in 2017 but their season might just seem worthwhile if they manage to get a derby win and a trophy to boot. 
With Wedson Anselme, the crafty Haitian who has been behind every good move East Bengal have made, fit and scoring and the likes Bikash Jairu also finding regular playing time, they look to have put the troubled last few weeks of the I-League season behind them. This opportunity could very well be East Bengal's silver lining to a comparatively gloomy season. 
For Mohun Bagan, however, having bested their arch-rivals in the run-up to the I-League title counts for little now. The title was wrested away at the very last moment by Aizawl and Sanjoy Sen's side find themselves forced to conquer East Bengal again in order to lift silverware in the form of the Federation Cup. 
The 56-year-old tactician's reign in charge of Mohun Bagan so far has been successful. He won them the much-sought I-League title in 2015 and also won the Federation Cup last year. A defeat on Sunday might just be a setback for Sen but with the defence of their trophy at stake, that is not an option Sen will consider. 
The religious fervour and anticipation that normally surrounds this fixture might be lesser this time around and the fact that it is being played outside of West Bengal might ease the atmosphere in the stands. But one can rest assured that the intensity on the field will be heightened. 
This sudden date with each other on Sunday could be a blessing in disguise for one team or another disheartening result to wind up the season for the other. It makes for compelling viewing nonetheless!