It will be a fascinating final. No two teams in the Champions League have been more consistent this season than
Barcelona
and
Juventus
. Two strong sides, with very different styles, meet in Berlin – and both of them are going for a treble.
Barcelona has had a magnificent season. Its attacking strength and growth in defense has helped it to achieve so much already in 2014-15.
Its attacking potential is impressive. Be it on the counter-attack, in individual moves finished by Neymar, Lionel Messi or Luis Suarez, or in their passing play, Barcelona has so many tools with which to decide a match.
Between December and now, the team has improved immensely. The great virtue of Luis Enrique and the club was to get their excellent individuals gelling as a team. Messi returned to the right wing, with Luis Suarez in the position where he has thrived his whole career. Neymar as well. That has made the team much more complete, and it's the great thing about football: if the best players understand better how to play as a team, everything is much stronger.
That's what happened at Barcelona as the coach and the players understood what was best for the team and the collective – not only individuals. When that happened, the collective became much stronger – and they haven't looked back.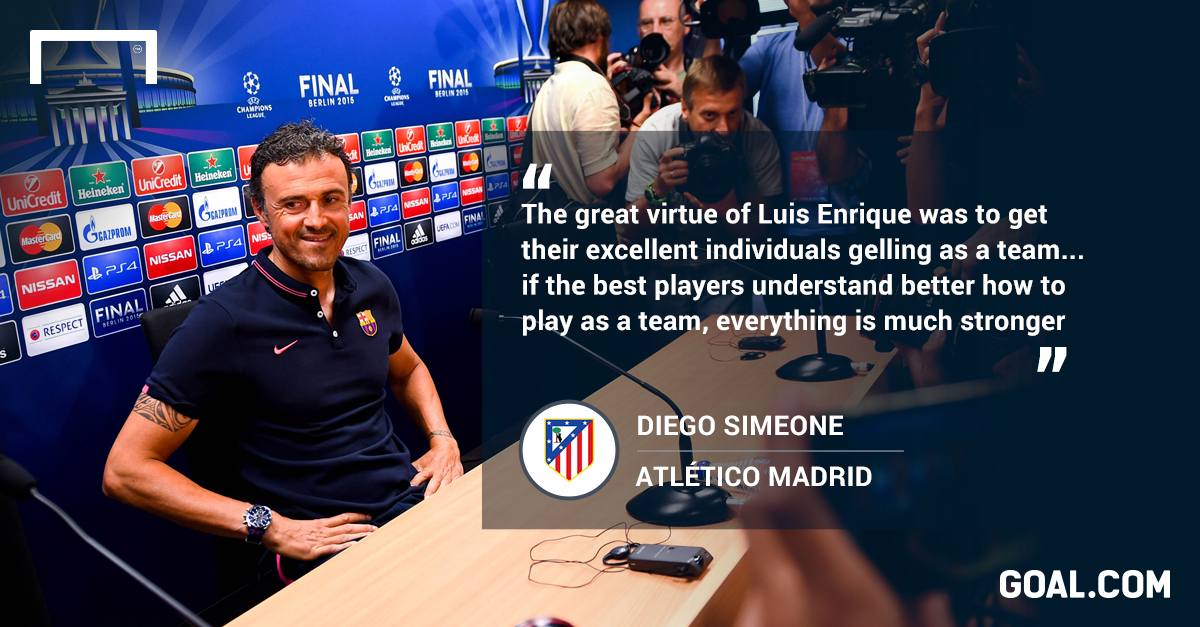 Messi scored another wonderful goal in the final of the Copa del Rey last Saturday. Year after year, he continues to surprise us. Last season, he perhaps lacked the consistency we have become accustomed to from him. But this year, he is at such a high level that we expect something different from him every week.
In the final of the Copa del Rey, he showed once again what a great player he is. If you don't control him from the first instant, he makes things even harder for you because he sees things before anyone else. That's why he is the best in the world.
It is impossible to control him in any case. You try to control him with spaces, looking at where he can get to and where he is dangerous. But he moves inside and outside, down the wing, on the left. It's very difficult to think about controlling a player who is uncontrollable. There's no way.
But it's only one game and Juventus has as much chance as Barcelona. Anything is possible over 90 minutes and Juventus has its weapons, too: it is strong defensively, very good at dead balls and has a powerful attack. It is capable of playing an extraordinary game.
We all talk about Barcelona's brilliance, but let's not forget that Juventus has won the Coppa Italia and its league as well. Italian teams are used to competing in the big tournaments like this. We have seen it in World Cups, in European Championships and now in the Champions League too.
This game for Juventus is interesting because it is probably the last for a group of footballers who have been working toward this moment for several seasons. It looks like Andrea Pirlo, Carlos Tevez and Paul Pogba could be moving on in the summer – and they will want to sign off with a win.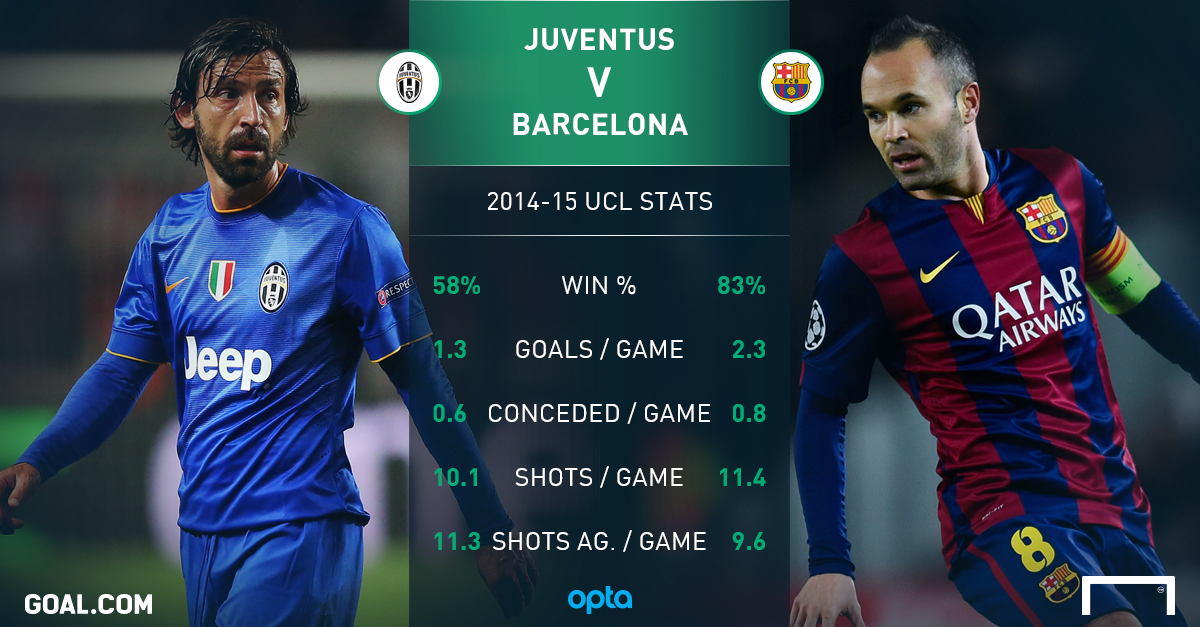 The midfield battle will be key. Arturo Vidal and Roberto Pereyra, if he plays, can help Juventus in the transition between defense and attack. Barcelona presses high up the pitch, so its role in moving the ball forward quickly and with quality will be vital.
Likewise, Ivan Rakitic and Sergio Busquets will be important because they will compensate for the attack by adding the balance Barcelona has had this season. That has allowed Andres Iniesta, Neymar, Suarez and Messi to showcase their attacking qualities - but they wouldn't be able to do so as effectively without that support from midfield.
Also in midfield, this will be the last time we see Xavi and Pirlo together in a big match like this one. They are two wonderful players, and I would advise any young players to watch them: the way they compete, their behavior on the pitch, their movement, personality and the way they live this sport.
They have played the game with a style that is completely different from any other footballer in their position over the last few years - and they have left their marks on Italian and Spanish football.
There is also the prospect of a fantastic duel between Messi and Tevez. One of the two will be champion again – and that makes us Argentines happy.
All in all, it will be a great spectacle.