Lionel Messi will have to wait for his 400th Barcelona goal. The Argentine attacker failed to net as Luis Enrique's men stormed into a commanding lead in their quarterfinal tie in Paris on Wednesday night but he won't care because, refreshingly, it was his two teammates who took care of the scoring this time.
Barca has so often relied upon Messi in recent years - especially in the big games and particularly in Europe. But at the Parc des Princes in their first-leg game against Paris Saint-Germain, Neymar and Luis Suarez showed they are ready to provide a helping hand with important goals too when it matters most.
Neymar perhaps had a point to prove after he was surprisingly substituted by Barca boss Luis Enrique in the weekend draw at Sevilla, when he had been the best player on the pitch. And he proved that point by scoring the first following a lovely layoff from Messi, later earning generous applause from his coach as he produced a remarkable run which almost resulted in a second. Looking tired up until his recent rest due to suspension, Neymar has returned a different player.
But Suarez stole the show. The Uruguayan, constantly questioned in his first few months as a Barca player, got off to a slow start in terms of goals at least but scored two stunning strikes in this match. The 28-year-old has now netted an impressive 18 in 33 games since signing in the summer - and the Barca trident of Messi, Suarez and Neymar is surely football's finest forward line at the moment.
"It takes time," former Barca striker Thierry Henry said of his adaptation afterwards on
Sky Sports
. "You can't arrive at Barcelona and not struggle to perform especially when you're used to another type of system and play. But he's clever enough to understand what he had to do and as we saw, he's a great goal scorer, a great player, with great movement."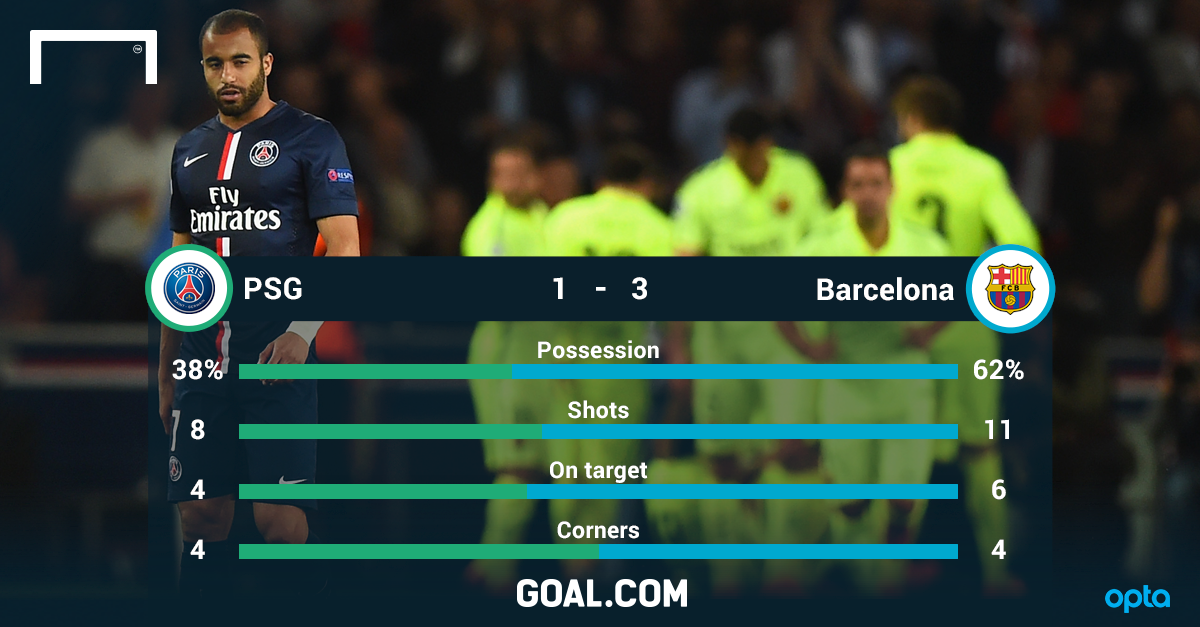 And Suarez himself said: "We knew before the game that if we didn't concentrate we wouldn't be able to win the game. When you play against the big teams you need concentration."
They had that and on this form Barca will take some stopping in the remainder of the competition.
Luis Enrique's side will be expected to finish the job with relative ease at Camp Nou next Tuesday and the Catalans remain on target for the treble as they have already reached the final of the Copa del Rey and lead La Liga by two points from Real Madrid.
Much of that is down to the brilliance of Messi in 2014-15, but the Argentine cannot do it all on his own and Barca is in such a strong position now because he is getting the help he needs from Suarez and Neymar. Messi is maturing into the sort of player who pulls the strings from deep, which could become his natural position once he enters his 30s. It was the role he filled for Argentina at the World Cup - imagine if they had Neymar and Suarez ahead of him?
"We were excellent not only in attack but also in defense," Luis Enrique said. "I have to congratulate the players - it was a huge win and a deserved one at that."
It certainly was and the Asturian's decision to push for the summer signing of Suarez is definitely paying dividends. As the striker settles and Neymar blossoms in his second season, it isn't only all about Messi any more - and that's the best news for Barca.
Follow Ben Hayward on