For a goalkeeper once regarded as the best in the world, Iker Casillas has seen his reputation plummet over the past year or so.
On Saturday, during Real Madrid's 4-0 derby thrashing at Atletico, the Spain international committed a huge error when the hosts opened the scoring – allowing Tiago's shot to squirm through his hands.
It was not Casillas' first high-profile error over the last year – here are his five worst:
Real Madrid vs. Atletico Madrid – 2014 Champions League final
An Atletico corner from the right was cleared to the edge of the area, only for the ball to be nodded back towards the penalty spot. Despite a crowded box, Casillas came racing off his line into no-man's land before stopping halfway. This allowed Diego Godin to flick a header over the helpless goalkeeper to give Atletico the lead. It almost proved decisive until an injury-time equalizer from Sergio Ramos forced extra time, allowing Real Madrid to eventually clinch La Decima.
Spain vs. Netherlands – 2014 World Cup group stage
Casillas had a nightmare as Spain opened up its World Cup defense with a 5-1 defeat at the hands of the Netherlands. For Holland's first goal, he was caught slightly out of position as Robin van Persie headed brilliantly over him to equalize. Arjen Robben shot straight through him to give the Dutch the lead, before the goalkeeper completely missed a left-wing cross on the third goal. His most humiliating moment arrived for Netherlands' fourth, though, as he was robbed in possession by Van Persie, who dispatched into an empty net.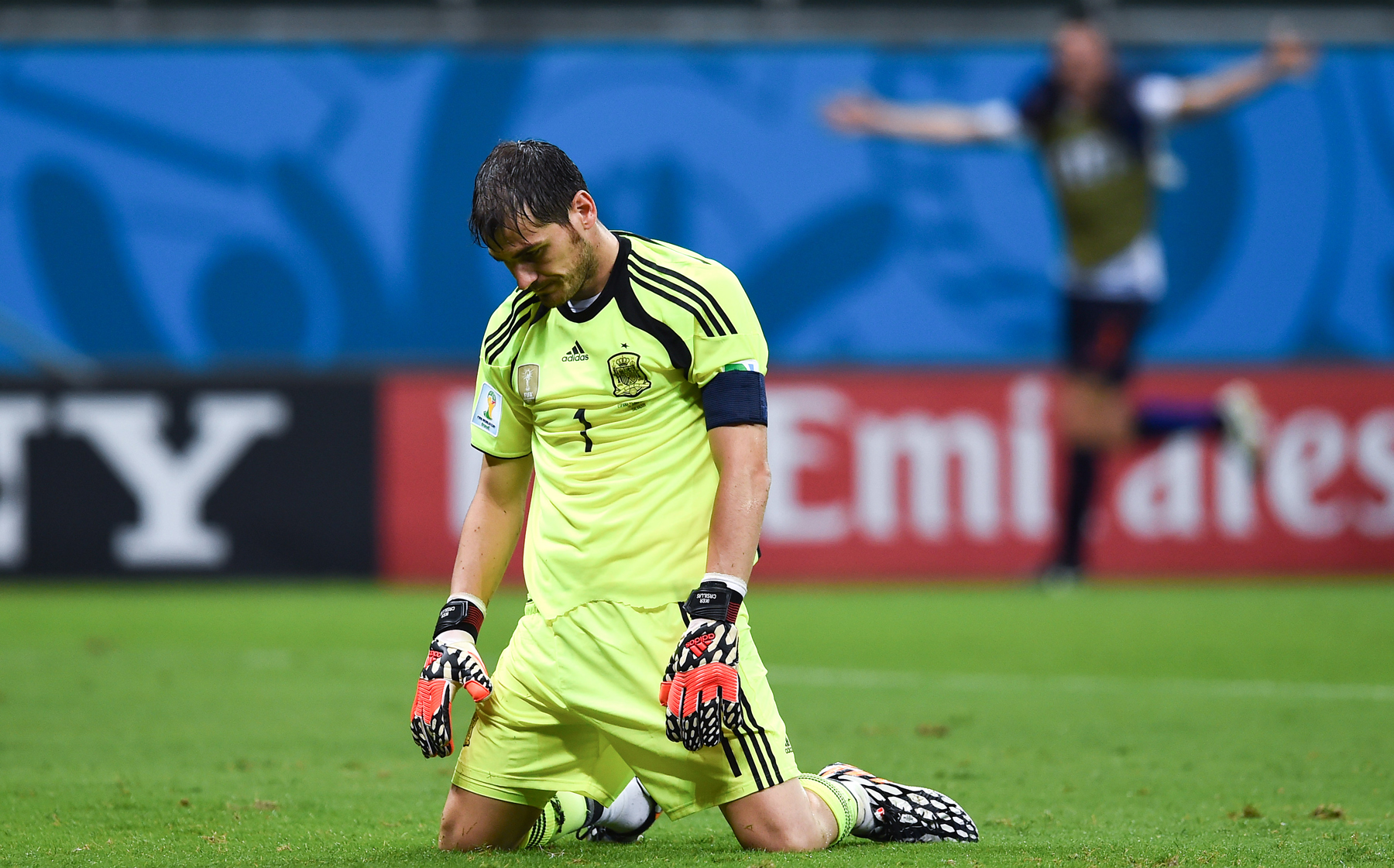 On his knees |
Casillas had a nightmare World Cup with blunders versus Holland and Chile
Spain vs. Chile – 2014 World Cup group stage
After losing its opener, Spain knew that a defeat to Chile would see it dumped out of the World Cup. Casillas didn't help matters by gifting the South Americans their second goal. A simple free kick from the right was punched straight back into the danger area, allowing Charles Aranguiz to toe-poke the loose ball home. There was no way back for Spain and it was eliminated from the tournament before it could even play its final group game.
Slovakia vs. Spain – Euro 2016 qualifier
Despite his World Cup disaster, Casillas retained his first-team spot for Spain as it kicked off its European Championship defense. However, in Spain's second Group C qualifying match in Slovakia, the Euro 2012 winner fell to another embarrassing defeat as it lost 2-1 to the minnows. Casillas was again to blame when Slovakia took the lead as he failed to stop a free kick fired straight at him by Juraj Kucka. The Madrid man was deceived by the ball and flapped in an appalling attempt to keep it out.
Atletico Madrid vs. Real Madrid – La Liga 2014-15
Casillas has been in better form since his Slovakia slip-up and has won back his starting place at Real Madrid this season. However, just as the 33-year-old was starting to show some consistency he produced a huge mistake in the derby thrashing by Atletico on Saturday. With the score goalless in the first half, Casillas somehow allowed a tame daisycutter from Tiago Mendes to squirm through his fingers. Atletico didn't look back and went on to hammer its local rival 4-0 to blow the Liga title race wide open.