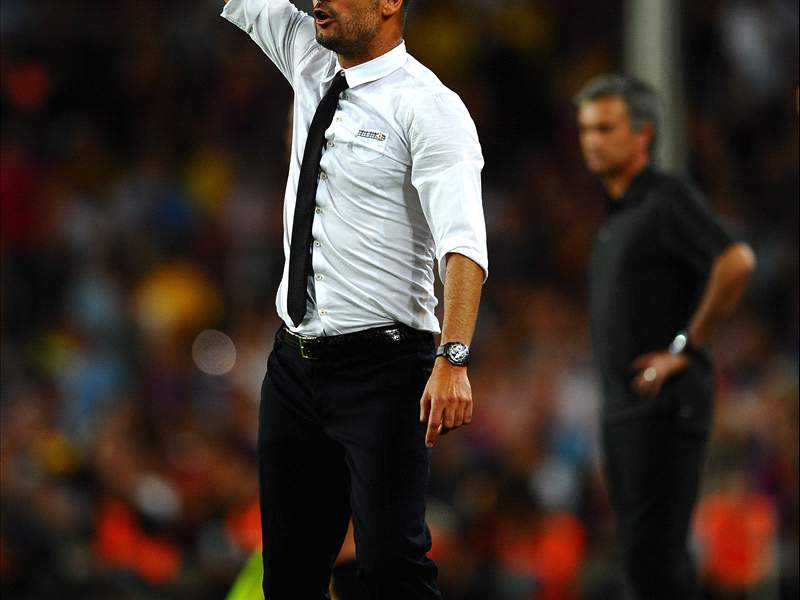 Pep Guardiola, who had been one behind legend Johan Cruyff with 10 trophies, moved level with 11 medals as Barcelona coach after the Catalans' Super Cup win over Real Madrid Wednesday night.
But you won't find Guardiola loosening his hipster-thin tie or unbuttoning his collar just yet, not with the daunting task of repeating his successes heading into his fourth season in charge at Camp Nou. No, it's continued focus from the former midfielder.
"We will remember this Super Cup for how it was, for the significance of the rival and for how everything has happened – not just in today's match, but for everything we have been doing," Guardiola said. "At the risk of being repetitive, the only thing I can do is congratulate this team."
Barcelona won the second leg by a 3-2 scoreline, giving it a 5-4 aggregate victory. Lionel Messi scored a brace Wednesday, but his genius is expected by now. The new ingredient was the insertion of Cesc Fabregas, who completed his annoyingly drawn-out transfer from Arsenal just days before. He entered in the second half and helped create the all-important third goal.
"When he entered, with the match in a draw, he not only stepped in but also managed to give the difference the game needed and also participated in the third goal," Guardiola said. "We cannot ask for much more."
Fabregas also took central stage in the dying minutes when a scything Marcelo tackle ignited a scuffle between both teams. The benches and technical areas emptied as the game devolved into a shoving match. Eventually the referee handed out three red cards during the fracas – one to Marcelo for the initial challenge and one apiece to Mesut Oezil and David Villa for off-the-ball actions.
The handbags detracted from what had been easily the most thrilling game of this fledgling season. Guardiola defended his squad from accusations of dipping into the dark arts to sway referees.
"They think we always dive, and that we do these types of things, but we must be careful with these types of attitudes," the 40-year-old said. "Them as much as us, we have to watch out, because in the end, things will end badly.
"For our part, we will continue playing soccer. I won't say everything is their fault, but they will not convince us that we do things wrong."
Barcelona will continue doing things its way heading into the La Liga season, especially with the summer's biggest purchase being a former Barca youth player. However, that season might be delayed due to a league-wide strike.
If the campaign is pushed back two weeks, as looks probable, it would give Guardiola extra time to bring his team up to full fitness. The coach openly complained that the heat during his side's U.S. tour prevented the roster from training properly and, as such, that they are behind schedule with regards to fitness.
The Spanish press noted that his side looked sluggish in the first leg.
"These three days, we have been below our normal level, but we played a very good game and managed to win," Guardiola said. "That does not mean that Madrid is physically superior. Plus, the first leg was the one which enabled us to win this first trophy of the season."
Given Guardiola's record, it was the first of many.
Follow ZAC LEE RIGG on

or shoot him an email.