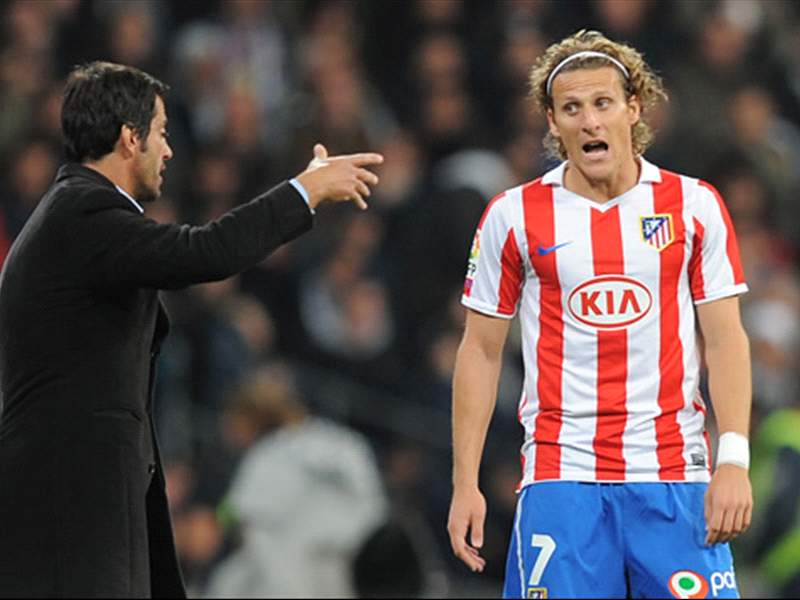 Atletico Madrid striker Diego Forlan has lashed out at coach Quique Sanchez Flores, saying he hopes never to see the Spaniard again.
The Uruguay international had his worst year since joining Atletico in 2007, having lost a starting place towards the latter stages of the campaign.
Forlan has condemned Flores' attitude towards him, revealing the coach was not truthful about his position within the squad.
"He had a problem with me, it was not the other way around," Forlan told
Marca
. "I realized there was nothing to do when one day he told me one thing and did another [promised he would be a starter against Espanyol and then left him on the bench].
"He had two different speeches and it was not the first time, but the hundredth. He, with his attitudes, was showing me everything."
Questioned what he would do if he met Flores in an elevator tomorrow, Forlan said: "I would ignore him."
Forlan went on to outline the treatment he received in the latter part of the season from his manager.
"In the last week and a half [of the season], after an argument, we would not even greet each other. I remember that, on my birthday, everyone congratulated me... except him.
"I had no problems with him, but he started not greeting me and I did the same."
Forlan then went on to express his desires never to see his former manger again.
"There are people that it is best to avoid. I hope we never have to meet again. I am not sickened or anything, but I do not like what he did to me."
With Flores out of Atletico, Forlan seems more motivated to thrive, and he has declared he will stay at the club.
"I have two more years on my contract, I have said it a hundred times, and I am really eager to be there next season," the striker added. "Last year was atypical, complicated. We all know the problem I had and obviously, now I am eager to continue and show again what I showed in the first years."
Follow Goal.com on

to get the latest soccer news directly. Check out Goal.com's

page; be part of the best soccer fan community in the world!