Jose Mourinho is one of the most highly rated managers in world soccer - but he is known for not taking defeat well.
On Wednesday night it was no different as his Real Madrid side crashed to a 2-0 defeat at the hands of archrivals Barcelona in the first leg of its Champions League semifinal at the Bernabeu.
His side held Pep Guardiola's men until Pepe was sent off for a high challenge on Dani Alves, before Lionel Messi stole the show with two goals, including one magical solo effort.
But the Portuguese boss saw things differently, questioning the power Barcelona hold, the officials, and stating there is a conspiracy to get Guardiola's side to the final.
Following the latest outburst from the 'Special One', Goal.com takes a look back at his past reactions after being knocked out of the Champions League.
2005 - "We lost to a ghost goal"
May 3, 2005: Liverpool 1 Chelsea 0 (Agg 1-0)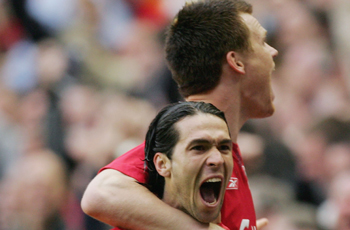 Liverpool ended Chelsea's 2005 European campaign with a 1-0 victory at Anfield thanks to a heavily disputed Luis Garcia goal.

It reached the final after taking the lead in the fourth minute when Milan Baros beat Petr Cech to the ball before Luis Garcia poked home from close range.

Chelsea was adamant the ball never crossed the line as William Gallas cleared, but referee Lubos Michel and his assistant gave the goal.

Liverpool then defended for its lives to seal a place in the final at the expense of Jose Mourinho's side.

This result did not sit well with the Blues boss and he berated the officials for what he described as "a goal from the moon".

Mourinho said: "The linesman scored the goal. No one knows if that shot went over the line and you must be 100 percent. But they are in the final and from my heart I hope they win it. The night belongs to them and I don't want to criticise them.

"I felt the power of Anfield, it was magnificent. I felt it didn't interfere with my players but maybe it interfered with other people and maybe it interfered with the result. But you should ask the linesman why he gave a goal.

"The best team lost. After they scored only one team played, the other one just defended for the whole game.

"Football sometimes is cruel. We have to accept the result. They scored a goal, if you can say they scored it."
2006 - "Messi has learned play acting very well"
February 22, 2006: Chelsea 1-2 Barcelona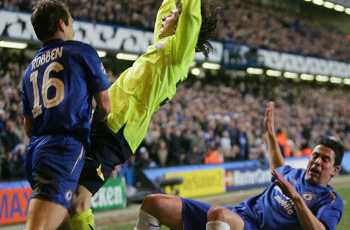 Barcelona came from behind in this Champions League last-16 first leg to beat Chelsea 2-1 at Stamford Bridge after Asier del Horno was given his marching orders for a foul on Lionel Messi in the first half.

But Chelsea still took the lead through a Thiago Motta own goal.
Barcelona stormed back through a John Terry own goal and Samuel Eto'o grabbed the winner to break Chelsea hearts.

Barcelona went on to draw the second leg 1-1 to seal its place in the quarterfinals.

It left Jose Mourinho fuming and he criticised Messi for the part he played in Del Horno's sending off.

Mourinho said: "How do you say cheating in Catalan?
"Can Messi be suspended for acting? Barcelona is a cultural city with many great theatres and this boy has learned very well. He's learned play-acting."

2007 - "We were the best team"
May 1, 2007: Liverpool 1-0 Chelsea (Agg: 1-1)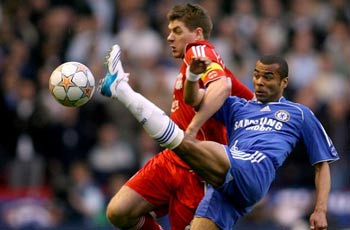 Liverpool was Jose Mourinho's tormentors once again in 2007 as it sealed its place in the final of the Champions League with a penalty shoot-out victory over Chelsea.
Dirk Kuyt scored the all-important penalty to win the game after Geremi and Arjen Robben missed for the Blues.
This was after Daniel Agger got the goal to give Rafael Benitez's side a 1-0 win which was enough to send the tie into extra-time and penalties.
Once again, Mourinho did not have too many kind words for Liverpool before or after the game.
He opened up a war of words with Benitez before the match and many believed this spurred Liverpool on to its victory.
But the Portuguese coach believed his side was the better of the two on the night.
Mourinho said: "It is a moment when everybody has to be strong. My players have a lot of reasons to be proud.
"We were the best team today, even against a team only playing for the Champions League. In extra-time we were the only team who tried to win, but football is like that and the penalty shoot-out is part of the game.
"I respected Liverpool always in my words. I don't need to say more and today I think the best team was Chelsea."
2009 - "We need to build the team up"
March 11, 2009: Manchester United 2-0 Inter (Agg 2-0)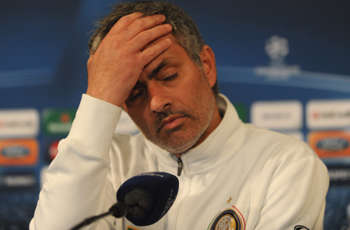 Manchester United moved into the last eight of the Champions League after goals from Nemanja Vidic and Cristiano Ronaldo gave it a hard-fought victory over Jose Mourinho's Inter.
Mourinho was gracious in defeat, insisting Sir Alex Ferguson's side had been the better team over the two legs and deserved to go through.
But it didn't stop the former Chelsea boss from telling the Inter board what needed to be done in order for the club to progress.
Mourinho said: "We have not been good enough to win the Champions League but we are good enough to win the Scudetto and I'm sure we will go on and win it.
"You can't just turn up and expect to win the Champions League just like that.
"One way is to spend a huge amount of money, which we know is not realistic in the current climate. The second way is to build a team over the course of time.
"Chelsea lost three semis before getting to last year's final. It is a process and getting to the top is a consequence of the hard work you put in."


2011 - "It's clear that against Barca you have no chance"
April 27, 2011: Real Madrid 0-2 Barcelona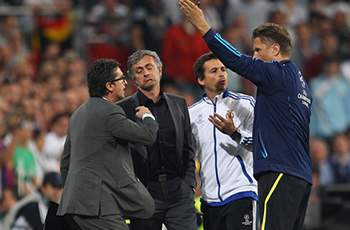 In his latest outburst, Mourinho did not hold back as he talked of a conspiracy theory which must see Barcelona reach the Champions League final.
Real Madrid held Barca until Pepe was sent off for an innocuous challenge on Dani Alves before Lionel Messi took over to condemn Mourinho's side to a 2-0 defeat.
The Portuguese boss was also sent to the stands during the match after sarcastically telling the officials they had done a good job by sending Pepe off.
In his tirade after the match Mourinho questioned the power the Catalan club had and claimed against Barca you have no chance of victory.
Mourinho said: "It's clear that against Barcelona you have no chance.
"I don't know if it's the publicity of Unicef [the club's shirt sponsor], I don't know if it's because they are very nice, but they've got this power. I don't know if it's the friendship of [Spanish football federation president Angel Maria] Villar at UEFA, where he is vice-president.
"[Barcelona's Pep] Guardiola is a fantastic coach, but he's won one Champions League which I would be ashamed to win after the scandal at Stamford Bridge and this year, if he wins it again, it will be after the scandal at the Bernabeu.
"I hope that one day he will win a clean Champions League, with no incidents behind it.
"Why couldn't Chelsea reach the final two years ago? It was a miracle that Inter reached the final last year.
"I am here just to ask this question and I hope to get the answer one day.
"Yes, we are out. Sometimes I am a little bit disgusted to live in this world, but this is the world we live in.
"We will have to go to Barcelona and look for some pride, without Pepe who didn't do anything, without Ramos who didn't do anything and without a coach to sit on the bench.
"As soon as Pepe was sent off, all of their problems were solved. If, in a sporting sense, it's difficult to turn this around, I would say it's now mission impossible. If we go there and score a goal, they will kill us again. We have no chance.
"They have to get to the final and that's that."