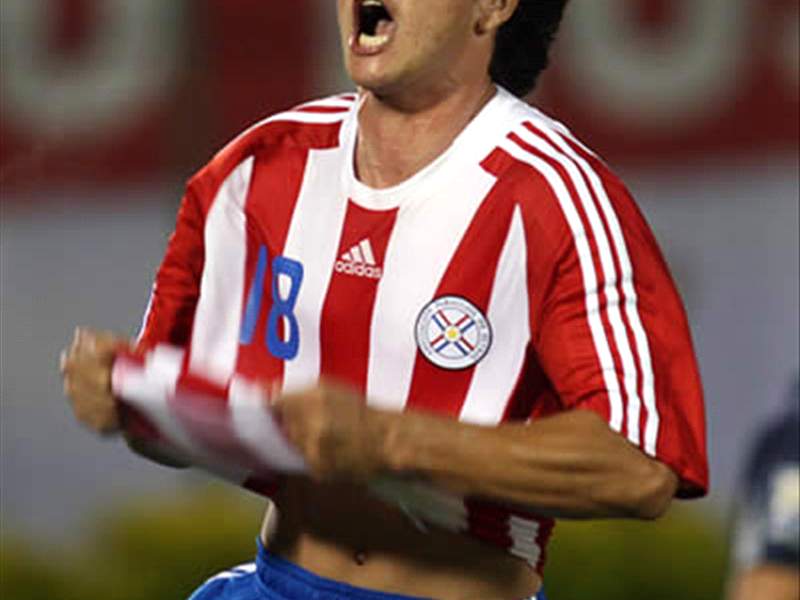 The early years of the professional career of Nelson Haedo Valdez were a far cry from the lofty status he enjoys today as Hercules' Camp Nou hero.
Goal.com Spain
's
Francisco Ortí
reports.
Ten years ago in the Paraguayan city of Ypane, at the age of 16, Nelson Valdez was forced to sleep rough in a bid to earn money to support his six siblings by igniting his fledgling football career. After a year away from home playing for Athletic Club Tembetary in the lower reaches of Paraguayan football, the young forward was penniless and consequently homeless as he toiled to make a name for himself.
His only refuge from the elements, granted to him by the Rojiverdes, was being allowed to shelter from the rain under the stands of the club's 4,500 capacity home ground, Estadio Ypane, with a blanket he discovered in a maintenance room as his only source of warmth in the freezing winter.
His daily routine in Ypane involved training in the morning and sleeping under the stands at night but soon that effort would be rewarded. In 2001, aged 18, he received an unexpected call from Klaus Allofs, a football scout working on behalf of Werder Bremen, who offered him a trial with the German club.
Valdez didn't hesitate and picked up his meager belongings from his 'bedroom' at the stadium in Ypane and headed to Germany. Despite failing to shine on his initial trial the president of Werder, Juergen Born, was married to a Paraguayan woman and decided to give the teenager a second chance.
That faith proved just as Valdez secured a place in the ranks of Bremen and soon began to bag the goals in merciless fashion in the subsidiary team. His 15 goals in 30 matches earned him the call-up to the first team under the stewardship of Thomas Schaaf.
"He wants to impose himself and goes in where it hurts," the German coach commented on the young South American's endeavors.
In the Weserstadion he became a regular alongside Brazilian veteran Ailton and Ivan Klasnic - with bad memories for Valencia, knocking los Che out of the UEFA Champions League with a brace at the Mestalla in 2004. Following the arrival of Miroslav Klose from Kaiserslautern, his game time with Werder was significantly reduced and he eventually departed for Borussia Dortmund, where he teamed up with fellow Paraguayan, Lucas Barrios.
During this time Valdez managed to carve out an opportunity in the Paraguay national team amongst the likes of [Roque] Santa Cruz, [Salvador] Cabanas, [Nelson] Cuevas and [Oscar] Cardozo, but it wasn't easy at first.
The player himself once publicly expressed his frustration at not being selected in the squad by then coach, Uruguayan Anibal 'Mano' Ruiz prior to the 2006 World cup finals in Germany.
"I was surprised that Ruiz did not call me. I, along with Santa Cruz, was the only Paraguayan player who plays in the Champions League and had succeeded in the country hosting the next World Cup. While Roque is a starter, I'm not even selected. I know there are other good strikers, but without creating controversy, I know I'd like to be there," Valdez said before Ruiz finally selected him for a qualifying match for the World Cup in Germany in 2006.
With the Guarani he has become one of the most beloved players, scoring key goals for the national team, including the one that booked their ticket to South Africa 2010. However his World Cup dream died when Spain knocked them out in the quarter-final en-route to glory.
Now his career continues in Spain, where this summer he became the most expensive signing in the history of newly promoted Alicante based outfit Hercules. Club president Valentin Botella must already see that as money well spent after the Paraguayan started his Hercules career with two goals in a starring role in the historic victory against Barcelona at Camp Nou.
"This day will be unforgettable for me. To debut with Hercules at Camp Nou and scored two goals against Barcelona. I can say that to get better than that is impossible," said a smiling Paraguayan to assembled reporters in the Catalan capital after the game.
Meanwhile, in the far south of Paraguay lies the humble town of San Joaquin, one of the 22 districts of Caagazú. This is one of the poorest and most deprived parts of the South American country, a destitute area for decades and long used to suffering.
Folklore says that the town has given birth to poets and musicians but their proudest achievement is having given birth to a child born with a special gift. That child had a heart of a lion and was named Nelson Haedo Valdez, executioner of Barcelona.
For more on Spain click ahead to Goal.com's Spain homepage and join Goal.com USA's Facebook fan page!