With the final match of the season complete, there have been no unanticipated last-day surprises in La Liga this year. As predicted, Barcelona took home their second consecutive Primera title, setting a record in points earned in a season with an astronomical 99 out of a possible 114 - an unprecedented feat.
Arch-rivals Real Madrid did manage to delay the title celebrations until the final whistle of the final match of the season, but in the end, with their fate in their own hands, Barca were able to hold true to their pedigree and win their seventh title in a span of two years.
On the heels of winning an historic Triplete last season - the Champions League, La Liga, and Copa del Rey trophies - Pep Guardiola's Barca picked up where they left off by claiming the Spanish and European Supercups to begin this season. Coming off of a year of domination, Barca began this campaign with a bull's-eye on their chests and while they maintained first place in the table from nearly the opening week of the season, the Blaugrana did come to understand what it meant to defend their titles as opposing teams circled the date on the calendar that they would face Barcelona.
The marathon of tests began to take their toll. When Russian side Rubin Kazan defeated Barca at the Camp Nou in a Champions League group stage match, suddenly questions began to arise as to whether Guardiola's men were, in fact, mortal. Teams began to use their matches against Barca as a measure of their mettle against what was reputed to be one of the best teams in footballing history.
But despite the added pressure of defending their title, Guardiola's men persevered, beating Real Madrid in El Clasico at the Camp Nou and heading to Abu Dhabi to claim their sixth consecutive title - all within a year - at the Club World Cup.
Lionel Messi was subsequently crowned as the best player in the world and three of the top five in the Ballon D'Or running were Barca players of curiously diminutive stature: Messi, Xavi, and Andres Iniesta.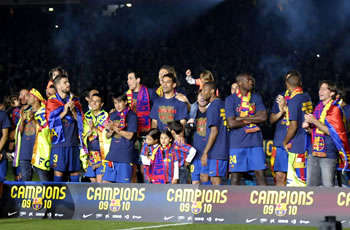 All runs must come to an end and for Barca, 2010 would not yield the same frequency of success as the previous year. Coming off of a season and a half of playing every three or four days, Barca found no rest and eventually the fatigue began to weigh. The Blaugrana narrowly lost out to Sevilla to be eliminated from the Copa del Rey and the consecutive title streak was broken in the first month of the New Year.
Just as in the 2008/2009 seasons when they suffered a dip in form that saw them relinquish a 12-point advantage over Real Madrid, Barca once again showed some signs of weakness. Uncharacteristic mistakes coupled with untimely injuries and suspensions saw the Blaugrana actually cede first place in the Primera to their archrivals. But in dispatching Los Blancos at the Santiago Bernabeu for the second consecutive year, Pep Guardiola, who has not lost a Clasico match yet, guided his team back to the top of the table.
Andres Iniesta's injury, Jose Mourinho's tactics, and Barca's inability to secure a last-minute goal saw the Blaugrana come within moments of gaining a berth to the Champions League final - a tournament the club was salivating to win in the Santiago Bernabeu final in Madrid. The European dream was not to be this year, but La Liga aspirations remained and with calm, discipline, and technical superiority, Barca were able to retain their advantage in the table to lift the domestic trophy before their home fans.
Many
cules
feel their team was somewhat short-changed with only one piece of silverware this spring - and to be quite honest, there is a point to such a complaint as, in terms of numbers, Barcelona were actually better than last season.
Messi, who was simply unstoppable last year, was even better this season, tallying 47 goals in 53 matches in all competitions. Pedro Rodriguez was the revelation of the year, scoring 12 goals and becoming the first player in history to score in six different competitions in a single season. Bojan Krkic, yet another youngster out of the youth ranks came on as one of the team's best players in the final few matches of the season and even supplanted the club's most expensive signing in history, Zlatan Ibrahimovic, in the starting XI.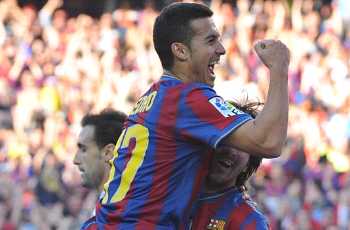 Collectively, the Blaugrana played better too. Where last year in La Liga the team averaged 65.7% possession over the course of the season, this season that number unbelievably rose to 68%. The number of goals scored did go down by seven (the 2008/2009 season yielded 105 domestic goals while this season only 98). However, the number of goals conceded dipped by 11 - from 35 last year to 24 this season - indicating improvements in defense and goalkeeping.
And of course there is the unprecedented 99 point haul - a feat never accomplished in the Spanish game and yet another record that has crumbled in the path of this historic Barcelona team.
The Liga title may serve as a fine reward in itself. But for Barca it must be said that this year, it feels a bit like a consolation prize. Guardiola, himself, in his post-match press conference spoke of how the team owe their fans another Champions League and lamented the fact that his squad would not be playing in the final next Saturday.
But consolation or not, Barca are La Liga champions once again and have well earned their title. We here at Goal.com hail Guardiola and his record-breakers for a brilliantly entertaining season and a well-deserved reward.
For more on Spain click ahead to Goal.com's Spain homepage and join Goal.com USA's Facebook fan page!