The transfer market in Spain went into overdrive this season with a cluster of high profile arrivals and departures. Although Real Madrid and Barcelona hogged the headlines, there was also plenty of exciting, frantic activity from the 18 other clubs in La Liga.
The excessive spending in the summer of 2009 left clubs with little to no resources during the winter trade period, but that only means that the bulk of the major signings have had almost an entire season to settle in and impress.
Some have been extraordinary purchases, while others have been either mediocre or disappointing... or a complete flop altogether. Here now are the top 10 who have failed to live up to expectations.
10. Kaka (Real Madrid) - 'Ricky' has had an extremely mixed first season at Los Blancos. While the harsh critics have slammed his inconsistency and his sub-par performances, his contribution to the team in numbers tell a different tale. To put it into perspective, Barcelona maestro Xavi has nine assists and two goals in 25 league appearances at the time of writing, while Kaka has five assists and seven goals in 19 outings. Considering that the Brazilian has had to adapt to unfamiliar surroundings and contend with injury problems, he can't really be faulted for not replicating his dazzling performances at Milan.
Had it not been for his mammoth €65 million price tag and the galactic hype that came with his transfer, he might not have made the list at all.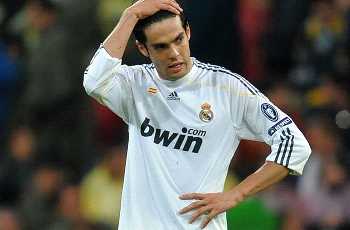 9. Alberto Bueno (Real Valladolid) - From one end of the scale to another. Real Madrid off-loaded this young forward to the Pucelas for €3m, peanuts compared to Kaka's outrageous transfer fee. But for a small club like Valladolid, it is a significant investment and, so far, the promising 22-year-old has not shown the returns.
Even though the Blanquivioletas do not have the most competitive squad in the league, young Bueno is still finding it hard breaking into the side. He has only made seven starts and a handful of substitute appearances for his new club with just one goal and one assist to show for his efforts.
8. Ivan Marcano (Villarreal) - The Cantabrian hardman was signed for a hefty €6m. Although not an earth shattering figure, it is still quite a substantial amount for a Villarreal side who went into the new season knowing they had to spend wisely to reinforce their team because of the global financial crisis.
But the 22-year-old has not been able to stamp his authority on the Yellow Submarines' defense. He has made just 15 appearances and most of them have been disappointing performances. Ever since his dreadful display in the 6-2 defeat to Real Madrid back in mid-February, Marcano has never made it back to the starting XI.
7. Miguel Angel Moya (Valencia) - Los Che have had problems finding a reliable custodian ever since Santiago Canizares retired. Timo Hildebrand and Renan Brito were just replacements who never quite settled in at the Mestalla. Last summer, the club opted to make another venture into the transfer market and they picked up Moya from Mallorca for close to €6m. He became the first choice in the opening few rounds of the league season but, after conceding nine goals in four games, he was quickly dropped from the side in favour of 38-year-old Cesar Sanchez, who was initially seen as a short-term solution when he joined from Tottenham Hotspur in the winter of 2009.
But the veteran goalkeeper has been irresistible while Moya has since been consigned to meaningless cup games. He won't forget a pre-season clash against Manchester United, though, when he came on as a substitute. As a midfielder.
6. Sergio Asenjo (Atletico Madrid) - The Atleti board had to negotiate hard to sign the highly rated young goalkeeper from Real Valladolid for €6m and Los Colchoneros were hoping that he would become their very own Iker Casillas. Indeed, Asenjo was touted as Spain's future No. 1 after some eye-catching performances with a Valladolid side often struggling at the wrong end of the table. But, put behind a shockingly leaky Atletico defense, the 20-year-old lost his form, his confidence and eventually his place in the first XI.
He has now been usurped by David De Gea, an even more talented shot-stopper two years his junior, and Atletico are now already considering the prospect of selling him off before his value drops further.
5. Alvaro Negredo (Sevilla) - Many believed Real Madrid made a big mistake in letting go of Negredo and splashing the cash to sign Karim Benzema. The Wild Beast of Vallecas joined Sevilla for €15m and he had a point to prove to his former employers. The 24-year-old made an encouraging start to life at the Sanchez Pizjuan and even earned a call-up to the Spanish national team towards the end of 2009. But a poor run of form quickly set in and, at one stage, he managed only one goal in 15 club games. He has been in and out of the Nervionenses starting line-up and, when Frederic Kanoute and Luis Fabiano are both fit and available, Negredo has been relegated to the bench.
At present, he has tallied the exact same number of goals in La Liga as the man who took his place at the Santiago Bernabeu, Benzema, with seven strikes.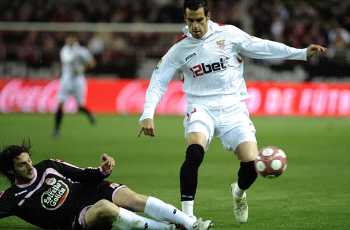 4. Jermaine Pennant (Real Zaragoza) - A disgruntled Pennant left Liverpool to join Zaragoza on a free and many believed that the sea change would reinvigorate the winger's troubled career. It was hoped that his flair and his penchant for dribbling would be more suitable to the style of Spanish football. And the 27-year-old settled in quite comfortably in the first half of the season and although he never stood out, he was in the starting line-up in almost every league game.
But he fell out of favor due to his lack of contribution to the team and in the whole of 2010 he has made only three starts. Worse still, he has already been disciplined on three occasions after turning up late for training and the Araganos are now desperately trying to get rid of him.
3. Dmytro Chygryinskiy (Barcelona) - The Ukrainian arrived from Shakhtar Donetsk for around €25m and he was expected to give the thin Barca backline extra strength and steel. But so far he has been nothing more than back-up and cover for the regular first-teamers. The 23-year-old was given a chance to prove himself at the start of the campaign, featuring quite heavily for the side in the first two months or so. However, it quickly became apparent that he was struggling to adapt, as he constantly flailed and fumbled during games.
With players like Gaby Milito and Rafa Marquez back to full fitness, 'Chygsy' has seen his playing time drastically stripped and he has in fact played just four times in the whole of 2009.
2. Karim Benzema (Real Madrid) - It initially looked as though 'Benz' would have no problems fitting into a revamped Madrid side as he finished the pre-season campaign as the team's joint top scorer with five goals. But once the real football kicked off, the 22-year-old began to struggle as he looked lost, incoherent, sluggish and just out of sync with his team-mates.
The Frenchman looked to have settled in at the turn of the year as he finally overcame the language barrier and found a suitable playing position on the pitch. But then the injuries started to plague his progress. Eight goals in 26 competitive appearances may be a decent haul for a young striker in his first season in a completely new environment, but for a €35m signing it is a woeful return.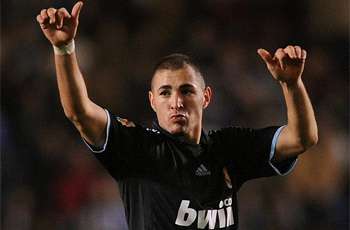 1. Shunsuke Nakamura (Espanyol) - The Japanese superstar arrived at the Cornella El-Prat with much fanfare, and Espanyol president Daniel Sanchez Llibre even went as far as putting his transfer coup in the same breath as Cristiano Ronaldo and Kaka's arrivals at Real Madrid in terms of importance for the club.
Granted, the 31-year-old joined from Celtic on a free transfer with a reported annual salary of just €1.2m, but he was expected to deliver on the pitch and off it. The playmaker dazzled fans in Scotland with his skill, his goals and his sublime free-kicks, none of which he could replicate in La Liga. Nakamura was also expected to boost modest Espanyol's global profile and income through shirt sales. But fans who purchased Shunsuke merchandise in the summer of 2009 will be left reeling, as he has since returned to Japan after signing permanently for Yokohama Marinos, just seven-and-a-half months and 12 appearances later.
Want more from Goal.com? Become a fan of Goal.com North America on Facebook.