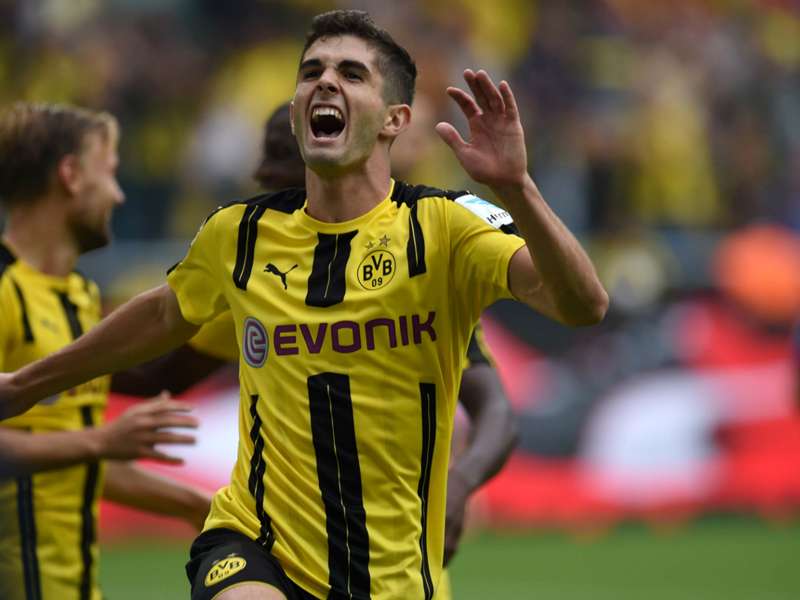 Christian Pulisic has broken record after record since being introduced to the Borussia Dortmund first-team picture by Thomas Tuchel last winter but was more concerned with obtaining Justin Bieber tickets for the pop star's Cologne show Sunday than getting carried away by the hype.
He sent a message through Twitter pleading for Bieber to help out and he somehow got his wish. Pulisic and his friends attended the concert to celebrate the player's 18th birthday on Sunday night – topping off a dream week.
@justinbieber hook it up with concert tickets in Cologne in September and you're welcome at any Dortmund game⚽️ #BVB

— Christian Pulisic (@cpulisic_10) May 8, 2016
Dortmund scored 12 goals in two games against Legia Warsaw in the Champions League and Darmstadt in league competition with the young American commanding attention with his level of performance in both games.
He was proven worthy of his start against Darmstadt on Saturday, responding in stunning fashion to Tuchel's call. He scored one and assisted two more in an emphatic 6-0 win, in the process earning the Bundesliga's player of the week award. No wonder he felt like celebrating.
Plucked from the PA Classics in his native Pennsylvania when Jurgen Klopp was still in charge, Pulisic has quickly worked his way through the youth ranks to become a starter for club and country.
He was the youngest player to feature in the Bundesliga last season when he made his debut as a substitute against Ingolstadt in January. He was the youngest foreign player to score in the German top flight with his goal against Hamburg in April. A couple of weeks ago he became the youngest American ever to start a World Cup qualification match - and that was after scoring twice in a 23-minute cameo against St. Vincent and the Grenadines a few days before.
U.S. teammate Sacha Kljestan said: "(Pulisic's) comfort level, on and off the ball, and movement off the ball, and the way he sees things and the way he calms himself down in the final third and still puts the final play together is at a really high level, especially for a 17-year-old. It would be a high level for a guy who's played 10 years. He's got a bright future, and we're all very excited. Linking up with him, even in training yesterday, is easy. He reads the game well and it's easy to play with him."
Jurgen Klinsmann has already given Pulisic eight caps and on his first start – against Trinidad and Tobago - he was busy and effective, setting up a goal for Jozy Altidore for good measure. That performance was regarded as "wonderful" by Klinsmann whose main job now is dampening down the expectations around his new prospect. Klinsmann saw fit to include Pulisic in his Copa Centenario squad where Pulisic featured three times from the bench. Such exposure to massive matches so early in his career will no doubt be of benefit down the line.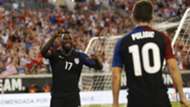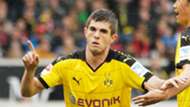 Those close to Pulisic speak of a maturity and a fearlessness – as if everything he's doing in his record-breaking career is surprising to everyone but the player himself.
As a 17-year-old who just had a breakthrough season, it might have been disheartening for the young attacking midfielder to see Emre Mor, Ousmane Dembele and World Cup winners Andre Schurrle and Mario Gotze all arrive at Dortmund over the summer. All four are legitimate rivals for Pulisic's place in the team and there was talk last month of a Liverpool bid spearheaded by former BVB boss Jurgen Klopp.
"It's not frustrating. I think it's good to have competition," Pulisic said. "I think it's normal to have competition once you get to the professional level. I'm just ready for it and I'm just excited for the challenge."
Despite what Michael Zorc said earlier this week about renewing Pulisic's contract being "not a priority" Dortmund is quite rightly spooked about the level of attention he's already generating. Liverpool maintains an interest in him and he is regarded as a long-term candidate to arrive at Anfield depending on how well his development goes in the Bundesliga.
However, the Reds could yet be priced out of the market should Pulisic sign a mooted new contract while his stunning start to the season has already seen his value skyrocket. There are times that he'll have to be patient while others get a run in the team but if the recent past is anything to go on then Pulisic is certainly at the right club to develop. The teenager has already proven that he is capable of keeping up with more experienced – and more decorated – teammates.
His is the name on every American supporter's lips following his performances earlier on this month and is being regarded stateside as the best prospect since Landon Donovan. Maybe one day Pulisic will not be begging Bieber for tickets for his concerts and instead will be kicking balls around his garden like Brazil's superstar Neymar did while on holidays in LA over the summer. The sky's the limit.