For the first time in 25 years, Napoli is the outright leader of Serie A, but Maurizio Sarri's men now face a tricky trip to Bologna to face a familiar face. Or should that be familiar foe?...
Elsewhere, Juventus will be looking to make it five wins in a row when it travels to the Stadio Olimpico to taken on Lazio, which reportedly is ready to sack under-fire coach Stefano Pioli. Of course, Roma coach Rudi Garcia is also feeling the heat right now, meaning this could be an even more hectic weekend in the Italian capital than usual.
So, let's get straight into all of the major talking points ahead of round 15 of an increasingly intriguing Serie A season...
---
IT'S A BIG WEEKEND FOR... FIORENTINA
---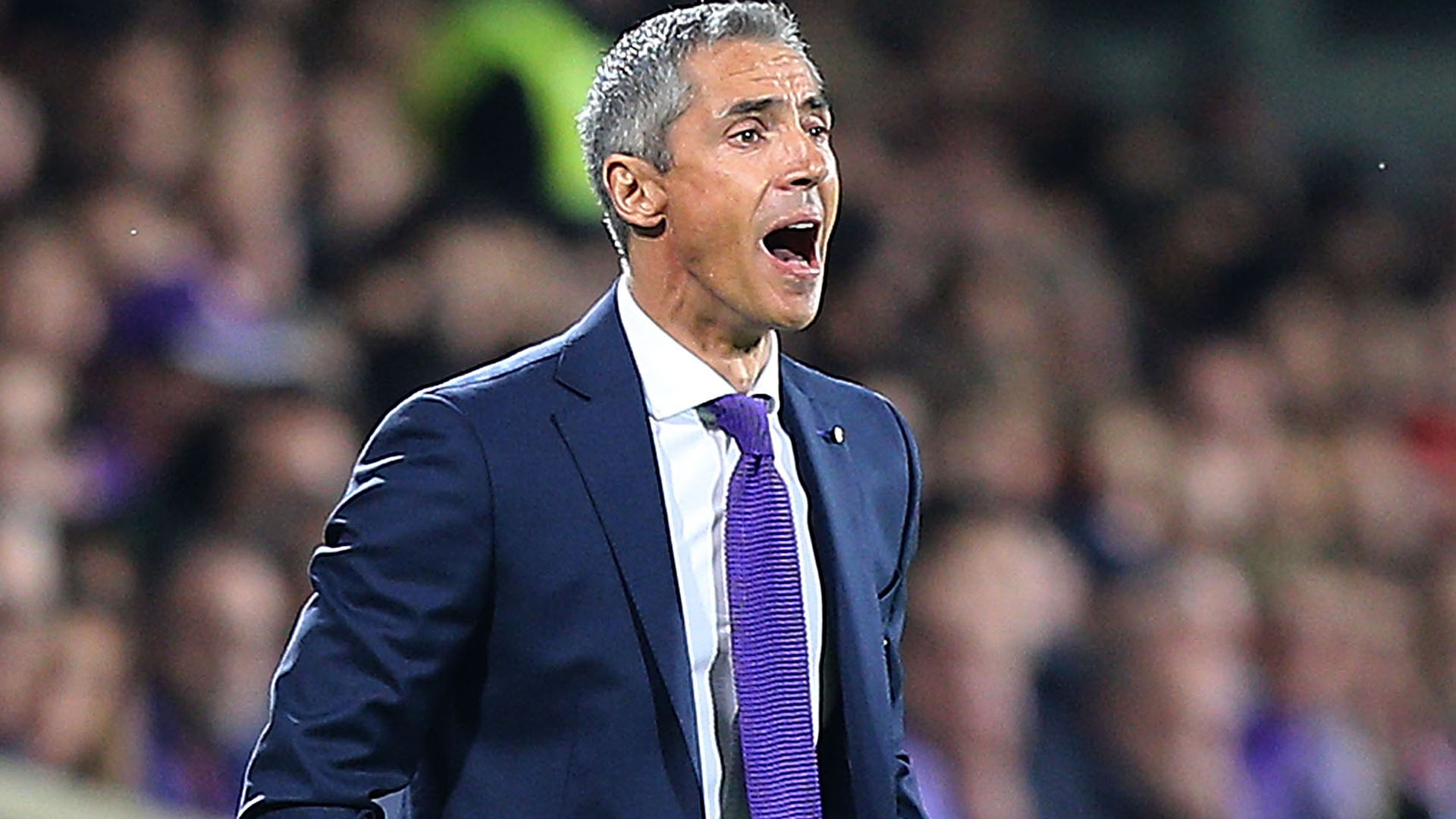 "I think football is more than money and our fans represent our best player," Fiorentina coach Paulo Sousa stated in August. "We don't need money to buy passion, love and determination to win." However, one does need money to acquire players and it's become abundantly clear that the Viola needs to spend in January if they are to sustain their surprise title challenge.
Quite simply, Fiorentina is fading. It has drawn its last three games in all competitions, going from top of the Serie A table to third, two points behind new leader Napoli. Of course, it is still wonderfully placed, but it was obvious during Monday's 1-1 draw with Sassuolo that Fiorentina is suffering from fatigue. For the second game in succession, it threw away a lead.
"I am disappointed, as we paid the price for using up so much energy in the Europa League on Thursday and Sassuolo were in better shape for the second half," Sousa told
Sky Sport Italia
. "It's a shame, we could've gone 2-0 up, then got tired and were unable to get the ball before our opponents.
"But I'm not angry; I'm just disappointed. Basel tired us out mentally and physically. We didn't have enough energy in the final minutes to try to score."
Sousa has dealt coolly and calmly with every challenge he has faced since taking charge at the Artemio Franchi during the summer - his first few weeks in Florence were more than a little difficult with constant transfer speculation surrounding the likes of former Viola winger Joaquin, while even his appointment was met with resistance by some supporters.
The Portuguese is not one for blowing his top on the touchline or putting pressure on anyone in public. However, after the Sassuolo draw, he said, "All we can do is try to put heart and soul into it, considering the players we have got are these ones..." It was difficult to interpret that as anything other than a plea for investment during the January transfer window.
Sousa is overachieving with the talent he has in Florence. With even a little more quality at his disposal, there's no reason why Fiorentina cannot maintain its title tilt. For now, though, it simply needs to take advantage of a week's rest and return to winning ways at home to Udinese on Sunday, particularly with crucial clashes to come against Belenenses and Juventus over the course of the following seven days...
---
DON'T MISS... LAZIO V. JUVENTUS
---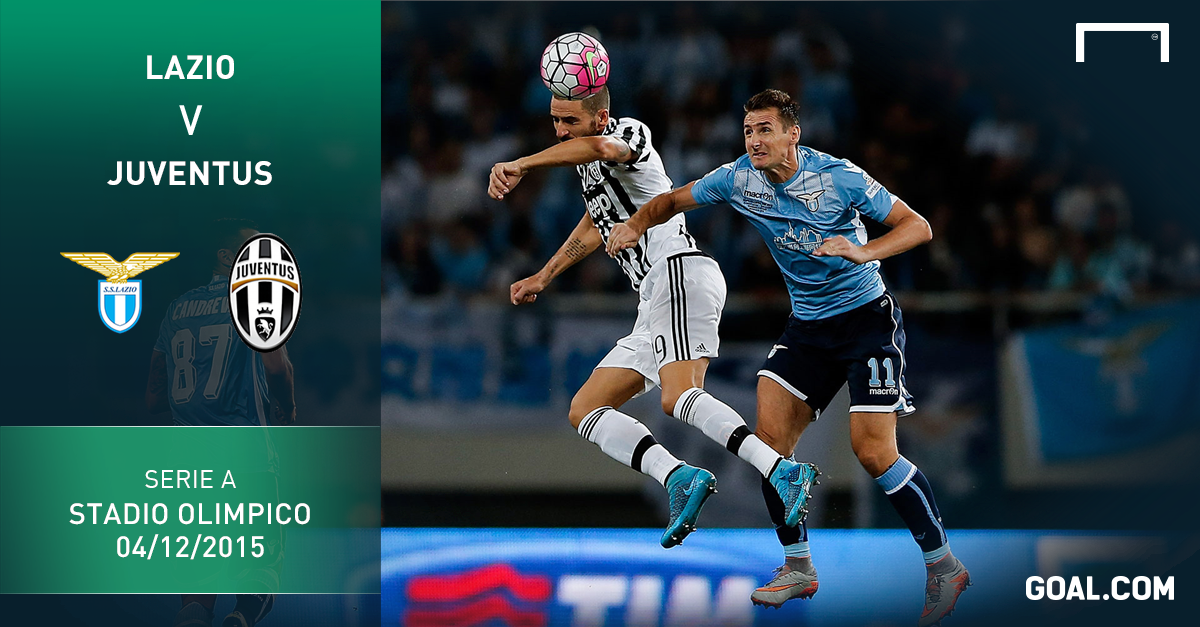 According to reports, Lazio sporting director Igli Tare has put together a dossier of refereeing decisions that have gone against his club so far this season that he plans to present to the footballing authorities. It's hardly surprising, as the Albanian was livid after last week's 1-0 loss at Empoli. "I am sorry to be here talking about this," he stated after seeing Miroslav Klose have two goals disallowed, "but it's not the first time we've been subjected to refereeing errors."
Tare had a point (or two) about Lazio's misfortune in Tuscany, but he was wrong to claim the defeat was "solely down to refereeing errors." They played a massive part in the final scoreline, but the fact of the matter is that the Biancocelesti are not playing well at the moment. Lazio has lost four of its last five games, collecting just one point from a possible 15. Only so much of that dismal return can be attributed to poor officiating. Indeed, Lazio president Claudio Lotito labeled last month's loss at home to Milan as "a disgrace."
Unsurprisingly, speculation is now mounting that coach Stefan Pioli, who led the club to a sensational third-placed finish last season, will be sacked if Lazio doesn't win its next game. The good news is that it will be at home. The bad news is the team is going up against Juventus, which finally has found some form.
The reigning Italian champion has won four games in a row, and even Mario Mandzukic is scoring goals again. Indeed, the Bianconeri look to be carrying a serious attacking threat last weekend, with all four of their forwards – Mandzukic, Paulo Dybala, Alvaro Morata and Simone Zaza – having contributed either a goal or an assist in last weekend's win at Palermo.
In addition, the unforced errors have been cut out at the back (they didn't afford Palermo a single shot on target in Sicily), while the midfield is functioning again, thanks in no small part to Claudio Marchisio's return to full fitness/top form.
All things considered, Lazio is going to need something special or a big slice of luck to get anything out of a game that is expected to be attended by some 10,000 Juve fans. This being Lazio and Juve, though, expect Tare to be adding to his dossier Monday morning, while Pioli is cleaning out his desk.
---
WATCH OUT FOR... DONADONI V. NAPOLI
---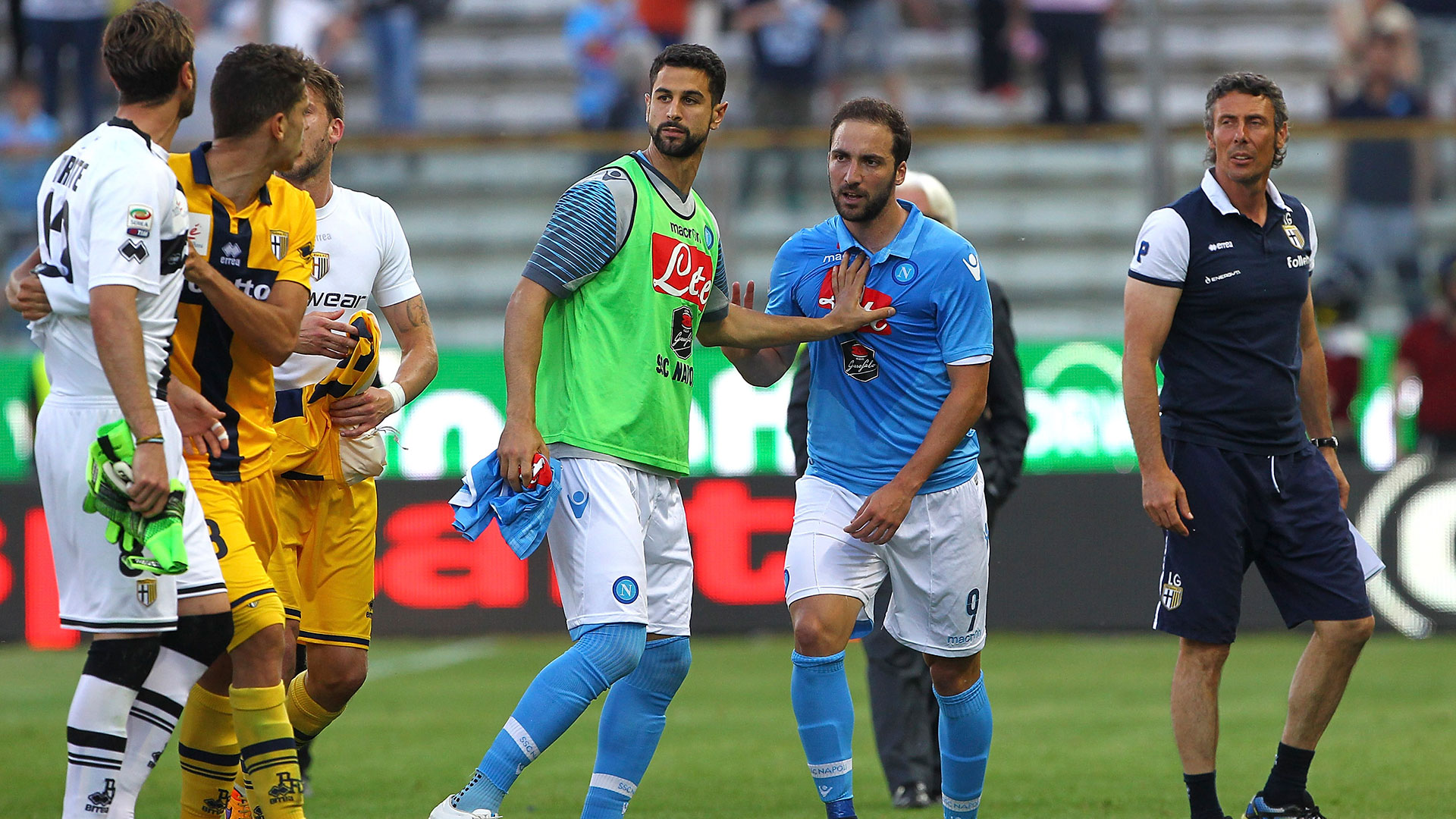 It's fair to say that Bologna manager Roberto Donadoni and Napoli have history. The former AC Milan winger took charge of the Partenopei in March 2009. Seven months, 19 games and eight defeats later, he was sacked. Of greater relevance, though, is his most recent meeting with his former employers, which came in May.
Donadoni was still in charge of Parma at the time and doing an admirable job of maintaining motivation levels among a crew on a sinking ship. Even though the club already had been relegated and was facing bankruptcy, the former Italy international still managed to mastermind a win over Juventus during the closing stages of the 2014-15 campaign. Juve, though, knew it already had the title in the bag. Napoli, by contrast, arrived at the Ennio Tardini on May 10 desperate for all three points to boost its bid to secure Champions League football. The visitors were frustrated in that regard, taking only one following a 2-2 draw.
It is here where accounts of what happened next vary. What we do know is that there were several nasty confrontations at the full-time whistle, with Antonio Mirante and Gonzalo Higuain very nearly coming to blows (though it was reported that a woman may have been at the heart of this particular row), and Napoli sporting director Riccardo Bigon and Parma player Daniele Galloppa involved in an angry exchange in the tunnel.
Napoli subsequently claimed it had been enraged by Parma's perceived time-wasting. Donadoni, though, had a different story to tell, claiming Napoli had lost it because the players felt their hosts should have simply rolled over for them.
"I was there and I heard what was said after the game," he told
Sport Mediaset
. "Having people tell us we should lose just because we're bankrupt and already relegated is disgusting and shameful. It wasn't just Higuain, but a few others said the same on the field during the game.
"When you hear something like that from a director, though, it's a real tragedy. This is all incredible. I don't want to name names, as if I have something to say to these people, I'll do it to their faces."
It is against this backdrop of bitterness that Donadoni will go up against Napoli once again this weekend. Publicly, he is claiming he has no axe to grind, but one imagines he would dearly love to knock Higuain's Napoli off their lofty perch by taking points off the Partenopei at the Dall'Ara. If nothing else, the handshakes at full time will make for interesting viewing.
---
THE BIG ISSUE... ROMA'S RABBITS

---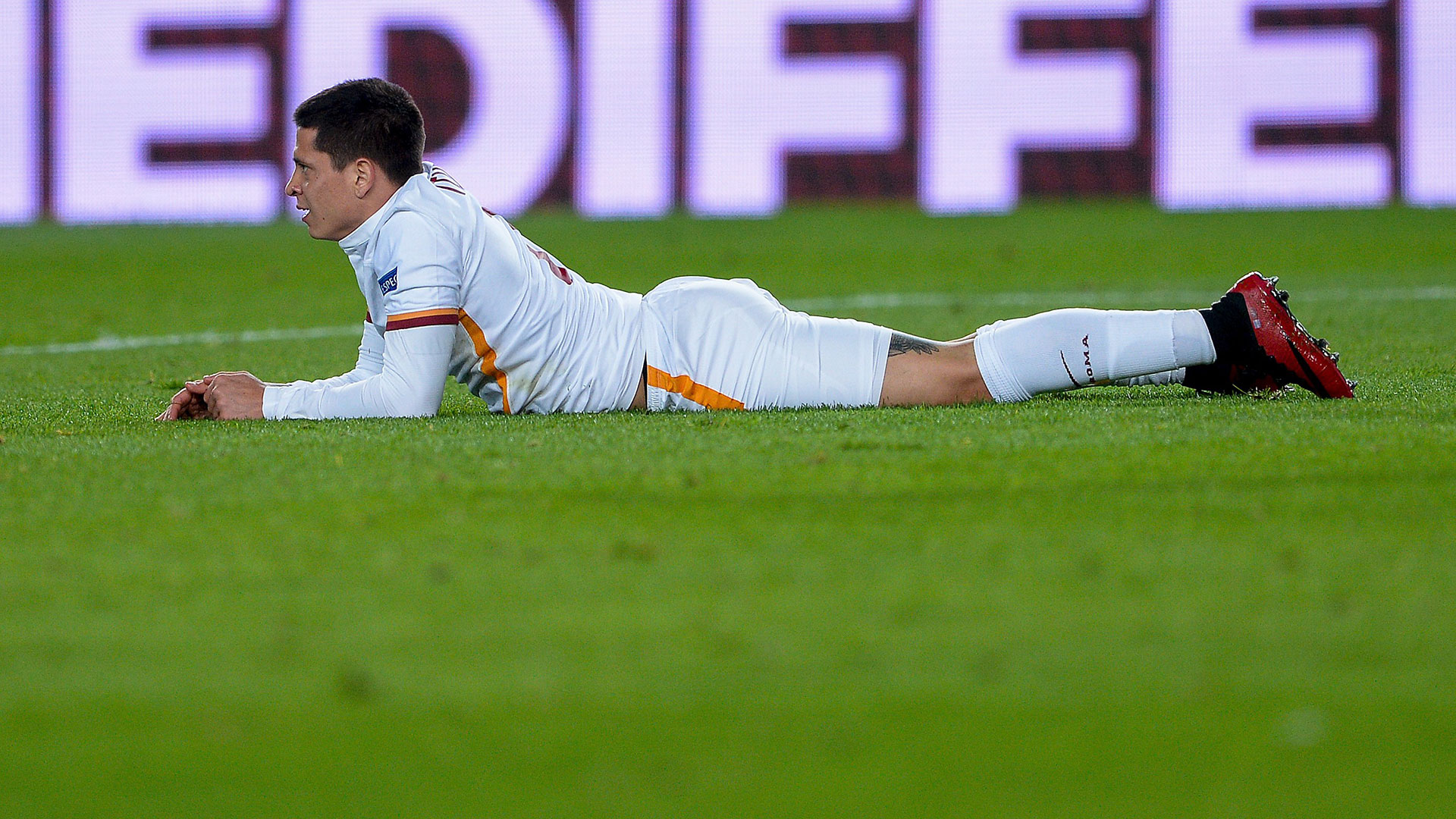 At times during Roma's Champions League loss in Barcelona, Rudi Garcia's men looked like rabbits caught in the headlights of an oncoming car. So, it seemed rather fitting that the Giallorossi's frustrated fans decided to leave 50 kilograms of carrots out for the players at the entrance to the club's training ground at Trigoria on Tuesday. "Enjoy your meal, rabbits!" read the accompanying banner.
Roma fans brought 100 pounds of carrots to teams training with this banner that says: "Enjoy your meal, rabbits" pic.twitter.com/7qrO8ePzZd

— Marco Messina (@Marcocalcio22) December 1, 2015
Amusing as that little stunt may have been for the neutrals, Roma sporting director Walter Sabatini didn't see the funny side. "We won't be putting carrots back on the menu," he pithily replied when asked about the protest on his way to a sponsorship event on Tuesday. "The team needs constructive criticism. Maybe even extreme criticism, but definitely constructive. The players are also people, like you or I. We accept the criticism, but nothing over the top."
It's a fair point, but Sabatini's reaction merely served to underline the atmosphere of tension and touchiness at Roma right now. Everyone is on edge. There is increasing feeling that Garcia is losing the dressing room. Some players have been deeply critical of the team's performances of late and it certainly felt like Daniel De Rossi was putting certain colleagues in their place when he said: "Our relationship with Garcia is excellent, I don't know what my teammates said after the other games but blaming the coach is what I'd expect from cowards.
"We're the ones who take to the pitch and we must shoulder our part of the blame. Garcia may have his share of it, but it must be taken collectively. When you take to the pitch with greater technical quality than your opponents and you can't exploit that, then you must question yourself. Things must be done as a team."
Roma certainly needs unity right now because it is now widely expected that next week's Champions League clash with BATE will decide Garcia's fate. Consequently, Saturday's clash with Torino has now taken on even greater significance.
It's time for Roma's players to stand up and be counted; to show that they are not rabbits, but wolves.
---
QUOTE OF THE WEEK
---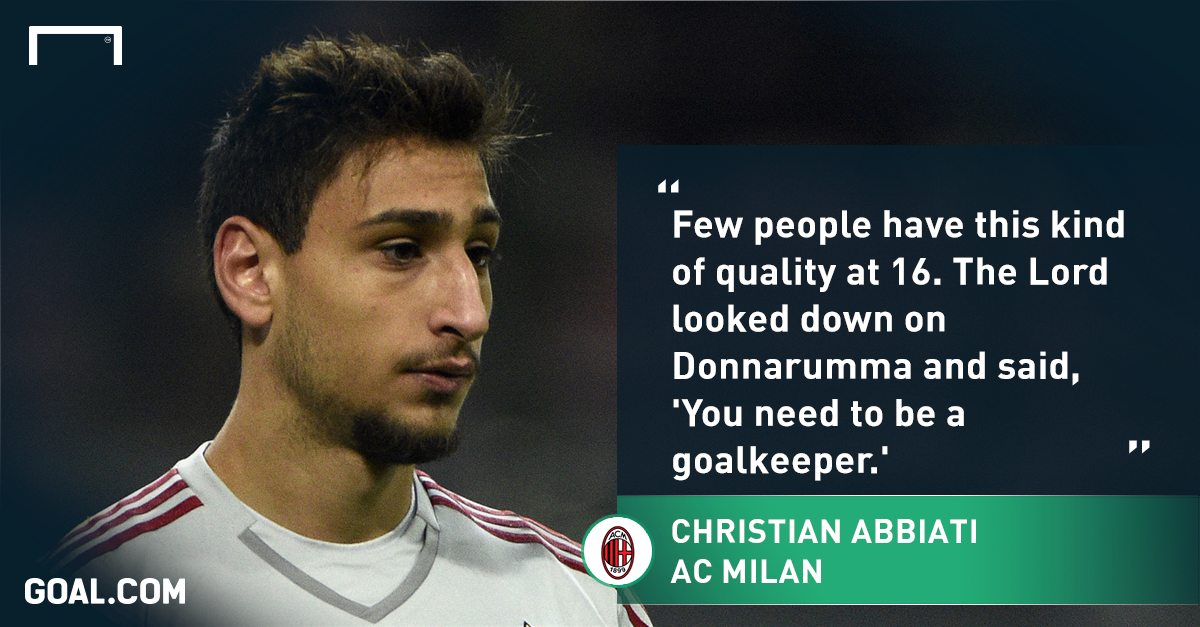 At the end of October, AC Milan boss Sinisa Mihajlovic asked the media to go easy on teenage goalkeeper Gianluigi Donnarumma. "Those that judge him for every incident should put themselves in his shoes: he is 16 years old," the Serbian pointed out. "He doesn't need to be worrying about what's being written about him."
The Serbian coach was also attempting to play down the hype surrounding the emergence of a prodigiously talented teenager. Fat chance. Last week, agent Mino Raiola stated that his client was already worth 170 million euros. This week, Christian Abbiati lavished praise on Donnarumma's God-given talent.
"Few people have this kind of quality at 16," the veteran shot stopper stated. "The Lord looked down on him and said, 'You need to be a goalkeeper.'"
The worry, of course, is that Donnarumma is being set up for a fall. Mihajlovic, therefore, is going to have a key role to play in the youngster's development, but even the Serb has struggled to contain his excitement at the goalkeeper's potential, claiming that "he is the future of Italian football."
Still, maybe there's nothing worried about. When asked about the prospect of facing Juventus in Turin, Donnarumma replied: "I don't feel pressure." Maybe the kid doesn't need advice from anyone - Abbiati, Mihajlovic - or even the Lord.