In the world of football, managers and players can be be transformed from heroes to villains in double-quick time. Lazio coach Vladimir Petkovic has played both characters, all in the space of just six months.
Last season, the Bosnian was elevated to legendary status as the only coach ever to win a capital derby final in the Coppa Italia. It was a fitting end to a decent first season in charge at Formello, with his reputation having grown out of virtual obscurity even before the 1-0 victory over Roma in the season-ending showpiece.
A quarterfinal spot had been achieved in the Europa League already, and a respectable league finish had ensured that Petkovic would remain in charge into 2013-14. The cup victory was a magnificent bonus.
The memory of football fans is notoriously short, and there is nothing more important than the present. As such, Petkovic has quickly run into trouble. The Biancocelesti started the season badly and have barely looked like getting back on track.
They remain winless on the road in Serie A and sit level with Parma in ninth spot after 14 rounds, a full 14 points short of third place. The season is nowhere near done, but already a return to the Champions League is a virtual impossibility. Even a Europa League spot looks a long way off at this point, with 10 points separating Lazio from fifth-placed Fiorentina. It will take quite a fall by the country's best-performing clubs for Petkovic and his players to have any kind of European ambitions.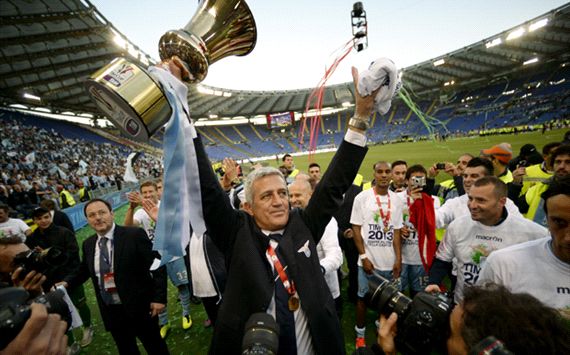 Happier times | Coppa Italia glory elevated Petkovic to legendary status
Laziali don't even have the comfort of knowing they are watching good football right now, with last season's striking style of play a thing of the past. Add in the loss of Miroslav Klose to injury and the team is also struggling for goals, while Anderson Hernanes has suddenly become a shadow of the once-commanding midfield presence the Rome fans had come to know and love.
New signings haven't exactly flattered either. Felipe Anderson remains a mystery, while Diego Novaretti has spent much of his time at the club on the treatment table. Put all of those things together, along with the leaky defensive line which was made to pay by Napoli on Monday night, and it all spells a pretty dismal opening half to the campaign.
Supporters have quickly forgotten about the highs of the Coppa Italia win, particularly in light of Roma's phenomenal start to the season, and the pressure on the players has been ramped up in near record time. The first to pay the price, though, is often the coach, and Petkovic is hanging on precariously as a result.
There is a movement among fan groups for a change of leadership, citing Petkovic's inability to make positive changes when things are not going his way. The side is lacking any real tactical structure, there is no pace in its play, and goals seem to be coming more by luck than judgment. But while the coach has been partly culpable, he does not deserve to take the largest portion of blame for the poor start.
The players themselves seem distracted, with their play littered with the kind of errors which have too often led to negative results. And when your best player is under performing to the extent that Hernanes is, then it is hard to pick up results with the consistency necessary to challenge at the top of the table.
Individual mistakes cannot be blamed on the coach, but Petkovic's inability to make a winning hand from the cards he has been dealt this season means he is fighting for his job. Monday's 4-2 defeat to Napoli only pushes him closer to the precipice, and makes his complete transformation from demi-god to used goods almost complete. The hero worship of May is but a distant memory.