Gian Piero Gasperini earned the nickname Gasperson at Genoa when the club thought he would turn into its own version of Sir Alex Ferguson. Wednesday morning's
La Gazzetta dello Sport
offered a new moniker: Gasperitez.
Though Rafael Benitez's name is now a pejorative in the Italian press, the Spaniard at least lasted until Christmas. Gasperini's reign at Internazionale extended a full five games. In the final game, a 3-1 loss to newly promoted Novara, captain Javier Zanetti set a club record by appearing in his 757th match, which means Gasperini was the Argentine's coach 0.66 percent of his record-breaking Inter career.
The 53-year-old's record in Milan was abysmal. Inter drew one match and lost four for the worst start since Luigi Radice coached Inter in 1983. The club scored five goals, three of which came in a 4-3 loss to Palermo and one a consolation against Novara. Gasperini becomes the first coach to leave the club without winning a single game.
The next coach will be the 19th managerial hire (some were repeats) since chairman Massimo Moratti and Zanetti's arrival in 1995. He will also become the fourth coach in just 15 months following the departure of Jose Mourinho. For comparison, FC Porto rifled through three coaches in the season after Mourinho, and Chelsea is now on its fifth manager in four post-Mourinho years.
If replacing the Portuguese is a floundering errand to begin with, Moratti's appointments have been especially myopic. Benitez felt like Brian Clough to Mourinho's Don Revie (minus the charisma, of course), and the Spaniard bristled at the lack of funds available before making his position untenable with some fierce public criticism of Moratti. Former AC Milan player, director and coach Leonardo (and his flaxen hair) revived a galloping Inter, posting a better winning percentage than Mourinho himself, before being inexplicably edged out toward the Paris Saint-Germain sporting director post.
But Gasperini was the most puzzling decision of them all. Moratti openly pursued Fabio Capello, Andre Villas-Boas and Marcelo Bielsa before eventually signing Gasperini on an undercut one-year deal.
The former Juventus youth player and youth coach led Genoa as high as fifth in 2008-09, but more consistently hit mid-table notes. A frightening number of highly rated defensive prospects shuffled in only to have their careers ruined by the trauma of Genoa's generous defense. In Gasperini's last full season in charge, Genoa shipped 61 goals, a number only lower than Siena and Livorno – both of which were relegated.
Gasperini did elicit one endorsement that carried significant weight - Mourinho called him the most difficult coach he faced in Italy. "Gasperini had a response to every move I made," Mourinho said. "He is very good."
That tactical flexibility served Gasperini well at Genoa, where he cultivated a high-octane, rabid team full of all-arounders. Marco Rossi represented the ideal player - the captain popped up on the right of three- and four-man defenses, across midfield, or even in the attacking line, sometimes all in the same game.
The coach set about instilling a similar fluidity and versatility at Inter.
"We must show that we can adapt during the match and come up with something a bit different," Gasperini said in his introductory press conference, "and enjoy ourselves at the same time."
The plan was to use one more central defender than the opposition fielded forwards. So, if the opponent lined up with two forwards, as Palermo did, Inter went with a three-man backline. Three days later, with Trabzonspor visiting, that morphed into a more traditional four-man defense.
(Note: Despite Luis Enrique being a noted 4-3-3 evangelist, that Inter played a three-man backline against Roma indicates Gasperini saw the Romans' formation as a 4-4-2 diamond with Francesco Totti withdrawn into a trequartista role rather than as a true forward. Of course, with Daniele De Rossi dropping between his central defenders and the fullbacks – both midfielders by trade
–
pushing high, Enrique essentially fielded his own three-man defense.)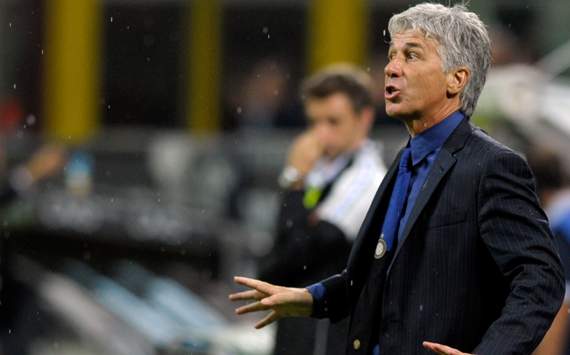 Gasperini aghast | His firing likely didn't come as a surprise to Gasp
The vicious Italian press quickly seized upon the unorthodox 3-4-3 system seen against Palermo and in the majority of Genoa games, using it as a blanket excuse as to why Gasperini would never fit in Milan. On the Friday before the Roma game, a Japanese journalist asked if three or four would play in the back. "Oh don't you start too," Gasperini said.
The journalist likely cared primarily about where Yuto Nagamoto would play (answer: bizarrely, on the right), but many in the club were impatient with inane yet persistent questions about numbers less than five.
"Talking about tactics like this is reductive, as you defend with all 10 players in a team," Esteban Cambiasso said ahead of the Champions League loss to Trabzonspor. "I have won with four defenders and also lost with four. Soccer is a lot more complex than that."
The Argentine midfielder's tune changed two games later. Cameras caught Cambiasso telling defender Andrea Ranocchia to switch to a four-man defense against Novara, overriding his coach's chosen system.
The loss of faith by key members of the squad and overall frenzied lack of cohesion meant Gasperini never had a much of a chance at completing his year-long contract, let alone earning a built-in extension. But his greatest sin was likely not carving out a role for Wesley Sneijder.
With Moratti doing an ice-sculptor's impression as he tries to shave costs ahead of the implementation of the Financial Fair Play regulations, last year's stars Samuel Eto'o and Sneijder were available. The astronomical terms of Eto'o's deal (the Cameroonian wasn't the only one to earn more than his worth from Anzhi) meant the club could justify keeping Sneijder, which didn't actually benefit Gasperini.
The Dutchman has seen time as a left winger trying to cut in an influence the game (against Palermo), a central midfielder in both a 3-5-2 (against Roma) and a 3-4-3 (vs. Novara), and even as a striker (in the final minutes of the Roma match). He has looked uncomfortable in every case.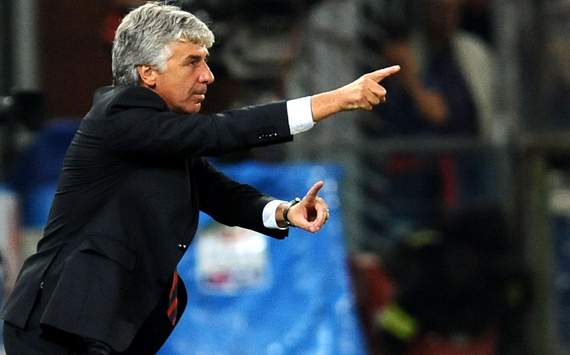 Terminated tactician | Gasperini's tactical lines got crossed at Inter
Why Gasperini didn't plagiarize Walter Mazzarri's 3-4-1-2 at Napoli to accommodate Sneijder is now rather irrelevant.
"If the problem is the coach, then it has an easy solution," Gasperini ominously told
La Gazzetta
. "If instead, as I believe, the problem is another one, then we must resolve it through work."
Moratti opted for the easy solution. The trick now is hiring someone who can sate Moratti for longer than six months.
Follow ZAC LEE RIGG on

or shoot him an email.