It may resemble the tin pot your local under-9s rugby side won back in 1985, but the Scudetto trophy being in your possession means you're the best team in Italy. And tonight it will be making its way back to Milan alongside some very happy Inter players after a hard-fought 1-0 win against Siena clinched their fifth straight Serie A title.
In front of a huge following who had made their way down from Lombardy to pack the stands of the Artemio Franchi, as well as many nearby hotel balconies and pitch-view bars, the Nerazzurri overcame a very real challenge from the relegated Tuscans to earn the right to call themselves champions for the 18th time.
Credit must go to Roma though, as they came from nowhere to give them the kind of almighty scare other more equipped clubs were unable to offer. They even held the advantage in the standings for 17 minutes this afternoon before Diego Milito's coolly taken goal rendered their 2-0 win away to Chievo meaningless.
Diego Milito's Scudetto-winning strike
Siena also need to be mentioned in a positive light after what was a truly courageous performance right down to the very last minute. Yes, there was no doubting at all that they were the second best team on show. But they put in so much effort until the last dying seconds that you'd have thought they were still fighting for survival. Hats off in particular to Aleandro Rosi and Gianluca Curci, who clearly would have loved to be party-poopers given their co-ownership deals with the Giallorossi.
The Robur's display was exactly the opposite of what was seen at the Olimpico from Lazio a fortnight ago when they submitted to – rather than suffered – a 2-0 defeat to spite their city rivals. It is a great relief to all Calcio lovers that the fixture list landed this way around, with the champions having to put in a champion performance right down to the last.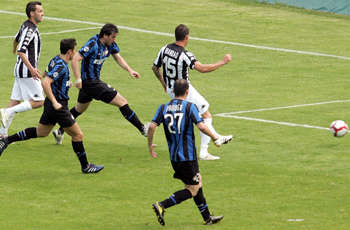 Much of Inter's ability to roll with the punches and still come out on top is summed up by 'Il Principe' Milito. His decisive goal came at the perfect moment, immediately dispelling most of the nerves that existed in the huge away support as half-chance after half-chance had gone begging.

His calm under pressure, and ability to fight beyond his physical capabilities for the cause are qualities to behold. With five minutes still to play he was clearly out on his feet, and was constantly checking with the bench as to how long remained, but he continued to chase every loose ball he could as Inter held on to their lead… and with it their title.
The re-emergence of Roma, along with the new heights reached by Sampdoria, Palermo et al, tied in with the worrying declines of the likes of Milan and Juventus have made for a captivating season.
But arguably the most important thing in any championship is that the right team wins. And that undoubtedly happened in 2009-10. They did it in the right way, with the right man wrapping it up for them. Just one more win is needed for that historic treble, and with just one more goal, the prince may become a king.
Keep up to date with Serie A and Italy news with Goal.com's Italy page and join Goal.com USA's Facebook fan page!