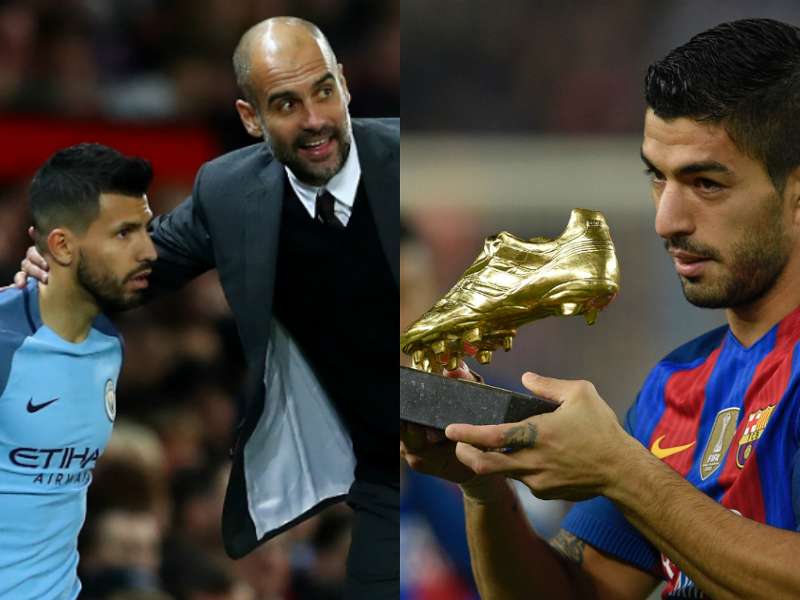 Whether you believe that Pep Guardiola wants to sell Sergio Aguero or not, it is clear the Manchester City boss wants to see significant improvements from his main striker.
It's not always clear what is being asked, but it's a fact that Guardiola wants Aguero to change many different aspects of his game - he has said as much himself on several occasions.
What is disputed is whether it will ultimately lead to a parting of the ways.
How will Man City & Barca line up?
Aguero is by no means in the same boat as Joe Hart or Yaya Toure, though there are hints that not all is well: City attempted to sign Pierre-Emerick Aubameyang last summer, for example, and the fact that Aguero's contract extension has not yet been officially confirmed, despite being signed in January.
Guardiola insists he wants Aguero to stay at the club for the long-term, but he must believe the Argentine has a long way to go before he is the right man to suit his style of play. Already this season he has said he wants to see more defensive effort, and on Saturday he said he must change his mentality to realise how important he is to the club.

Sources also have told Goal UK that Guardiola wants him to improve his movement off the ball, both when City's midfielders have possession in advanced areas and when the defenders are attempting to beat the press.
The Catalan has even hinted that there is one specific example he would like Aguero to follow.

It would not be too much of a stretch to imagine that Guardiola's ideal striker is Luis Suarez.
Guardiola made Barca the most clinical side in Europe during his time there but under Luis Enrique it has morphed into a more threatening beast, capable of playing precise passing football but also going more direct, or playing on the counterattack. Suarez is a key part of that transformation.
Guardiola deployed a similar hybrid style during his time at Bayern Munich, given the German side's ranks of pacy wingers, and has suggested that he would like to have a striker at City capable of offering an out ball to help turn defense into attack much more quickly.
"We don't have strikers strong enough to play in that way [directly]," he said Friday. "So we have to create the space to pass the ball, not to use the long ball because I don't want to play [them]. I am a big fan of brave players, courageous players who have personality to play wherever - home, away, big clubs, small clubs, big pitches, small pitches."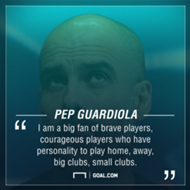 Suarez's battling qualities are clear for all to see and that virtue was perfectly summed up by his namesake and Barcelona teammate, former City youngster Denis Suarez.
"When you're in a tight spot, under pressure, you can hit it long and he'll fight with anyone to win it and keep it," he told The Guardian this weekend.
That has to be what Guardiola wants at the Etihad Stadium.
Messi & Aguero: The deadly duo that never was
Guardiola says he is happy with the amount of goals Aguero scores, and says how "nice" he is, but he wants to see a change in mentality. Perhaps he is too nice, something you could never say about Suarez.
But when asked directly about using Suarez as an example for Aguero to follow, Guardiola was unequivocal.
"No, the quality of Luis Suarez is his quality, I don't want those qualities," he said. "Aguero has his own qualities. What I want is to help Aguero to achieve his huge qualities as much as possible.
"Suarez has a quality I can't ask of Sergio. What Suarez does I can't ask Sergio because it would be unfair. I want to help Sergio develop his quality and also his mentality."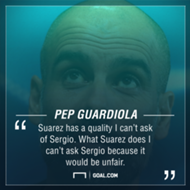 Perhaps it is Suarez's unique, warrior-like approach that cannot be replicated by Aguero - or indeed any player. But if Guardiola does not want Suarez's qualities - despite the various clues that that is exactly what he wants - then it is hard to know exactly what is being asked of Aguero.
What is certain is that Aguero is trying. In terms of sheer effort, his improvement has been marked. He has covered an average of 9.7 kilometers (just more than 6 miles) per league start this season, compared to 7.8 km (4.84 miles) last season, a clear sign he is doing much more.
But how much will be enough? City signed Gabriel Jesus during the summer to put more pressure on Aguero, and he will arrive in January. The Brazilian's movement and work rate were identified as some of his biggest qualities, and the idea is that Aguero will be spurred on, and possibly even learn from the 19-year-old.
On Tuesday night, though, there should surely be one simple instruction as Aguero prepares to face Barcelona: Watch Luis Suarez and do what he does.