Pep Guardiola says his style of play is not working at Manchester City. The question on everybody's lips is, 'Will it ever?'.
During City's run of 10 consecutive victories Guardiola always said "he knew what would happen" when his side eventually went through a bad patch, and he appears to be spot on.
Predictably, there's now lingering talk of a crisis at the Etihad Stadium following a run of four games without a victory.
Was it worth selling Joe Hart and signing Claudio Bravo? Where's Yaya Toure when you need him? What's the point in all this passing? Can't you just get it forward?
"It worked in Bayern Munich, it worked in Barcelona, it's not working here," Guardiola said on Friday as he once again pointed out he needs time to change the club.
He also said he "will go home" if things aren't panning out his way during his second season.
Oh how some would revel in that. The battle lines have long been drawn as far as Guardiola is concerned: depending on your point of view he is either a genius or a fraud.
Those of the belief he is a fraud — as foolish as they are — are waiting for him and his philosophy to fail. After the 4-0 defeat at Barcelona in midweek they smelled blood and came out in their droves to delight in a failing project.
The trolls and the Twitter banter accounts — the same ones who delighted in Paul Pogba's poor form at United despite hailing him at Juventus — ran wild, and will go into overdrive if City can't beat Southampton today.
But there are more important people that do buy into Guardiola's ways. They are Manchester City players.
Speaking to Kevin De Bruyne deep in the bowels of Camp Nou on Wednesday, it was clear to see he is firmly behind his manager.
His responses were littered with the responses like: "I think it's the right way." "I think the way we want to play is the good way."
And he said: "We know what's going to happen, that people are going to say it's bad, but I see it differently. People can say whatever they want, this is the way we need to play and we will win a lot of games like this."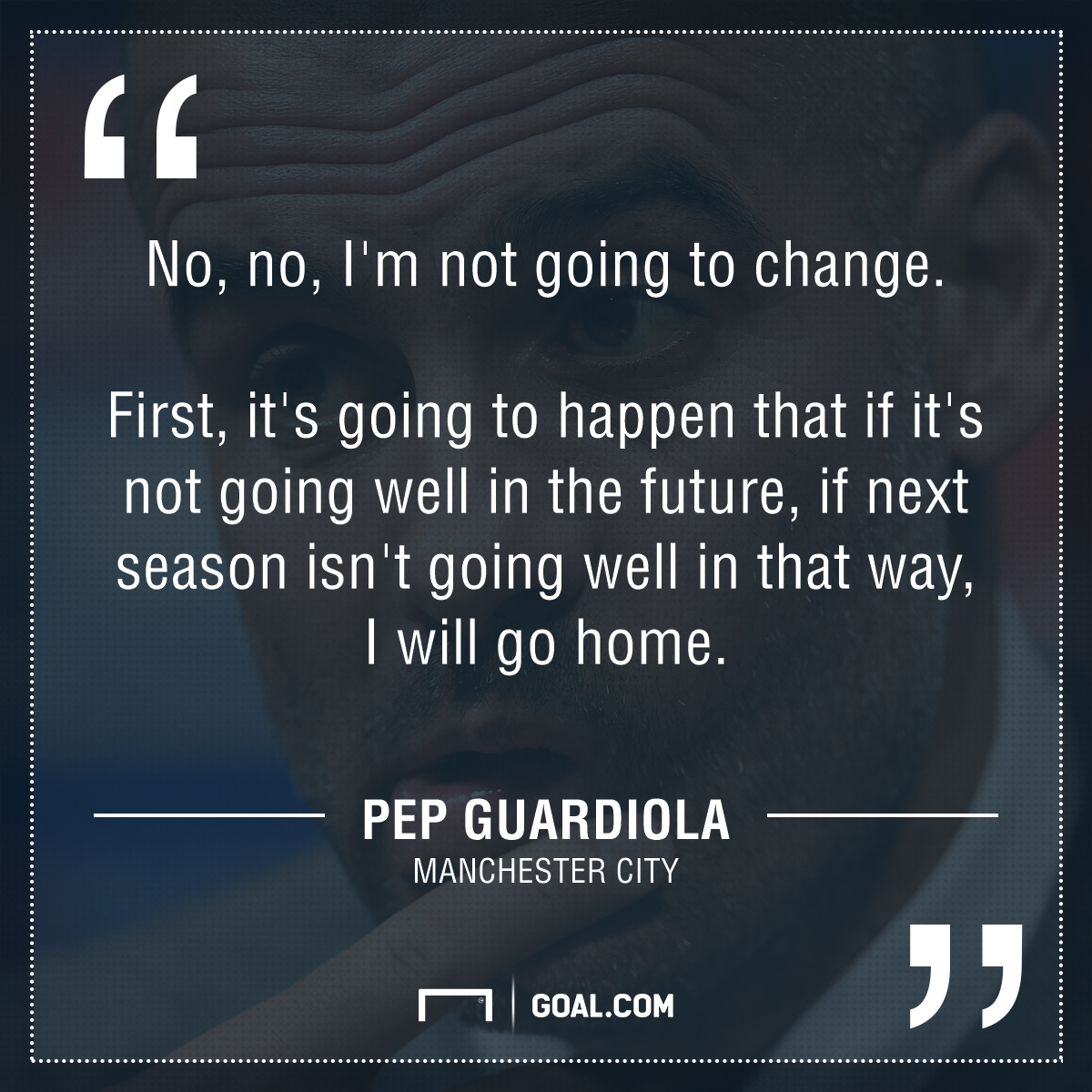 Fernandinho, a key part of Guardiola's plans, is the same: "We know exactly what we are doing — the style of game. We are playing good, everyone is confident. The last four games we didn't win but these things can happen in football. Sometimes you cannot explain football."
Crucially, Guardiola feels the players are on his side (he also says they'll be sold if they're not).
"What I feel is that they follow me," he said. "When they don't follow me I will speak with the club, but I feel they follow me.
"I'm not a guy to say we're going to do something because I am the manager. I speak fluently with the players to hear what they think, what they believe especially now that we haven't won the last games.

"I need time to learn the competitions, especially the Premier League. In those terms I'm not so worried about that."
And if Guardiola's claims that things aren't working and that he would pack up and leave sound like he is wavering, he most certainly is not.
Much like the fraud/genius argument, Guardiola's staunch defense of his own football philosophy will either come across as incredibly confident or incredibly arrogant.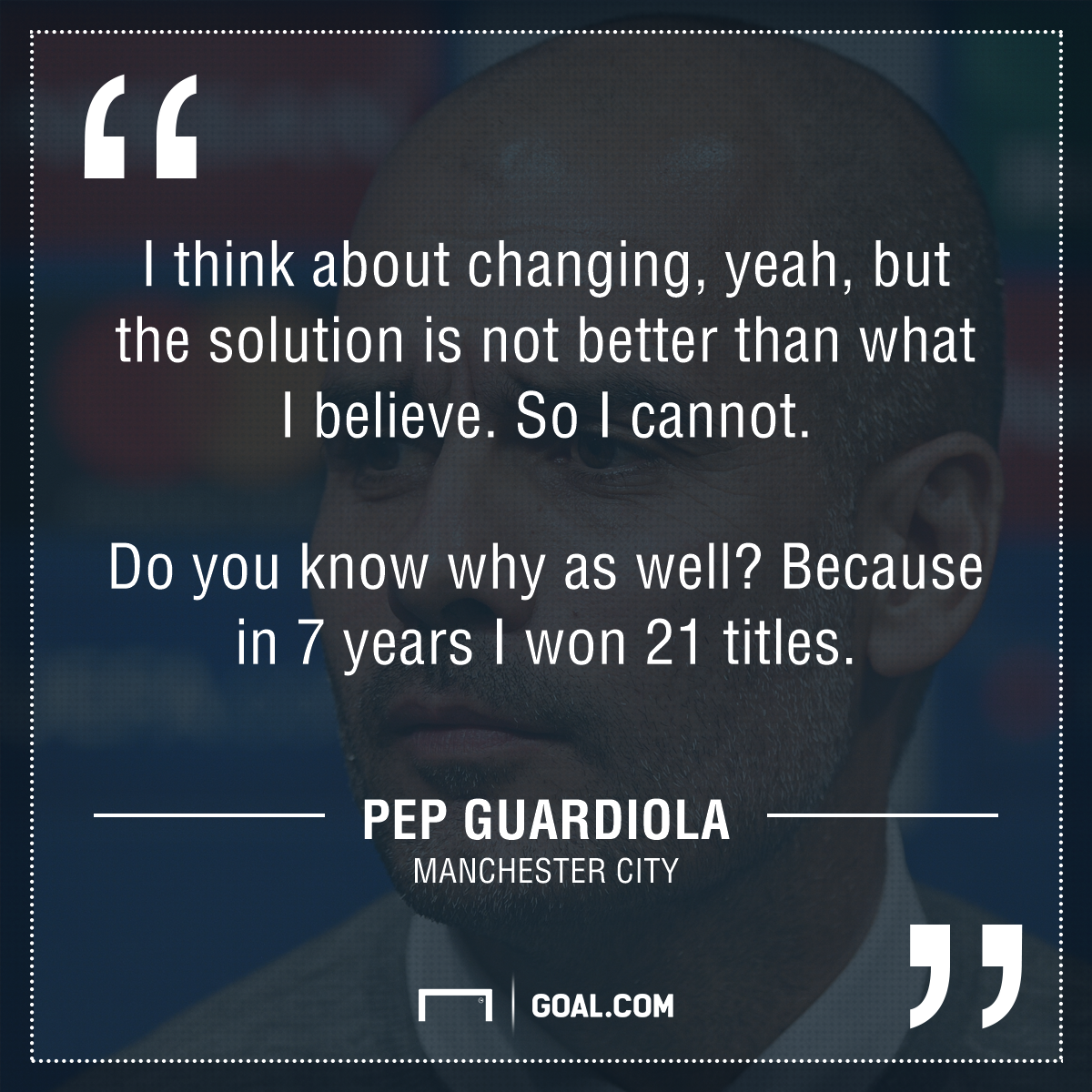 The man who famously said Jose Mourinho is the "f***ing boss" of press conferences was himself in fine form on Friday. He put on a show, and when the inevitable question about changing his philosophy came along, he was ready.
"Ah, you would like that, huh?
"I think about [changing], yeah. But the solution is not better than what I believe. So I cannot.
"Do you know why as well? Because in seven years I won 21 titles.
"I'm sorry guys. I won 21 titles in seven years. So it's three titles per year playing in that way."
That, really, should be the final word. The manager knows exactly what he wants to do and the the players are firmly on his side (and will be sold if they're not).
Is Guardiola right about himself and are the players right to believe in him?
Nobody knows what will happen next, whether the upheaval of turning the club upside down, ostracizing dissenters like Joe Hart and Yaya Toure, will be worth the hassle.
But Guardiola has enough credit in the bank to be given the benefit of the doubt, and he knows it. Those 21 titles at Barca and Bayern have not come through luck. He made huge, often unpopular, decisions at both clubs and he came out the other side.
Those asking will Guardiola's style ever work in Manchester should ask themselves something else. Why wouldn't it?