It couldn't happen, could it? Would Pep Guardiola really get rid of Sergio Aguero, one of the best and most popular players Manchester City have ever had?
He just might.
It is important to point out straight off the bat that Aguero is not in the same boat as Joe Hart, Yaya Toure and, to a lesser extent, Vincent Kompany.
Messi sets new Champions League record
Guardiola decided before he had even left Bayern Munich that he wanted rid of Hart and Toure, and City was open to the idea of selling Kompany this summer before those plans were changed when he suffered a long-term thigh injury in May.
The Belgian is fighting to save his City career and was left out of Guardiola's 18 for the game against Barcelona on Wednesday despite being fit.
Aguero made the squad but was left on the bench for the game at Camp Nou, coming in for just 11 minutes of action. While it may appear obvious or even easy to jump to the conclusion that there is a problem between player and coach, the situation certainly appears complicated.
City closed a deal for Gabriel Jesus this summer - following a personal phone call from Guardiola - because, sources have told Goal UK, they believe the Brazilian's arrival will give Aguero a metaphorical kick in the backside.
City also had discussions about signing Pierre-Emerick Aubameyang in June, but baulked at Borussia Dortmund's asking price.
Just as its attempts to sign two new center backs would have done little to make Kompany feel wanted, City's intentions will have put Aguero on alert.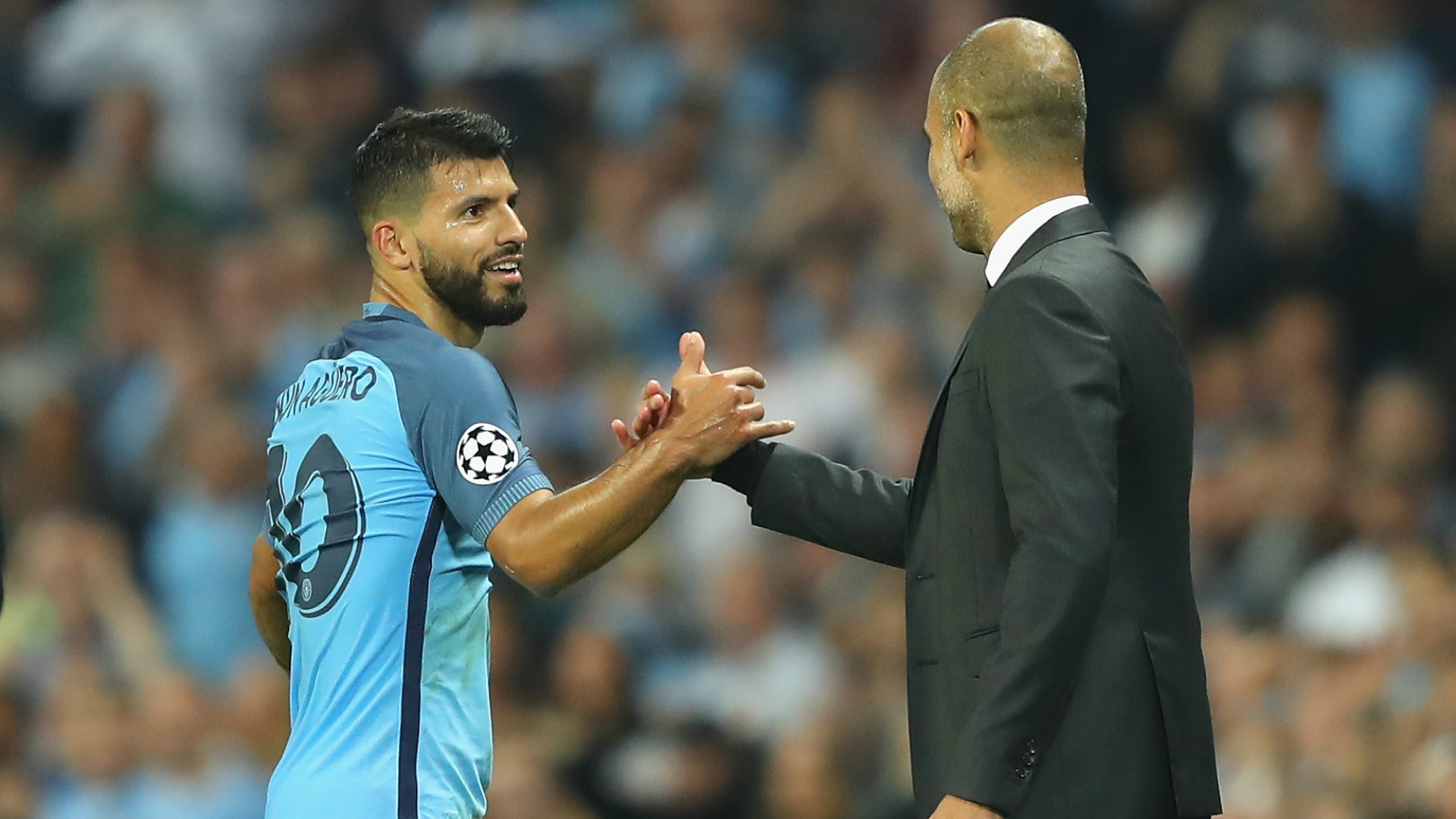 That is exactly what Guardiola wants, and he has not been been shy in pointing out that he wants more, much more, from the Argentine. It was as early as the second weekend of the Premier League season when the Catalan went out of his way to spell out that he wants more defensive effort from Aguero, who had already scored six goals in three games by that point.
It's a theme he returned to after City's 3-1 win at Swansea City, the type of far-flung ground where irregular City watchers ask about the striker's importance to the cause and are told how good he is.
On that day, though, they got a different answer.
Guardiola has also pointed out, correctly, that every player, manager and even journalist should feel pressure that they will be replaced if they do a bad job. But everything suggests the odds were stacked against Aguero from day one, or most likely even before.
Aguero has spoken of how demanding his coach is, but says he is adapting to the new requirements, even if his comments about risking everything to play for his country may not have been too popular.
City sources insist there is no issue between manager and star player but the current situation does not appear rosy, and there is no denying that his contract situation is especially peculiar to say the least.
The terms of a contract extension have been in place since January, but there is yet to be an official announcement despite intimations that one was forthcoming on several occasions across the past 10 months.
An official FIFA document shows Aguero's agent, Hernan Reguera, was paid for his services in January, and he may be needed again soon if the current situation continues.
De Bruyne defends Pep's tactical choices
Guardiola said after Wednesday's defeat at Camp Nou that Aguero took the decision to leave him on the bench well, although it is hard to imagine that being the case, even if only in terms of the huge disappointment of missing the chance to play against Barcelona in a big game. Those are the occasions any footballer would relish.
And the fact Guardiola said his absence was tactical rather than because of fitness concerns does not tally with the fact Aguero did not warm up with the other substitutes before the Barca game. He didn't ahead of the Everton game last weekend either.
Something does not add up, and given Guardiola's history of getting his way, no matter the stature of the victim, City fans will be wondering if they are heading for another messy divorce.
There are plenty who have not yet come to terms with Hart's exit - especially after his replacement's travails this week - and the banishment of Toure has rubbed some up the wrong way. With Kompany potentially next in line, Guardiola would be risking even more wrath.
If Aguero is also shown the door the new City boss would need an incredible amount of credit in the bank given the striker's universal popularity among the fan base. But it would not be out of the question even for City to win the title, Aguero to win the golden boot, and then for Guardiola to sell him anyway. He did the same with Samuel Eto'o, saying at the time that it was a question of "smell," of feeling, to sell the Cameroonian after he helped Barca win the treble.
The Catalan said he would take the blame if it all backfired but persuading City fans that Aguero should go would be one of his greatest achievements.
Whatever Guardiola smells right now, it all seems a bit fishy at the Etihad Stadium these days.