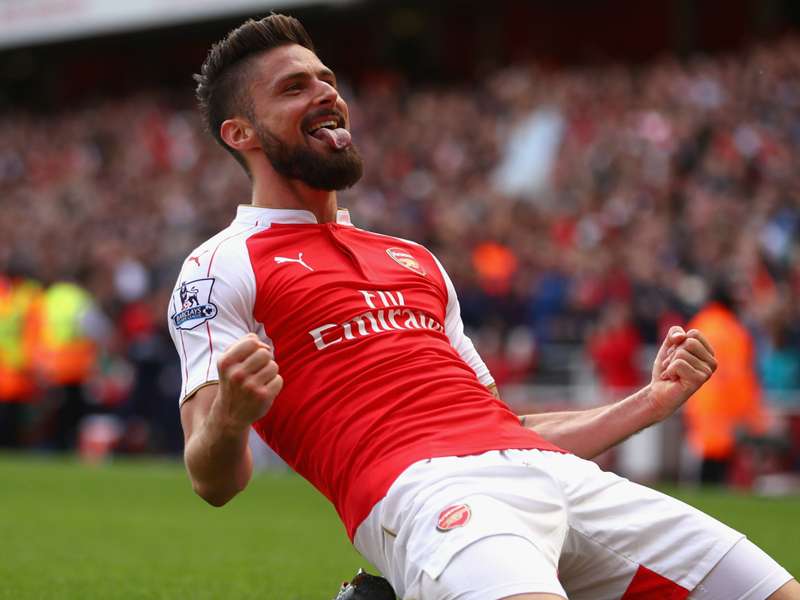 Injuries hitting Arsenal players at key points in the season usually has a degree of inevitability about them, so it was hardly a major surprise to see Olivier Giroud ruled out for the opening batch of Premier League fixtures after injuring his toe in training.
The main question before Giroud's injury was who would replace him. Lucas Perez was an untried and untested formula in Premier League football while Theo Walcott decided before the season began that he wants to play on the right wing. Two months into the season and without Giroud leading Arsenal's forward line, the only question being asked is how will he get back into the in-form Gunners side?
The emergence of Alexis Sanchez playing through the middle will make it difficult for Giroud to get back into the Arsenal starting XI. Chilean attacker Sanchez has five goals and five assists this season and has flourished in his new-found role at the club. He's able to make runs in behind opposition defenses while also forging a successful triumvirate with Theo Walcott and Mesut Ozil. Arsenal boss Arsene Wenger recently revealed that he decided to play him there because it means he's 'less busy doing defensive work on the flanks.'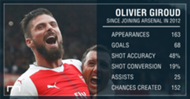 Wenger has been asked several times this season whether Giroud's future is uncertain following the prominence of Sanchez in the Frenchman's position. He remains adamant that his compatriot will get minutes on the pitch throughout the campaign, but it seems unlikely that the 29-year-old is going to win back his place anytime soon.
"He is an important player in our squad", said Wenger.
Wenger reveals secret to Walcott form
"The squad is not 11, we are 25 players and everybody will contribute at different parts of the season."
Giroud has scored 82 goals in 187 appearances since he was signed from Montpellier for 13 million pounds ($14.8M) in 2012. It's an impressive tally for a striker who has improved various aspects of his game and performed particularly well with France at Euro 2016 this summer. Despite the major improvements in his game it is not unreasonable to suggest that this could be the season where Giroud's Arsenal career comes to an end due to lack of playing time.
It's worth remembering that Arsenal also has summer signing Lucas Perez and currently injured striker Danny Welbeck in its forward ranks. Even youngster Chuba Akpom, who looked excellent during preseason, is in the first team and desperate to make his way into the first team squad. For the first time in several years Giroud finally has quality attacking options to compete with upfront - but it's now a case of him being left behind instead of leading the line.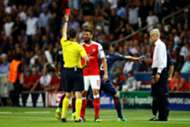 The player himself has been unable to contribute to the Arsenal cause this season and his red card after coming on as a substitute against Paris Saint-Germain in he Champions League group stage opener proved to be a blotch on his copybook which Wenger privately spoke to him about afterwards. The frustration of being injured and unable to play was shown when he clashed with Marco Verratti in the dying minutes of the Gunners' 1-1 draw at Parc des Princes and he hasn't been seen in an Arsenal shirt since.
There was interest from several European sides including Serie A giants Napoli for Giroud this summer. Arsenal's pursuit of a new striker over the summer to compete with the Frenchman was certainly no secret and moves for Jamie Vardy and Gonzalo Higuain didn't come to fruition for various easons. The Vardy transfer in particular prompted Giroud to hold a meeting with Wenger before Euro 2016 where he wanted assurances over his starting spot in the team.
Uncertainty surrounded Giroud's future for the first time in his Arsenal career this summer and his agent flirted with the idea of a move to Napoli by claiming their playing style would 'suit' Giroud. Indeed, if the Gunners want to get the best out of their French striker then competition upfront is surely the best thing for him. Giroud has said that the competition is natural and wants to fight for his place in the squad but it could be a fight impossible to win if Sanchez continues his fantastic form through the middle. As far as Wenger is concerned though, Arsenal are finally spoilt for options in midfield and attack.