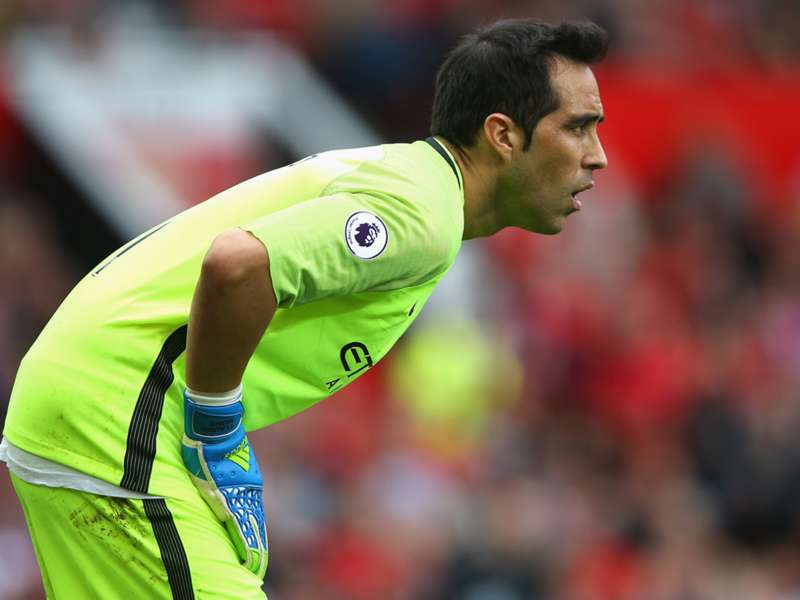 Claudio Bravo's arrival at Manchester City provided English soccer with something of an existential crisis in the goalkeeping department.
And just over a month since he was brought in to replace Joe Hart, hitherto the undisputed No. 1 for both City and England, Bravo is still regarded as very much a foreign presence in the Premier League.
Pep Guardiola went to a lot of effort to bring him in, ousting a perfectly good goalkeeper to sign, essentially, a better passer. And there are those - including City fans - who are still unsure of the benefits, whether Hart would be just as good an option.
Aubameyang reveals Man City talks
But it is clear that Bravo has made a huge impact on this City side in just a handful of games. He has slotted in seamlessly and made himself not just a cornerstone of the team, but the very system Guardiola was brought to the club to implement.
Given his late arrival at City he has played fewer games than many goalkeepers across Europe, but his numbers are telling.
Guardiola places such importance on his side's "buildup," and has explained at length how central a goalkeeper is to the whole team's approach, to their ability to dominate matches and create chances for the strikers.
So it is surely no coincidence that Bravo has touched the ball more times per match than any of the 191 other active keepers in the top divisions of England, France, Italy, Germany, Spain, Portugal or Turkey, with an average of 57.25 touches per league game.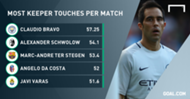 With 229 touches in the Premier League, he's actually seen more of the ball than Sergio Aguero (215), despite playing 81 minutes fewer.
And when he's getting the ball, he knows what to do with it.
Compared to the other goalkeepers in Europe, he has played the second most passes per match, trailing the leader by just 0.08. Bravo has played 46.25 passes per game, compared to Alexander Schwolow's 46.33. Freiburg keeper Schwolow, interestingly, is second to Bravo in terms of touches per match, too - perhaps Guardiola may come calling for him in the coming months.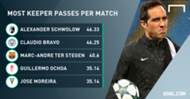 Bravo is back at the very top of the rankings when it comes to successful passes. Per game, he has found his target more than anybody in the top seven European leagues, beating former Barcelona colleague Marc-Andre ter Stegen 36 to 33.8.
In the Premier League, he's played far more successful passes than any goalkeeper, regardless of appearances. Finding his man 144 times, he is 35 passes ahead of his nearest rival, despite playing fewer games than anybody else in the top 20.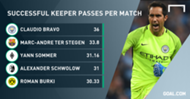 The stats speak for themselves, but many remain unconvinced, and some City fans still have palpitations when he gets the ball.
Perhaps it is the Chilean's demeanor. He didn't get off to the best of starts in England, it must be said, and his Manchester derby exploits are sure to have counted against him for those who were already sceptical.
If the mix-up that led to Zlatan Ibrahimovic's goal could be pinned on John Stones, Bravo's poor control that almost gifted Wayne Rooney an equaliser certainly encouraged his, and Guardiola's, critics.
He has grown into his role since then, but still he attracted criticism for his performance in Sunday's defeat at Tottenham.
"A good goalkeeper spreads calm," wrote Barney Ronay of the Guardian. "Claudio Bravo may end up doing this at Manchester City. Right now he can look the opposite of calm, a flailing, frazzled, unsettling presence."
Ronay made the point that some of Bravo's passes put his team-mates in trouble, and that he should have been more willing to go long, but it is hard to pinpoint too many, if any, instances where that was the case.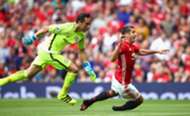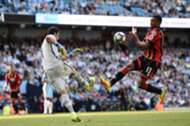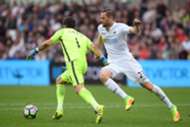 A minute before Spurs' opening goal, Bravo did play the ball short to Nicolas Otamendi, who slightly miscontrolled, stretched and lost possession. The keeper quickly got it back and, under the same pressure from Dele Alli, kicked it long. Thirty seconds later he got it back again and played it to Fernando, who was in enough space to give it to Otamendi, who gave it to Pablo Zabaleta, who fed it into Fernandinho in midfield. Bravo had done his job in getting City started, but the Brazilian midfielder was crowded out near the halfway line, Spurs won possession and scored the opener.
There was a point in the game where, if you were going by the crowd, you would have thought Bravo was having a shocker.
He gave encouragement to the home support around the hour mark when, forced by Spurs' man-to-man marking, he went long at a goal kick. He shanked that effort down the middle of the pitch, and when it came back to him he was once again forced to go long, and once again surrendered possession.
But he soon quietened the fans down again: deaf to the noise inside White Hart Lane, he stuck to his game and continued to pick out teammates in space, as he had been doing all afternoon.
At one point he lobbed a bouncing ball over Heung-min Son's head with his first touch. Oh, and he saved a penalty.
On two occasions he did appear to take too long in possession and almost let the striker in, but both times he got out of danger and played the ball to a teammate.
"Bravo spent this match semaphoring about affecting a frantic pose of nonchalance under constant targeted pressure," Ronay continued, but was that nonchalance really affected?
The 33-year-old has been playing this game a long time, he knows what he's doing. Spurs' pressure was both constant and targeted, but on the vast majority of occasions he chose the right option.
It may not have looked pretty every time, but his teammates will be confident he will find them, and find them in good positions.
It will clearly take a little longer to convince the remaining doubters, but Bravo is already an important - and impressive - addition to the English game.