A rivalry renewed. With
Pep Guardiola
now in charge at
Manchester City
,
Jose Mourinho
installed at
Manchester United
and the two teams flying high in the Premier League, one of football's famous feuds is ready for another chapter.
Raheem Sterling limped out of the last Manchester derby with a groin injury that would effectively end his debut season at City and hamper his performances at the European Championship. However, come Saturday lunchtime he will stride out onto the Old Trafford pitch looking like a new player and with his confidence fully restored.
In under two months Pep Guardiola has helped turn Sterling's fortunes around, but as stark as the improvement has been there is nothing complex about the Catalan's methods.

Sterling ended last season in the doldrums, sapped by that groin injury which kept him on the fringes of the first team as Manuel Pellegrini's final campaign juddered to a halt.
That continued into the Euros and the criticism from fans and media alike was already over the top by the time English football's latest nadir - the elimination by Iceland - sparked front-page headlines about the fancy house he had bought, which later turned out to be a present for his mother.
Guardiola himself tried to intervene in the debacle, calling Sterling to tell him: "As long as you work for me, I'll fight for you. Keep your head up, don't worry, I know you're a good player and you're a big part of my plans."
It was not enough to avert England's elimination nor the personal attacks on a 21-year-old young man, but those words spelled out exactly what was to come as soon he returned for preseason.
Sterling has played the left and right side for City so far this season but the one constant of the past eight weeks has been confidence.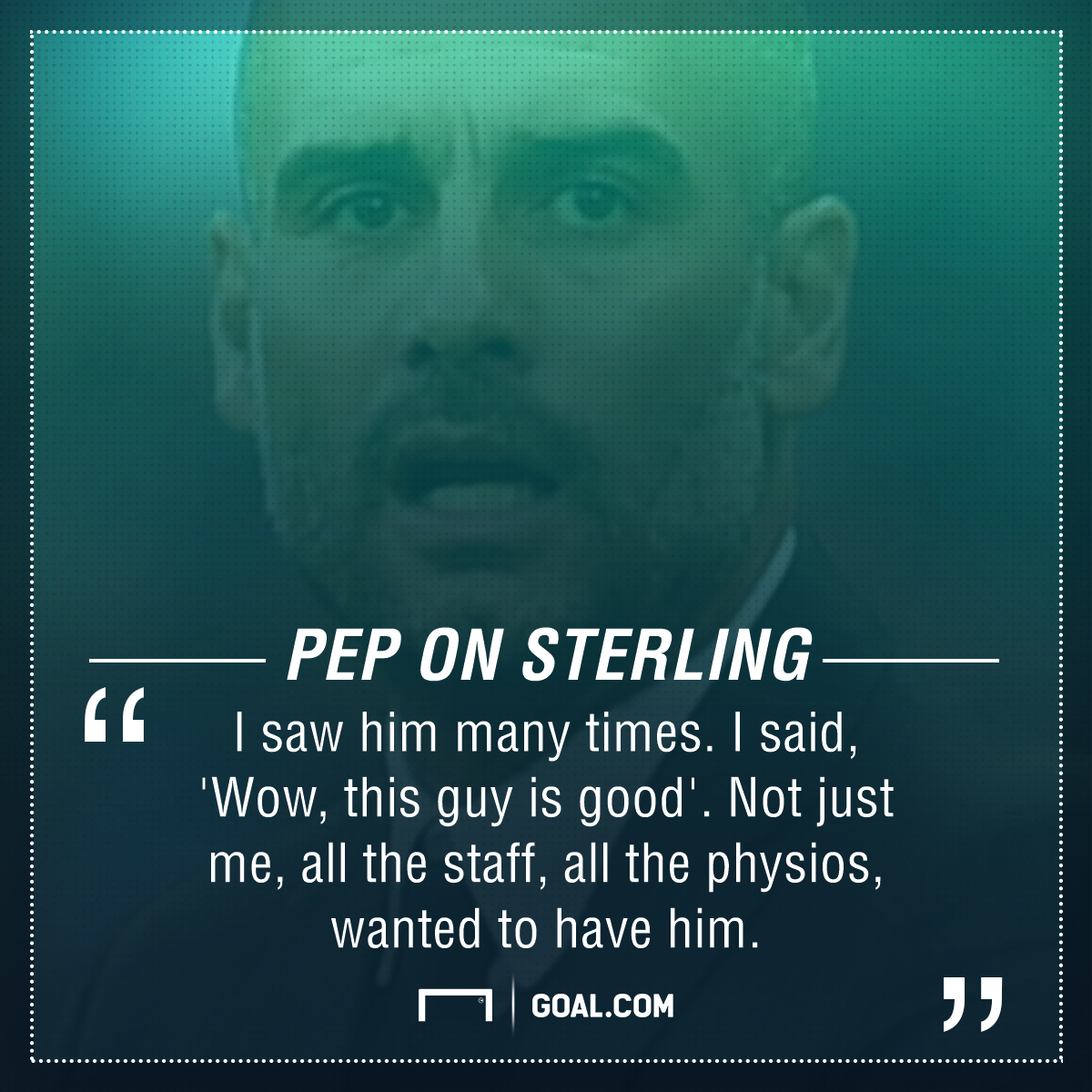 Raz, as Guardiola calls him, is starting to replicate the eye-catching performances which persuaded City to pay 45 million pounds for him in the first place. It is believed Guardiola himself gave the signing his approval, months before his own agreement with City became public knowledge.
If that wasn't enough of a statement, Sterling will be fully aware of Guardiola's belief in him now the transfer window has closed. Having seen Joe Hart, Samir Nasri, Wilfried Bony and Eliaquim Mangala essentially excluded from the squad and sent out on loan (because no permanent buyers presented themselves), Sterling will know that his manager does not tend to waste time on those he does not trust.
But that is half the story. Guardiola has not only instilled confidence in the youngster but given him the necessary freedom to put it into practice.
Sterling grew frustrated with his instructions to stick to the left touch line in the last months of Pellegrini's reign, and he proved his versatility to Guardiola with an impressive performance on the right-hand side in a behind-closed-doors friendly against St Johnstone in July.
Of course, he will have been drilled in exactly where to stand and where to move when City doesn't have possession, but the new boss has left him to do as he feels when on the attack.
That has been reflected by the fact that he has had more touches in the opposition box than anybody else in the Premier League this season, despite starting on the wing. A quick look at the rest of the top five - Fernando Llorente, Salomon Rondon, Diego Costa and Zlatan Ibrahimovic - shows just how unusual that is.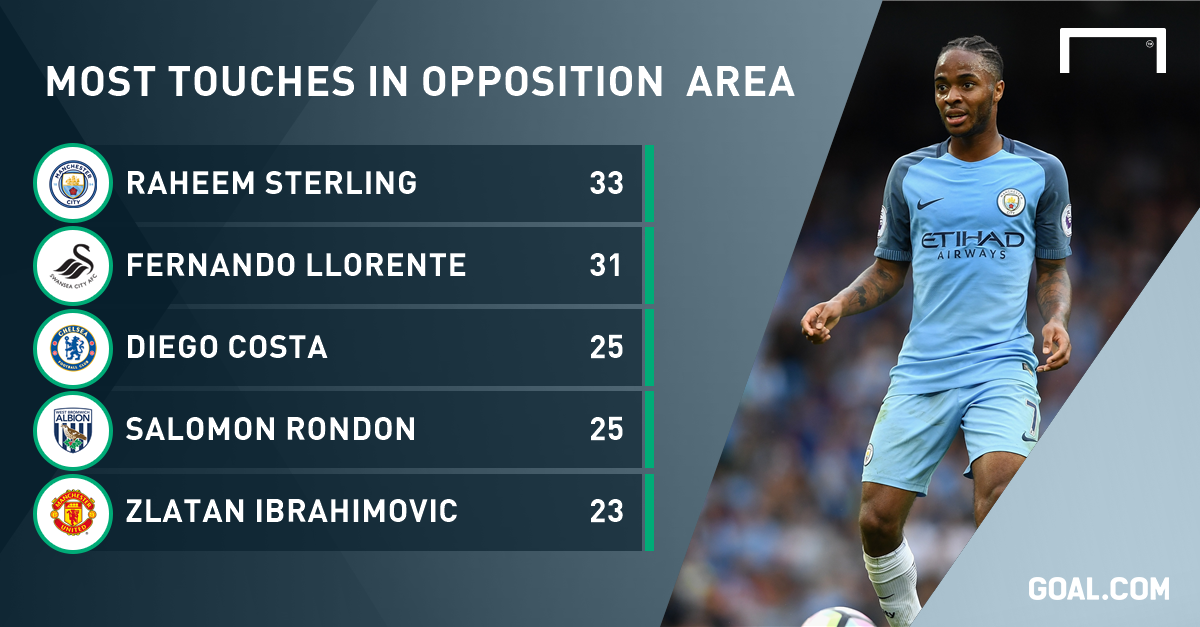 He is a slight winger mixing it where the division's biggest, burliest target men ply their trade.
It is where he has always wanted to be. During his tumultuous final few months at Liverpool, his representatives contacted a group of analysts to compile data to prove that he spent more time playing through the middle than on the wings. Why? The Reds' peculiar wage structure means strikers and central playmakers are paid more than wide men.
It was of course an attempt to increase his wages at Anfield but it was also instructive of the areas in which he is most dangerous - and that those around him felt he was not being valued as much as he should be, neither on nor off the pitch.
Under Guardiola, he now has that recognition. "He can play right and left, he can go byline or go inside, and that is so important," the Catalan said last month. "He is a fighter and of course we want more of him, but we are so, so happy.
"We are happy for him because he's a very nice guy… from the beginning I had a feeling that this guy is good."
During his first season at City he had a tendency to go missing, stranded out wide in a static attack.
Now, everything has changed. City is already playing some fantastic football and Sterling is often at the center of it.
At Old Trafford on Saturday he will be just one of several genuine stars capable of stealing the show. Kevin De Bruyne, Anthony Martial, David Silva, Paul Pogba and Zlatan Ibrahimovic can all turn a game on its head, not to mention a second string of dangermen that includes the likes of Nolito, Wayne Rooney and Juan Mata.
And with Guardiola and Jose Mourinho on the sidelines, there is sure to be drama wherever you turn.
But Sterling, reinvented under his new boss, will back himself to take center stage.