After Juventus' 1-1 draw at the San Paolo in March 2013, Juventus coach Antonio Conte was asked in his post-match news conference if he had exchanged words with Napoli counterpart Walter Mazzarri during yet another spiky affair between the two sides.
"No, I never spoke with him. Never, never, never," he declared. "We didn't even shake hands. I can assure you we didn't even look at each other. Each to their own bench. It's better that way."
It was hard to disagree, given the pair had spent the best part of a year taking shots at each other, but it was a sad state of affairs, particularly as they had started out on such good terms.
Indeed, when Conte had been hired by Juventus in the summer of 2011, Mazzarri was delighted. "I saw in him a lot of myself when I was at Reggina," he wrote in his autobiography. "Sincerely, I thought: 'I like this guy.'"
He wouldn't for long. Mazzarri argues that the breakdown in their relationship had nothing to do with him. In March of 2012, he publicly praised Conte, who was in the process of leading an unbeaten Bianconeri side to a first Serie A title since being stripped of their 2006 Scudetto because of "Calciopoli."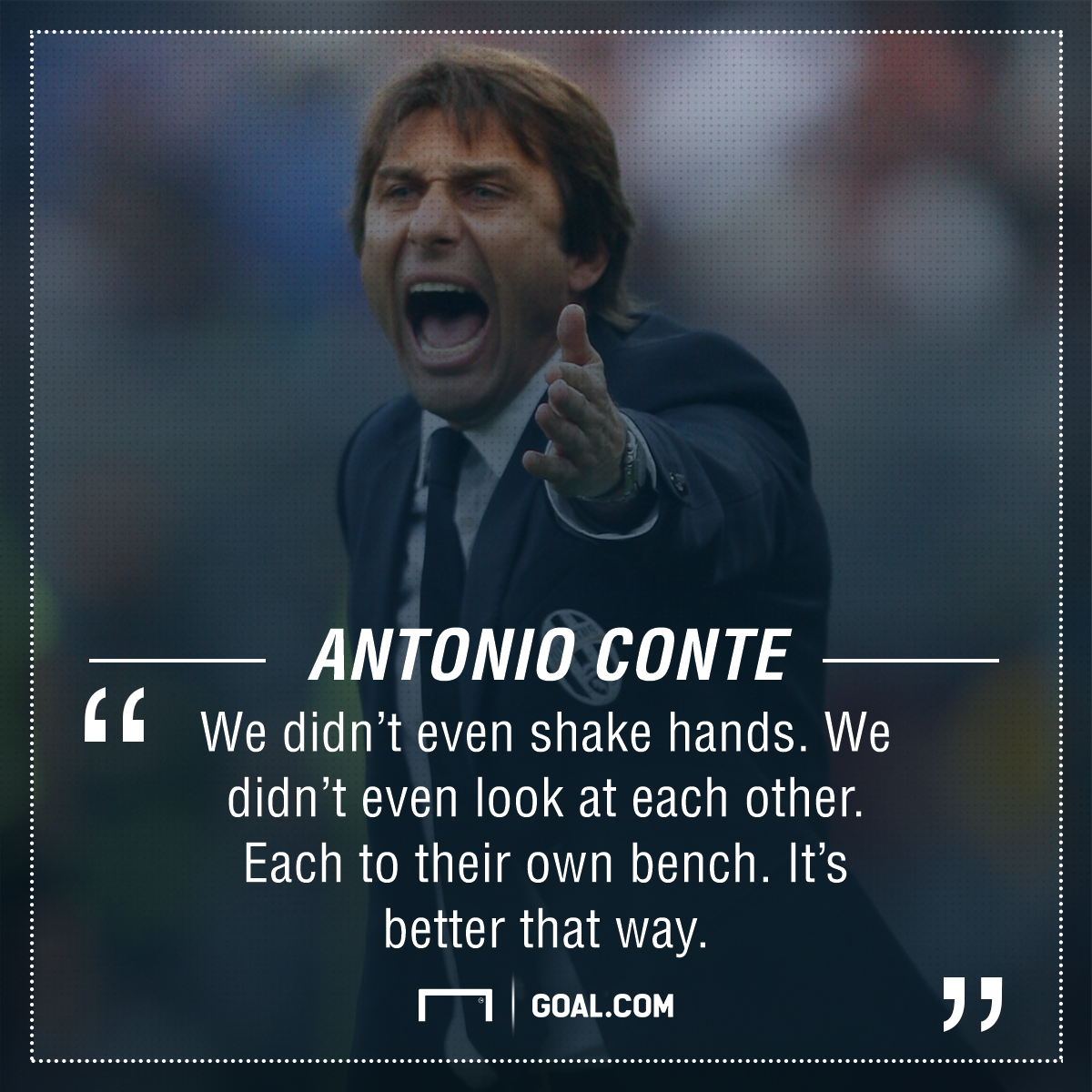 "A few years ago it was said that he was a coach who was too animated on the bench and could not coach a big club," Mazzarri mused. "This [Juve's success], for me, is a victory for that reason, because Conte is doing very well and he's at a great club."
Things were starting to heat up on the pitch, though, with Juventus midfielder Claudio Marchisio acknowledging that he and his teammates had little time for their Neapolitan rivals. Conte defused the situation by reasoning that this was actually a compliment to the improving Partenopei players and their coach.
"Napoli should be proud to have our antipathy rather than get upset about it as it means that they have joined the group of big clubs of Juventus, Inter and AC Milan that have certain feelings of rivalry," he said.
But Conte, and his assistant Massimo Carrera, took great exception to Mazzarri referring to the change of formation in Turin. As far as the Bianconeri duo were concerned, the Napoli boss was implying that they had ripped off his idea of playing three at the back. It was true that Conte had arrived at Juve with the intention of playing 4-2-4 only to quickly ditch that plan after realizing that he had three world-class center backs at his disposal: Andrea Barzagli, Leonardo Bonucci and Giorgio Chiellini. But the former Italy international was upset with the suggestion that he had somehow copied Mazzarri's style.
Mazzarri, for his part, insisted that his comments had been misconstrued.
"Then I said that, while playing against us, he changed his formation from the one he had preferred, to pay him a compliment," he later wrote. "I meant to say that he was able to adapt to a determinate situation. He and his assistants took that badly. I never used the word 'copied.'
"After that I received inopportune words from Carrera and Conte, but I always suspected that it was the work of the communications department to start the umpteenth controversy. Conte is better than those words."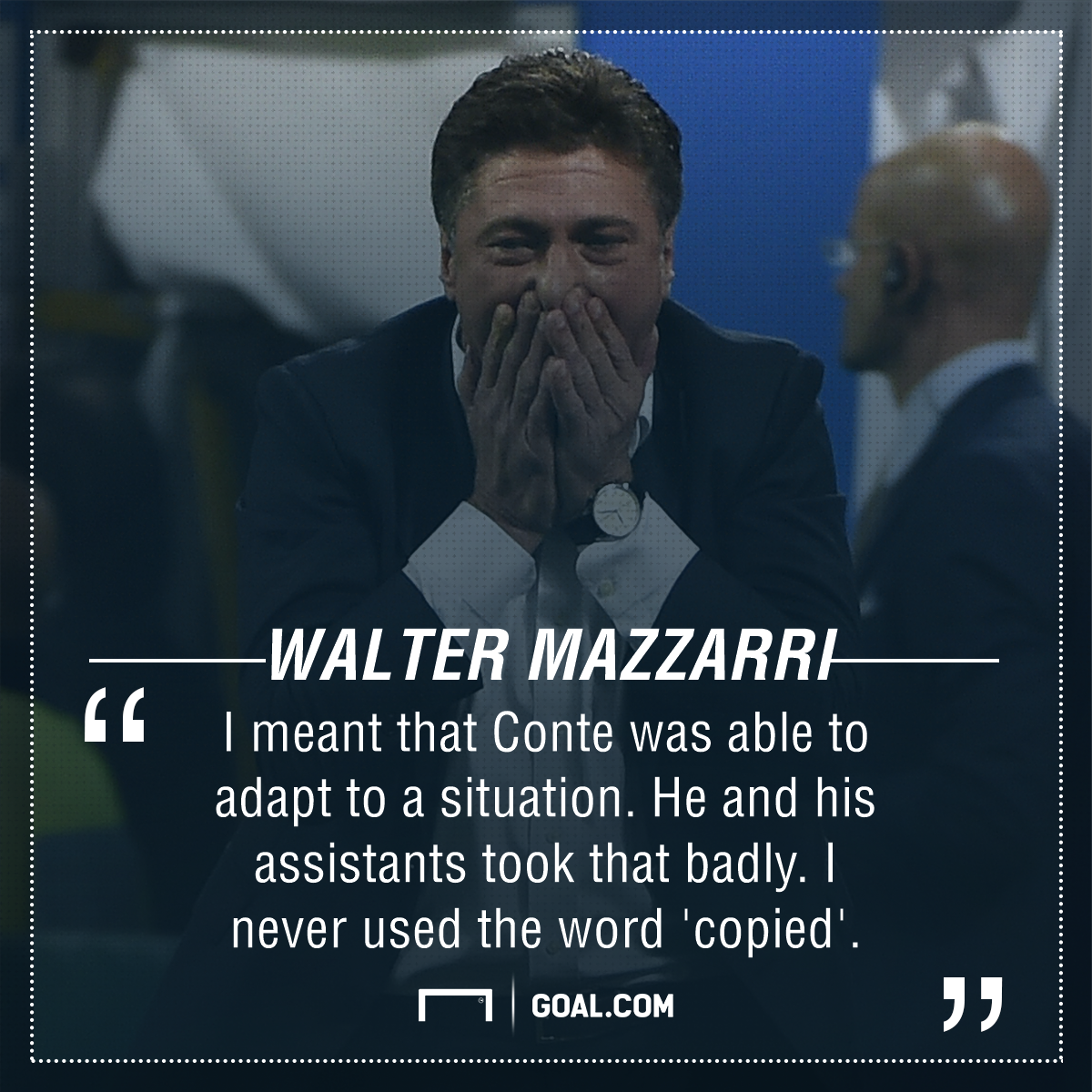 Things came to a head at the 2012 Supercoppa Italiana in Beijing. With Napoli leading 2-1, referee Paolo Silvio Mazzoleni awarded Juve a contentious penalty. Just four minutes after Arturo Vidal had converted from the penalty spot, the match official issued a straight red card to Goran Pandev before showing a second yellow to Juan Camilo Zuniga in injury time. An incandescent Mazzarri was dismissed just seconds later and then, after watching his side concede twice in injury time, ordered his players against attending the post-match awards ceremony.
"What would've happened if we had faced the referees at the end of the game, after the decisions they made?" he fumed. "I think Napoli made the right choice."
Conte hadn't even been on the touchline that night, because of his touchline ban for his alleged involvement in a match-fixing scandal (of which he was subsequently cleared). But when he returned, he had no intention of building any bridges.
Indeed, when Mazzarri pointed out in the summer of 2013, after moving from Napoli to Inter, that Juventus enjoyed a serious financial edge over the rest of its Serie A rivals, Conte countered. "During my tenure, there have never been major expenses. Those saying the opposite should look after their own houses but sometimes people like to blow the trumpet in order to justify their own failings."
The pair have not been adversaries since Conte surprisingly quit Juve in the summer of 2014 before promptly taking charge of Italy, but they will meet again this Saturday, at Vicarage Road. It will thus be fascinating to see if the pair exchange words before kickoff. Even a handshake would be a start!