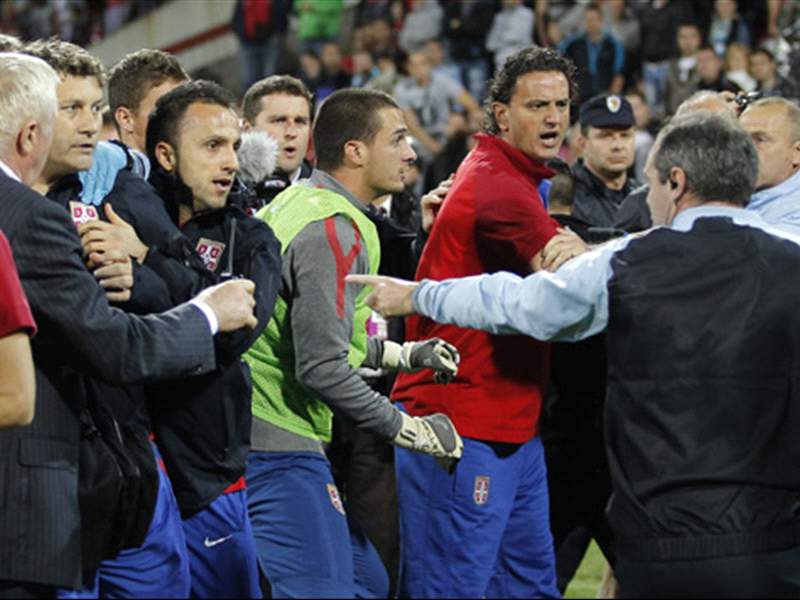 The Football Association has condemned the punishments UEFA handed to Serbian players and officials following ugly scenes at the conclusion of a European U21 fixture as "disappointing", as well as expressing "surprise" at the sanctions delivered to two England players.

A number of England players and coaches were invovled in a mass brawl after the final whistle in the Euro 2013 playoff second leg, which confirmed the Young Lions' qualification for Israel in 2013. UEFA subsequently banned two of the Serbia coaches and four players, as well as handing a 80,000 euro fine and ordering the Serbian FA to play one match behind closed doors.

However, the FA has reacted to what it sees as punishments that do not fit the crime in a statement on its official website.

FA General Secretary Alex Horne said: "We are disappointed with the sanctions levied by UEFA with regards to the racist behaviour displayed towards England's players.

"Let's be clear, racism is unacceptable in any form, and should play no part in football. The scenes were deplorable and we do not believe the sanction sends a strong enough message."

The FA also expressed its disappointment in the one and two-match bans handed to Tom Ince and Steven Caulker, as well as the upholding of Danny Rose's suspension for their part in events in Krusevac. The players will miss the opening game of their Euro 2013 campaign - versus Italy - and Caulker is set to be forced to watch the second group game against Norway from the sidelines too.

Horne stated: "It is The FA's vehement belief that its players and staff acted correctly in the face of provocation, including racist abuse and missiles being thrown.

"We are therefore surprised to see that two of our players have been given suspensions.

"We shall await UEFA's reasoning but it is our intention, at this stage, to support our players and appeal these decisions."

Head coach Stuart Pearce reiterated his belief that his players and coaching team were innocent victims, adding: "I am concerned to see our players suspended by UEFA and we will continue to support them.

"I maintain that our players played no part in the aggression. From what I witnessed our players and staff were forced to protect themselves in the violent scenes that followed the game."

The FA confirmed it will await the written reasoning from UEFA before proceeding but suggested it will appeal the sanctions handed to its players.