Chelsea
midfielder
Frank Lampard
has described his team's victory in the
Champions League
final as the best moment of his career, insisting that it was made all the sweeter after chasing the trophy for so long.
"It feels like the crowning moment of my career," he told
The Sun
.
The Blues defeated Bayern Munich in their own Allianz Arena in the competition's final on Saturday, winning 4-3 on penalties, to seal Chelsea's first ever European Cup and Lampard could not hide his delight at the triumph.
"The feeling of not winning it for so long almost makes it feel better. I've been here 11 years and I've been waiting for this baby for a long time," Lampard said.
"I've never been so emotional in a game. Players were crying, tears in their eyes. Football can do that to people. It's the best footballing night of my life — the hour we spent on the pitch with the fans afterwards."
He praised the determination the squad showed to recover from after a difficult first half of the season under new manager Andre Villas-Boas, who was dismissed in March.
"If you had asked me three months ago if we would win this competition, I would have laughed. But we have won the FA Cup and now the Champions League," the England international continued.
"The determination and spirit we have shown have been fantastic. The key players have been there a long time and we want to win, we are determined to win, in the dressing room we have a tough group."
Didier Drogba got their late equalizer in the final when he headed in from Chelsea's only corner of the match, and went on to net the winning penalty in the shootout and Lampard held the Ivorian up among the greats.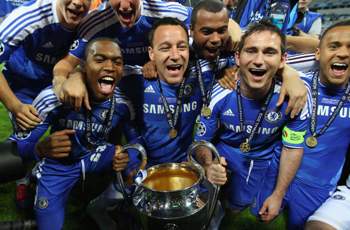 "It's the best footballing night of my life" - Frank Lampard
"People talk about whether this is his last game for Chelsea, but he has been an absolute hero for this club," he added.
"He is right up there among the great strikers, who score in finals and in the big games."
Lampard also went on to describe the growing feeling that destiny was on their side after the West London side's past disappointments in four Champions League semifinals and a penalty shootout defeat in the 2008 final.
"I had a quiet confidence. Manuel Neuer looks massive in goal. He's a fantastic keeper but Petr Cech has re-announced himself as the best in the world. When you have confidence in your keeper it doesn't half help with penalty shootouts," he said.
"It's a confidence issue. I remember taking loads in the World Cup in Germany and then missing against Portugal. You can overthink it. Here, I felt we were going to win on penalties, which is strange against a German team."