Manchester City has been in control of practically every minute of every one of its matches so far this season. Against Chelsea on Monday night, it was in control for about 150 seconds.
In their 14 previous undefeated matches leading up to the battle with the Blues at Stamford Bridge, Roberto Mancini's men did things their way. Bullying sides into submission through long, drawn out (prepare to cringe) Barcelona-esque passing sequences, the Citizens have been the side of note this season, and even went as far as making their usually more powerful neighbor look like lawn gnomes.
Against Chelsea however, things were slightly different. The home side put in a performance that will give Mancini nightmares for the months that lead up to the when the two teams meet again in March.
For two-and-a-half minutes though, the match was City's.
Jumping out on the front foot immediately, the visitors opened the scoring barely 90 seconds into the match thanks to a lovely ball from Sergio Aguero to Mario Balotelli, who then rounded Petr Cech and John Terry effortlessly and slotted the ball home to give City the lead. The move, as delightful as it was, probably could have been executed if both players had their eyes closed.
Follow SHANE EVANS on

The match was already in Manchester City's hands...and everyone knew it. We were all expecting another dominating performance that would add head on the wall of City's breakout year.
Chelsea had other plans however, and from that point, Manchester City was thrust into unknown territory. It was the one being bossed all over the pitch. It was getting the after-school beatdown by the bigger, stronger intimidator.
From Balotelli's goal, Chelsea knew it couldn't let City have its way. So the Blues got chippy. They pushed and pulled and got in the face of the team that many perceived to be superior. To put it simply, they got under City's skin and essentially off its game.
MEIRELES' KEY MATCH EVENTS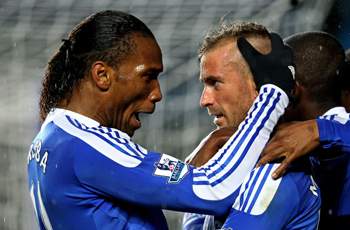 34'

Scored Chelsea's first goal

36'
Carded for a number of
digging challenges

73'
Replaced by Frank Lampard

PLAYER RATING


8.0



All over the pitch disrupting Manchester City's flow and his well-placed run and volley opened the scoring for Chelsea. Also played the pest role to perfection with his 'poorly-timed' challenges. Effectively cancelled out Yaya Toure's influence. Was replaced by the eventual match-winner Frank Lampard after a productive shift.

"We did not deserve to lose this game but we did lose and it is finished now," said a frustrated Mancini after the match. "Our next game against Arsenal is difficult and we need to focus on that.
"After the start I predicted we would win the game as we played very well. It is unusual for a team to come here and play like this in the first half. The game changed after the sending-off. After that, it was difficult."
In fact, the game had changed far sooner than Gael Clichy's sloppy tackle in the 58th minute that warranted a second yellow card. As if the match was simmering quietly to that point, City seemingly became more and more irritated with how Chelsea had decided to play.
Raul Meireles and Ramires were brilliant in the middle of the pitch, so much so that they forced Yaya Toure's worst and most contentious performance in a City shirt. It got to the point where Toure was just scraping the back of ankles for the hell of it, like he wanted referee Mark Clattenburg to book him. Usually one of the most composed players in the league, Toure, like most of the City XI, just wasn't himself.
Juan Mata was on his game as well, using David Silva's slick moves against City. By teasing the likes of Vincent Kompany and Pablo Zabaleta and anyone else that would come near him, Mata showed the Manchester team how annoying Silva can be for opposing sides. Things is, Mata wasn't the only player doing this routine as his teammate Daniel Sturridge got in on the act quite wonderfully. Unfortunately for City, his Spanish compatriot on the other side had apparently taken the night off.
Are you sensing the trend here?
Even the ice cold Mario Balotelli was drawn into the fire as the match progressed. The ice had thawed from his crisp second minute finish and he began to see less and less of the ball and more and more of his rear end on the pitch. His annoyance with the match became increasingly evident as the time ticked off the clock, which you rarely see from the Italian forward.
When the final whistle blew, Chelsea had committed 11 fouls (with what felt like at least seven from Meireles) and four yellow cards. Manchester City was whistled on 20 occasions, with one yellow and one sending off. It was the most fouls that City's had called against it all season.



"We showed good strength of character and resilience. We did very well in the second half to find the details we needed to get the three points.

"



- Chelsea manager Andre Villas-Boas



"I'm very happy," said Chelsea boss Andre Villas-Boas after the match. "It's been a very gratifying week for us. It was a very good win for the players. Going 1-0 down made things very difficult - it gave Man City even more motivation and belief to get a good result.
"We showed good strength of character and resilience. We did very well in the second half to find the details we needed to get the three points. We deserve credit for what we are achieving after a bad run of results."
Absolutely right, AVB. Chelsea deserves a ton of credit for shutting down (City only had SEVEN shots, two of which were on target) one of the most vaunted attacking sides in Europe. In doing so, the Blues dealt City its first loss of the the league season...and more importantly, dealt it a huge blow to an ego that was ripe for a bit of bruising.
Shane Evans is an editor for Goal.com USA. His feature, "The Full English" appears every Friday morning. Contact Shane at shane.evans@goal.com with questions, comments and concerns, follow him on Twitter at https://twitter.com/shanEvans

For more news on England, visit Goal.com's England section!