ANALYSIS
By Wayne Veysey at Wembley
As a barometer of boisterousness, the noise generated by the
Manchester City
supporters when the final whistle was blown will take some beating in a football stadium this season.
While Mario Balotelli was winding up Rio Ferdinand and Anderson with post-match antics that were inflammatory or harmless, depending on how generous your point of view, sky-blue shirted fans were annexing 35 years of pain.
Celebrations ranged from the humorous to the sentimental to the tearful. The umpteenth perfectly choreographed and joyfully executed Poznan dance was followed by the strains of a lustily bellowed Blue Moon filling the north London evening. Grown men shed tears of joy. Barely a soul in the blue side of the stadium left the semi-final venue for half-an-hour.
Their team is now only a game against mid-table Premier League opposition away from obliterating three-and-a-half decades of pain. Then, finally, the mocking Old Trafford banner that marks the years since they last lifted a trophy will have to be thrown in the skip of history.
To make the champagne taste even sweeter, Manchester United's Treble dream is over following an afternoon that has not been bettered in City's modern history.
Here,
Goal.com
analyses the good, the bad and the ugly of a fascinating FA Cup semi-final at Wembley and looks ahead to the ramifications it could have on the season's run-in for both teams.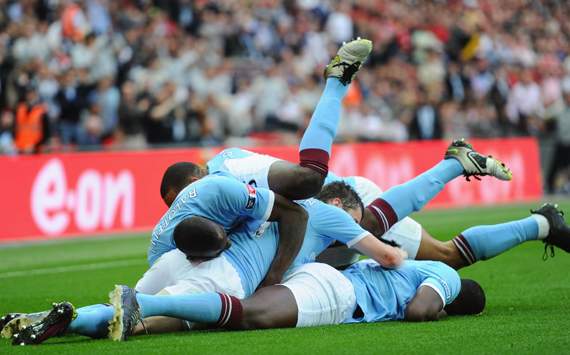 Blue mount | City celebrate Yaya Toure winner at Wembley
Nerves and caution suffocated City early on. As Roberto Mancini pointed out afterwards, United were well-versed in parading themselves at such a significant occasion and his team were not.
In the final third of the first half, City broke out of their shackles and began to find some rhythm. After the break, they swarmed all over their rivals and the desire of the supporters behind Edwin van der Sar's goal was matched by that of the world's most expensively assembled team.
CITY'S MATCHWINNER


PLAYER RATING

8.5

The difference between the two teams. Quiet in the first half but electric in the second. Took advantage of Carrick's errant pass to power into United's area and drive the opener between Van der Sar's legs.
FERGIE BEMOANS SLACK DEFENDING


52'

"The first 15 minutes after half time cost us the game... They were slack moments. Edwin [van der Sar] had a bad kick out and Michael Carrick couldn't hold it and it was a goal"
The combination became too much for United. Mancini's tactics and substitutions worked a treat. Yaya Toure is hardly a subtle 'second' striker but, when on song, he is hard to control and he took his goal with some panache, running at Nemanja Vidic - following Michael Carrick's error - like an ocean liner whose breaks have stopped working before shifting the ball and slamming it home.
Rather than sit back and allow United to forage for the equaliser, City kept their foot pressed on the accelerator. Each player threw himself into his role.
With Vincent Kompany outstanding at the back, Joe Hart oozing confidence in goal and Gareth Barry mixing tenacity with precision in midfield, for once City matched the sum of their parts.
Who could deny them their celebrations at the end? They deserved it.
How to keep Mancini's Blue Moon rising
More of the same. City have found the recipe for success and happiness. Now they must repeat it when the pressure is on.
It is easier said than done, of course. Nevertheless, it bodes well for Mancini's job prospects that a first trophy in 35 years is within grasp and a Champions League place, the bare minimum expectation for the club's Abu Dhabi owners, is still theirs to lose.
City will not want to be anywhere than in the box seat on May 10, four days before the FA Cup final when closest fourth place rivals Tottenham visit Eastlands.
The same commitment, intent and style that worked so well against United must be reciprocated in forthcoming league fixtures against Blackburn Rovers, West Ham and Everton.
The regimented negativity that has marked Mancini's tenure has eked out points but the greater balance between defence and attack that was struck at Wembley proved there is another way in the marquee fixtures.
Carlos Tevez's absence through injury for those games is a blow. But City have two £24million-plus strikers as back-up and Balotelli and Edin Dzeko must deliver the goods in the absence of the club captain.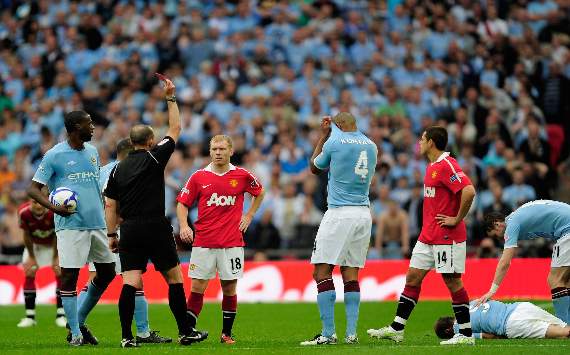 Red Devil | Scholes sent off in typical style as United's midfield pairing collapse
Sir Alex Ferguson's team selection said much about United's priorities. Ryan Giggs, so influential over the last few weeks, was left out of the match-day squad completely. Javier Hernandez, who has already terrorised his fair share of blue-chip defences, spent the first hour in his tracksuit alongside the ineligible Wayne Rooney.
There is a theory among many United supporters that Dimitar Berbatov is half the player when he leads the line alone. That was borne out at Wembley as the Bulgarian visibly shrivelled after wasting two golden opportunities within seconds of one another early on.
Not that he was the only man in red off par. Antonio Valencia, so good since his return from a horrific ankle injury, could not get involved, Paul Scholes saw red following the type of reckless challenge that has pockmarked his brilliant career, while Carrick's fine first half was spoiled by a dismal second in which his errant pass invited Toure to score the winner.
Only Nani offered a credible and consistent attacking threat, while the defence looked shaky at times. Even the normally unflappable Edwin van der Sar put his team under pressure with a poorly executed kick shortly before the game's only goal.
Treble dream over, but United must stay focused
It is one of United's greatest strengths during the Ferguson era of dominance that blips rarely become fully blown crises.
Following consecutive Premier League defeats to Chelsea and Liverpool in early March, United embarked on seven-match winning run that had given hope of the double Treble.
This coincided with Rooney's return to something like the match-winning warrior of 13 months ago. He watched City's derby cup win in shirt, tie and tracksuit top but will return on Tuesday for the testing trip to Newcastle United.
Given the striker's excellence in his last League game against West Ham and in both legs of United's Champions League quarter-final against Chelsea, it will undoubtedly strengthen a team that was worryingly flat and lethargic at Wembley following a bright start.
Everyone was expecting a United revival, an answer to City storming their barricades, but the red tide never materialised.
Mancini's team were allowed a degree of comfort towards the end that few of their tense supporters would have expected.
With two glorious ambitions left to pursue, Ferguson will demand less of the "slack moments" produced at Wembley. At the very least, Rooney will add greater energy and quality, and probably a whole lot more.
Follow Wayne Veysey on

Follow Goal.com on

to get the latest soccer news directly. Check out Goal.com's

page; be part of the best soccer fan community in the world!