They call it "the hairdryer." It is one of the most feared spectacles in soccer. Manchester United's coach, Sir Alex Ferguson, ignites his temper with a blast of scalding curses, blistering his trembling victims. Over the years, many players have felt the burn.
To understand Sir Alex, visit a neighborhood called Govan in Glasgow, Scotland, where in 1941 on New Year's Eve, Alex Ferguson was born under a tenement roof shaken by Hitler's bombs. Govan, on the River Clyde, was the heart of the world's shipbuilding industry riveted to the consciousness of Glasgow's working class.
The neighborhood was uncompromising, filled with revolutionaries and militants and fiercely independent, yet somewhat hostile to Glasgow's immigrant other half, working class Catholics from Ireland who settled in the city's eastern end, up river. Govan was Protestant. Rangers played there, the city's Protestant soccer team. For most of the 20th century Rangers refused to sign Catholic players. The atmosphere in their stadium was like a furnace of fury forged from the shipyards nearby.
Ferguson's father worked in the yards, Alex followed, his socialist creed formed on Red Clydeside. He was a trade union shop steward. But socialism, like God, had to wait in line behind soccer.
Fergie played for Rangers in the 1960s. His steeliness grew from there but he left under a cloud, having made a big mistake in a cup final costing the club the trophy. He married a Catholic girl which was at the very least awkward for a Rangers player in the '60s and '70s although Fergie claims it had no impact on him leaving the club. But a life at Rangers was not for him.
His brick-minded Glasgow toughness was to flourish through his years in charge of the Scottish club, Aberdeen. It was from the oil rich city in Scotland's North East that Ferguson loosened the stranglehold that the two massive Glasgow teams, "Protestant" Rangers and "Catholic" Celtic, had held on the Scottish game for a century. Fergie was born to take on the all-powerful, whether it be the bosses in the shipyards or in football. No one would stop him and his hairdryer.
Provincial Aberdeen became the dominant Scottish club in the '80s, winning the European Cup Winners Cup. Manchester United followed. Player legends like Cantona, Beckham, Van Nistelroy, Giggs, Ronaldo and many more came under the wing of soccer's toughest nut.
With Sir Alex maybe planning to turn the heat down a little in his last years, no one can take away the fact that he has built Manchester United into a dynasty. Men like Fergie never surrender.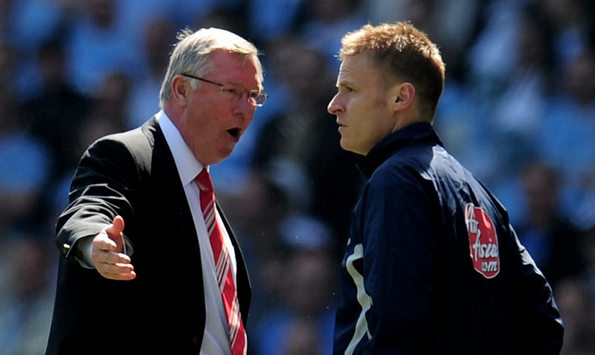 Alan Black is the author of Kick the Balls: An Offensive Suburban Odyssey
For more news on England, visit Goal.com's England section and join Goal.com USA's Facebook fan page!