EXCLUSIVE
By
Matthew Weiner
| Arsenal Correspondent
When Sanchez Watt made his first start for
Arsenal
against
West Bromwich Albion
last September he made sure it was a debut to remember.
The 18-year-old forward scored in the 68th minute guaranteeing the Gunners' progress through to the fourth round of the League Cup.
Alongside the likes of Theo Walcott and Jack Wilshire, Sanchez is now considered one of Arsenal's great English hopes but the young Londoner's life could have easily taken a wrong turn.
In an exclusive interview with
Goal.com UK
, Sanchez Watt revealed how the French manager helped him escape the lure of drugs and gangs in east London and why he's now swapped the comfort zone of the Emirates for a month-long loan spell League One's Southend.
"It's not an easy life in Hackney," says Watt of the deprived East End borough where he grew up. "A lot of people are doing crime or living on the street but I never liked that life.
"I know quite a lot of footballers that I used to play alongside on the local concrete pitch and they took the wrong path.
"Some of them are smoking or selling drugs but these days they say to me 'make sure you stick with football, it's healthy and it helps you look after your family'.
"I wouldn't want to be on the street where you can end up in prison and on drugs but I know that if I wasn't here [at Arsenal] that's what I'd be doing."
Born to a Jamaican father and Welsh mother, as a schoolboy Herschel Oulio Sanchez Watt was regarded as one of the most promising youngsters in the country and even Barcelona were interested in him.
He was spotted by an Arsenal scout while playing for Senrab FC, the Sunday League side renowned for producing talents such as John Terry, Sol Campbell and Jermain Defoe.
Last season Watt was a key player in the Arsenal Under-18 team which, under club legend Steve Bould, won the league and FA Youth Cup double.
Then last year, the winger-cum-striker announced himself with that debut goal for the Gunners.
"That felt good," says Watt, smiling. "At the time I was more relieved that we were winning but then afterwards everyone was congratulating me and it really struck home - I'd actually scored on my debut!"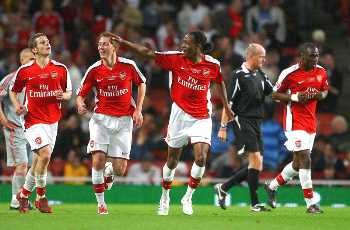 Watt a debut | Sanchez scored on his first start
After the game, Arsene Wenger had some words of advice for the young star. "He told me not to get big headed and told me to make sure I take my chance instead of living to regret it."
Just mention Wenger's name to Watt and you can see in the impact the Frenchman has on him.
"Aaah, he's very intelligent; very wise," Sanchez enthuses. "We all look up to him like he's our dad. Whatever he says you know he means it. He gives you a lot of confidence."
In turn, the Arsenal manager has been hugely complimentary of Watt. "I like him because he is a little bit of a street player," Wenger told the club's official website at the end of last year.
"He makes fantastic runs, he is an aggressive striker or maybe the word is a committed striker - and he always finds resources to be dangerous and he works hard for the team.
"He's very close to the first team and I believe he will really be a threat for the strikers [in the Arsenal squad]."
So why has Watt gone out on loan for a month to League One strugglers Southend? "It was my decision to go," the youngster explains.
"They've got six games in one month so it's a chance for me to get fit and get away from the cushion of Arsenal life and see the real life.
"Anything can happen: injuries could mean that one day I'll be playing in that league so for me it's good experience."
In the short term, Watt aims to use the loan spell to help him recover from an injury and then go back to Arsenal and push on for a first-team place.
"By the end of the season I want to be closer to the first-team and make sure that I'm regularly on the bench," he says.
"But whatever happens I feel very lucky to be at Arsenal so I'll always work hard."
For more news on England, visit Goal.com's England section