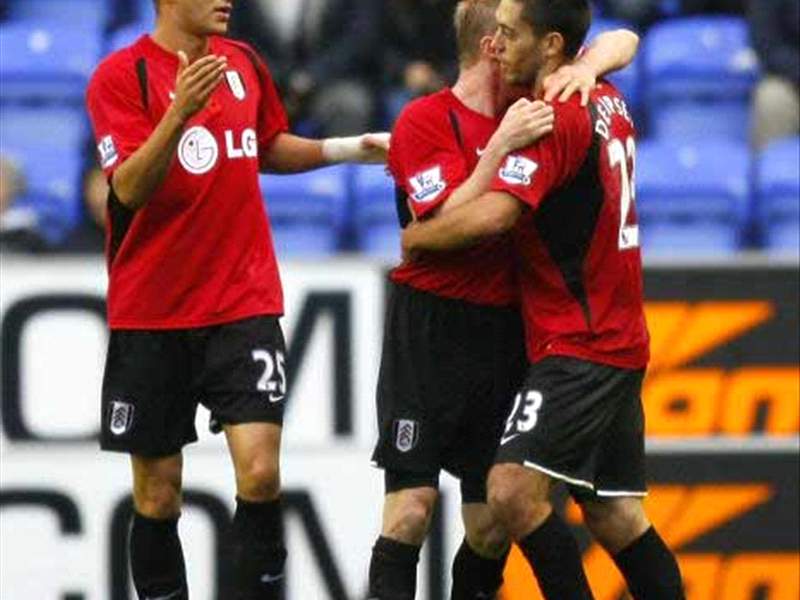 By Mathew Braine
Fulham's ravishing American continued his hot streak on Wednesday, notching a double en route to the Cottagers 3-0 win over Blackburn. After Erik Nevland's superb low strike in the 43rd minute gave the hosts a 1-0 lead, Dempsey took over in the second stanza with a pair of fine strikes. First, in the 67th minute, Damien Duff curled in a beautiful ball that froze the Rovers defense, allowing Dempsey to break free and tap one in from close range. However, in the 88th minute, Dempsey exhibited pure skill when he controlled the ball from six yards out, held off his defender, turned, and powered home the third goal of the match.
The winger now has six goals this campaign, five coming in Premier League action from October 25-Novermber 25. His sparkling run has helped Fulham remain in the top 10 of the EPL.
Premiership:
Tim Howard, Everton.

Vs. Hull City, 3-2, (90 minutes, 3 goals conceded, 3 saves)

Vs. Liverpool, 0-2, (90 minutes, 2 goals conceded, 4 saves)
Things got ugly really quick on Wednesday as Hull scored three goals within the first 30 minutes of the contest. Despite Everton's crawl back, the Tigers held on for the win, and pushed Everton further down the table. Howard was blasted with attacks early on as Stephen Hunt, Andy Dawson, and Dean Marney all tallied. Things got even worse on Sunday, as Everton lost the Merseyside derby 0-2 at the hands of Liverpool. A Joseph Yobo own goal set the tone early on, but the glimmer of hope was washed away late as Dirk Kuyt made it two in the 80th minute. The Toffees had several chances and controlled the ball well, yet, simply lost. Everton now sits 16th in the table after dropping three straight.

Up Next: Wednesday, away to AEK Athens (Europa), and Sunday, home against Tottenham.
Anton Peterlin and Cody Arnoux, Everton.

Vs. Sunderland Reserves, 1-1, (Peterlin and Arnoux both played 90 minutes. Arnoux, 1 goal)
Both Americans played the entire contest in Monday's 1-1 draw with Sunderland, but it was Arnoux who provided some spark. The Black Cats' Robbie Weir gave the visitors the lead just before half, but Arnoux equalized eight minutes after the break with a clinical finish. The young American nearly doubled his tally moments later but his shot hit the side netting. The goal was Arnoux's second this season.

Up Next: Monday, away to Burnley Reserves.

Brad Friedel, Aston Villa

Vs. Tottenham, 1-1, (90 minutes, 1 goal conceded, 6 saves)
Villa nearly pulled off an impressive win at home against Spurs, but a late strike from Michael Dawson settled the score at 1-1. Gabriel Agbonlahor gave the Villains a halftime lead but Spurs became very aggressive in the second stanza, prompting a slew of fine saves from Friedel. First, he stunted an attempt from Jermain Defoe, followed by an athletic tip off a Tom Huddlestone strike. The burly American also stopped a low strike from Jermaine Jenas late. However, Dawson's 77th minute strike was unstoppable, and a deserved goal for a feisty squad.

Up Next: Tuesday, away to Portsmouth (Carling cup), and Saturday, home against Hull City.

Brad Guzan, Aston Villa
As usual, Guzan backed up Friedel.

Clint Dempsey, Fulham

Vs. Blackburn, 3-0, (90 minutes, 2 goals)

Vs. Bolton, 1-1, (90 minutes)
On Saturday, Dempsey's side fought hard against a testy Bolton club, finally notching the equalizer in the 75th minute through Damien Duff. Dempsey had several shots on goal but did not convert.
Up Next: Thursday, home against CSKA Sofia (Europa), and Sunday, home against Sunderland.
Eddie Johnson, Fulham
Johnson did not appear for Fulham last week, but did suit up for Saturday's match.

Jonathan Spector, West Ham

Vs. Burnley, 5-3, (90 minutes)

The Hammers were up 5-0 before Burnley could respond on Saturday. Although the score line ended up at 5-3, this was a beating by West Ham. Spector played well in the back, and looks to be a permanent fixture in the starting XI for the future.

Up Next: Saturday, home against Manchester United.

Marcus Hahnemann, Wolverhampton

Vs. Birmingham, 0-1, (90 minutes, 1 goal conceded, 4 saves)
Hahnemann received his first Premier League start of the season on Sunday, but Wolves still faltered, losing at home. Lee Bowyer's 3rd minute strike was chipped right over Hahnemann, who was playing too far off his line. The hosts enjoyed the lion's share of possession, and made a few second half runs, but could not grab the equalizer. Still, Hahnemann's showing was solid and could remain the starter for the immediate future. Normal number one, Wayne Hennessey, was relegated to the bench after conceding eight goals in two matches against Arsenal and Chelsea.

Up Next: Saturday, home against Bolton.

Jozy Altidore, Hull City

Vs. Everton, 3-2, (75 minutes)

Vs. Manchester City, (73 minutes)
On Wednesday, Altidore and company were very aggressive from the jump as the Tigers raced out to a 3-0 halftime lead before Everton cut the deficit to one. The hosts held on, however, and further crushed the Toffees spirits. Altidore had a few nice chances at goal, but did not put one in the net. On Saturday, Hull grabbed a late equalizer from Jimmy Bullard and ran away from Manchester with an impressive draw. Bullard notched the goal from the penalty spot in the 82nd minute, canceling out Shaun Wright-Philips earlier strike. The Tigers are now, amazingly, up to 15th, and have not lost in four matches. Altidore started again, and looks to be out of the dog house.
Up Next: Saturday, away to Aston Villa.

Championship Round-Up:

Jay DeMerit, Watford
DeMerit, still sidelined with that eye injury, saw his Watford side fall 3-0 at Crystal Palace.

Up Next: Saturday, away to Newcastle.

Frank Simek, Sheffield Wednesday
Simek started but the Owls never even left the station, as they fell 0-4 at home to WBA. Simon Cox notched a first half double and the visitors never looked back.

Up Next: Saturday, home against Reading League One:

Jemal Johnson, Milton Keynes Dons
Johnson came on late against Carlisle United, but could not help produce an equalizer as the Dons fell in a shootout 3-4. On Saturday, the Dons fought back from a 3-1 deficit to edge out Exter City 4-3 and advance d to the third round of the FA cup. Johnson, however, remained on the bench.
Up Next: Tuesday, away to Millwall, and, Saturday, home against Yeovil Town.
Mike Grella, Leeds United

On Tuesday, Leeds got a last gasp strike from Max-Alain Gradel to secure the 1-0 win over Leyton Orient. Grella came on with nine minutes remaining but was not involved in the winning goal. On Saturday, Grella started but was taken off after 71 minutes. Jermaine Beckford scored a late equalizer to earn a replay against Kettering Town in the FA cup.
Up Next: Tuesday, away to Oldham Athletic, and Saturday, home against Huddersfield Town.

Jon-Paul Pittman, Wycombe Wanderers

Pittman, suffering from a bruised knee, was not involved in Tuesday's 1-0 win over Brentford, but should be back within the next week or so.
Up Next: Tuesday, away to Southampton, and Saturday, home against Stockport County.

League Two:

Eric Lichaj, Lincoln City
Lichaj started in the defense and played the entire contest as Lincoln City dropped one to Rotherdam United behind a double from Adam Le Fondre. On Saturday, Lincoln advanced in the FA cup after defeating Northwich Victoria. Lichaj was not in the side but has signed on for another month at Lincoln.
Up Next: Tuesday, home against Port Vale, and Saturday, away to Crewe Alexandria.
Meanwhile Up In Scotland…

DaMarcus Beasley and Maurice Edu, Rangers
In Champions League action, Rangers fell to Stuttgart 0-2. Beasley came on in the final uneventful four minutes. On Saturday, neither American was involved as Aberdeen squeaked past Rangers with a 1-0 win.

Up Next: Saturday, away to Falkirk.

For more on Americans abroad, visit Goal.com's dedicated page