One year ago, a tragic earthquake and tsunami hit the country of Japan, taking over 15,000 lives and displacing 340,000 citizens. The reverberations of the impact were felt across the globe.
The Colorado Rapids have two Japanese natives on their roster: Kosuke Kimura and the newly acquired Kohei Yamada. Goal.com sat down with the two players to find out what this past year has been like for them and their country.
"It's been one year, but it feels like it happened a week ago," Yamada, a 23-year-old midfielder, said. "There are still people needing help out there. Nobody in the world can forget what happened a year ago. It could have happened to anybody. Please pray for them and help them as much as you can."
Kohei Yamada recently moved to the U.S. to join the Rapids after playing for two years with Thespa Kusatsu in the J2 League. The reality of the disaster is fresh in his memory.
"So many people don't have their housing," Yamada continues. "They lost everything. We still need help from outside."
Providing clean-up, clothes and basic essentials are ways the Red Cross and volunteers have helped the country in the wake of the disaster. Last year, Kosuke Kimura sold thousands of t-shirts to raise money for the Red Cross efforts.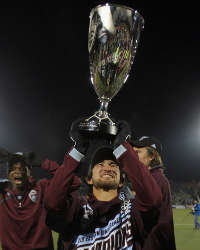 "People being there, living in a huge open space, so many people together, it gets nasty out there," Kimura explain. "People want to get actual things that they can use, things that will help life."
On March 11, 2012 the country of Japan is observing two moments of silence: one at 2:46 p.m. local time to remember when the earthquake first struck, then again 33 minutes later when the 75-foot tsunami followed. It is a reminder of how Japan's economy, companies, livelihoods, and their people's countenance were all changed that day.
Kosuke Kimura and Kohei Yamada may play soccer in America, but their heart is with their people.
Follow GOAL.COM USA on